Today is the last day of this exciting Blog Tour for Arwen Paris' debut YA sci-fi urban fantasy novel, Fate of the Stars! This has been an exciting week of sharing various reviews on this book! Not only that, this tour celebrates this release, too! So, take a look at what I thought about this new book! There's even a tour-wide giveaway, too! Check it out and grab your copy today! Don't forget to check out what others are saying, too, by f
ollowing the tour,
HERE
!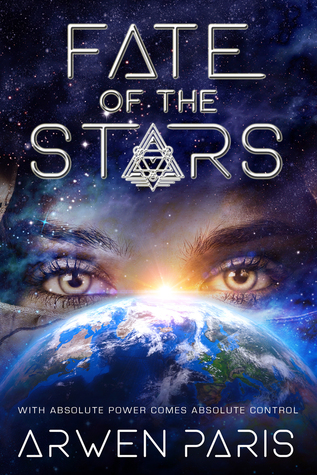 Genre:
Science Fiction/
Urban Fantasy
Publish Date:
Publisher:
Synopsis:
When the fate of the world rests upon you…
Allison Delaney wants to spend her senior year healing from the loss of her father, to leave the shadows of his death and her junior year break-down behind. A Labor Day beach party seems like a good place to start…but there's more danger lurking than anyone could imagine. Death is coming to Earth if the pods of infectious creatures aren't stopped. But only one human can help…
To live or die is no longer a choice.
Eenoki is a protector of life but must have a sentient host to fight the invasion. A teenage girl would not be the best choice, but out of desperation Eenoki invades Allison's mind and body, granting her unnatural abilities and strengths – and helping her escape certain death when the first wave of pods land.
A
s destruction rains down on Earth's population, Allison realizes to save everyone, she must make the ultimate choice: Reject her human side and bond with Eenoki to become the
Earth's Priestess – or be killed along with the rest of humanity.
**About the Author**
Arwen Paris is the author of young adult fiction. Her debut YA Sci-fi Urban Fantasy novel Fate of the Stars releases September 1, 2017
. The action-packed pages of her novels are filled with characters that are forced to face fears they never expected.
Fate of the Stars, her debut young adult sci-fi urban fantasy, was the Second Place winner of the 2016 Pages From The Heart Contest.
When Arwen is not writing, you can see posts of her (too many) vacations that keep her sane. Arwen lives in Washington, has a big crazy family & after the day job, she writes Fiction For the Fearless - #F3Fanatic
Stacy connected with Arwen Paris
*My Thoughts*
Note: This review contains NO spoilers
Fate of the Stars intrigued me from the start... when I read the synopsis. Thought it was an interesting sci-fi storyline. Well, no regrets there... I was pulled in to Allison's plight when her home is invaded from beyond the stars. When a dangerous situation plunges her into an incredibly difficult decision with lack of or no knowledge and/or information to help her. Moreover, Arwen Paris skillfully describes these invaders with great detail... enough to get the imagination going. It is a life and death situation that Allison is thrown into, and she has no choice. Well, she does, but her options look awfully dismal...haha!
Anyways, the character development is well written and evenly written out for all characters, even minor characters alike, evenly, particularly to the importance each one has to the storyline. With each description, the imagination's eye is able to capture a visual, even an idea of the strong personalities these individual characters have that Allison encounters. Arwen Paris also effectively describes the different aliens and their personalities. Not only that, the descriptive writing in laying out the setting almost placed me "smack dab in the middle" of this chaos...haha! I got the feel of Allison's desperation and exhaustion as she fights to keep her loved ones... and the entire human race... ALIVE!
I was in awe and "at the edge of my seat" from beginning to end. However, I felt that there was sooo much going on. I also thought, that at various different points in the book, the book could have already come to a close, even for a cliffhanger, ... some parts seemed repetitive. Moreover, as I came to the end of the book, there was just a lot of open-ended storylines and subplots that were left open. This definitely feels like the first book in a series. Well, the plus side of this is the cliffhanger which hints at the potential for spin-off series for the various characters introduced in this book. I do look forward to more to come. What lies ahead for Allison as she begins her adventure... as Earth's priestess... We will have to wait and see...
My rating:
***The Giveaway***
Giveaway Open to the U.S./Canada Only