We are thrilled to be a part of this exciting Blog Tour for Erika Kelly's Take Me Home Tonight, the third novel in the Rock Star Romance series! On our stop, we will be sharing an exciting excerpt!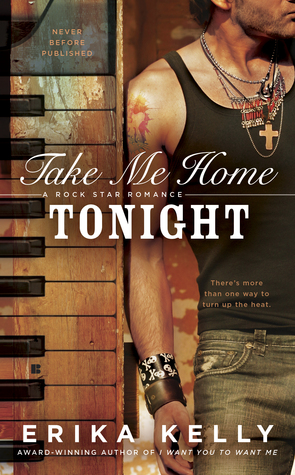 Genre:
Series:
Publish Date:
Publisher:
Synopsis:
A rocker gets a taste of unexpected passion in the latest red-hot Rock Star Romance from the award-winning author of I Want You to Want Me.
Calix Bourbon might seem like a free spirit, but that's all a front. In reality he's just trying to keep his fractured family together while working as a session musician. When Blue Fire hires him to replace their keyboardist, Calix is determined to make the most of the opportunit
y
—

b
ut he can't help being distracted by the band's sexy personal chef.
Mimi's temporary gig is great, but she has her heart set on auditioning for a televised cooking show. There's just one problem: she only has a week to acquire the skills necessary to survive the competition. Luckily, the band's new keyboard player can teach her exactly what she needs, in the kitchen and in the bedroom...
*Excerpt*
Calix wasn't sure why he was boarding the elevator in her steel and glass high rise, but he'd come this far. He might as well get her to her apartment.
The moment the doors closed, she leaned against the wall, and a slow bloom of satisfaction spread across her pretty features. "I did it," she said quietly. "I freaking did it."
Somehow standing so close to her in this dimly lit box made him forget all his reasons to stay away from her. He wanted her. Plain and simple. There was something irresistible about this girl. He caught her hand in his, brought it to his mouth, and kissed her open palm. "You did. You were fantastic."
"Don't think they'll be using offal."
"Not that." She touched his arm, like she needed his attention. "I meant by being there. In the audience. Every time I started to freak out I looked at you, and your bad-ass energy picked me up. Every single time. I needed that." She touched his arm. "You made me feel like I could do it."
She didn't look tired anymore. Her features softened, her lips parted. A crazy energy spun through him, throwing out images—those sultry eyes looking up at him, her mouth wrapped around his cock. He could picture it so vividly, his fingers touching her lips as she sucked him deep, and an explosion of erotic sensation detonated in his chest.
~~~
Don't miss the previous titles in the Rock Star Romance series!
(cover are links to Goodreads)
~~~~~
**About the Author**
Award-winning author Erika Kelly has been spinning romantic tales all her life--she just didn't know it. Raised on the classics, she didn't discover romantic fiction until later in life. From that moment on, she's been devouring the genre and has found her true voice as an author. Over three decades she's written poems, screenplays, plays, short stories, and all kinds of women's fiction novels. Married to the love of her life and raising four children, she's lived in two countries and seven states, but give her pen and paper, a stack of good books, and a steaming mug of vanilla chai latte and she can make her home anywhere.
Stay connected with Erika Kelly
***The Giveaway***