Welcome to the Official Blog Tour + Giveaway for Julieanne Lynch's Beneath the Lighthouse! Today, on our tour stop, we have an exclusive excerpt to share! Plus, we even have a book trailer to share, too!!! Sooo... Check it out and grab your copy now! Follow the tour, HERE!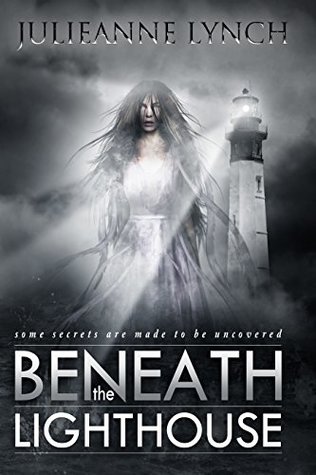 Genre:
Publish Date:
Publisher:
Synopsis:
Sixteen-year-old Jamie McGuiness's sister is dead.
Sinking into a deep depression, he frequents the lighthouse where her body was discovered, unaware of the sinister forces surrounding him.
When an angry spirit latches onto Jamie, he's led down a dark and twisted path, one that uncovers old family secrets, destroying everything Jamie ever believed in.
Caught between the world of the living and the vengeful dead, Jamie fights the pull of the other side. It's up to Jamie to settle old scores or no one will rest in peace — but, first, he has to survive.
*Excerpt*
Jamie walked into the small kitchen. He glanced at Ma. She stood by the cooker, holding baby Sarah in her arms, trying to console the child.
Jack banged his fork on the table and glared at Sonya. "Shut the wee fucker up."
"She can't help it. She's cutting a tooth." A tear rolled down Sonya's cheek.
Jamie held out his hands. "Give her to me."
He held her against his chest and rocked her in his arms. The movement helped soothe her, though he earned a look of contempt from his father.
"You're a smart wee bastard, aren't you?" Jack asked. He clenched his fists into tight balls, his knuckles growing white.
"Just leave it, Da," Jamie said.
Jack smashed his fist on the table, causing the beer can to jump. "Leave it? Who are you to tell me what to do in my own home?"
"Jamie, stop it, please," Sonya said, her fingers curling around his shoulder.
The chair scraped along the floor as Jack stood.
The six-year-old twins, Paul and Thomas, stood in the hallway, their little eyes wild with fear.
Thomas wrapped his arm around Paul's shoulder and held him close. "Come on, let's watch some tele," he said.
Her face laced with worry, Sonya turned her head toward the twins.
"You're some wise lad, aren't you?" Jack asked, and walked over to where Jamie stood. "Thinking you can do whatever the feck you want."
"I took the money because Sarah needed nappies and there was nothing for the boys for tea," Jamie replied.
Jack's nostrils flared. "Give your mother the baby."
Jamie's heart thumped hard.
Unable to look at Jamie, Sonya took Sarah into her arms. The fight had long left her. In its place stood a woman broken, about to crumble.
Jamie swallowed hard. "It was only twenty quid, Da." Knots tightened in the pit of his stomach.
"That money was mine, lad. You had no right going through my things."
"But … the boys would have gone hungry." Tears burned the back of his eyes.
Jack grabbed Jamie by the throat and pushed him against the wall.
Jamie gasped for breath. The crazed look in his father's eyes terrified Jamie as Jack's fingers tightened.
Jamie dug his nails into his father's skin. He had to make Jack loosen his hold, but it was pointless.
"Jack, stop it," Sonya begged. Her pleas echoed Sarah's screams.
Jamie pushed off the wall and twisted his body in a last attempt to break Jack's hold.
Thomas and Paul stood in the doorway, their mouths agape.
Jack drove him back against the wall. Jamie's head hit with enough force, his legs turned to jelly.
"I'll kill you," Jack said. "No one steals from me. I fecking tell you, no one."
Jamie's head grew light. He let out one last desperate breath.
Jack loosened his grip and released Jamie from his clutches. Jack's breath was labored as he breathed into Jamie's face like a menacing beast.
"Next time, I'll put you six feet under." He walked away, taking his can of beer with him.
Copyright © 2018 by Julieanne Lynch
Praise for BENEATH THE LIGHTHOUSE
"Beneath the Lighthouse grabs you by the nether regions from the word go. Then it squeezes. Hard. With a nailed glove … A truly scary ghost story … a powerful 'coming of age' drama … a young man growing into adulthood against a backdrop of despair and quite shocking abuse … unpredictable and ever building. Blood and bone revenge, retribution and salvation. The strength of friendship, the power of love. You feel the dread and the underlying fear … not your typical tale. And what a tale it is." ―EM Faustus
Photo Content from Julieanne Lynch
Julieanne Lynch
is an author of YA and Adult genre urban fantasy, crime and contemporary romance books. Julieanne was born in Northern Ireland, but spent much of her early life in London, United Kingdom, until her family relocated back to their roots.
Julieanne lives in Northern Ireland, with her husband and five children, where she is a full-time author. She studied English Literature and Creative Writing at The Open University and considered journalism as a career path. Julieanne has several projects optioned for film.
Julieanne is both traditionally and independently published.
Stay connected with Julieanne Lynch
***The Giveaway***
Giveaway Is Open Internationally | Must be 13+ to Enter
Note: Not Responsible for Lost & Damaged Prizes in Your Mail Box