We are so excited to participate in this two-day Release Blitz for
Walk The Edge,
the second book in the
Thunder Road Series
, by
Katie McGarry
! Read an exciting excerpt from the book! To celebrate, enter the cool giveaway at the end of the post!
G
et an exclusive bonus Echo and Noah short story when you register your
Walk The Edge
order! Find out how in this post!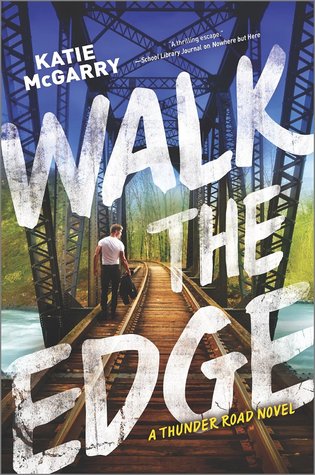 Genre:
Young Adult
Contemporary Romance
Series:
Thunder Road, #2
Publish Date:
May 29, 2016
Publisher:
Harlequin Teen
Synopsis:
One moment of recklessness will change their worlds.
Smart. Responsible. That's seventeen-year-old Breanna's role in her large family, and heaven forbid seh put a toe out of line. Until one night of shockingly un-Breanna-like behavior puts her into a vicious cyber-bully's line of fi
re
—

an
d brings fellow senior Thomas "Razor" Turner into her life.
Razor lives for the Reign of Terror motorcycle club, and good girls like Breanna just don't belong. But when he learns she's being blackmailed over a compromising picture of the two of th
em

—

a
picture that turns one unexpected and beautiful moment into u
gliness

—

he k
nows it's time to step outside the rules.
And so they make a pact: he'll help her track down her blackmailer, and in return she'll help him seek answers to the mystery that's haunted hi
m

—

one
that not even his club brothers have been willing to discuss. But the more time they spend together, the more their feelings grow. And suddenly they're both waling the edge of discovering who they really are,
what they want, and where they're going from here.
*Excerpt*
"I'm here about your mother." The asshole knows he has me when my eyes snap to his.
"She's dead." Like the other times I say the words, a part of me dies along with her.
This guy has green eyes and they soften like he's apologetic. "I know. I'm sorry. I've received some new evidence that may help us discover what caused her death."
Anger curls within my muscles and my jaw twitches. This overwhelming sense of insanity is what I fight daily. For years, I've heard the whispers from the gossips in town, felt the stares of the kids in class, and I've sensed the pity of the men in the Reign of Terror I claim as brothers. It's all accumulated to a black, hissing doubt in my soul.
It's what everyone in town says happened. It's in every hushed conversation people have the moment I turn my back. It's not just from the people I couldn't give two shits about, but the people who I consider family.
I shove away those thoughts and focus on what my father and the club have told me—what I have chosen to believe. "My mother's death was an accident."
He's shaking his head and I'm fresh out of patience. I'm not doing this. Not with him. Not with anyone. "I'm not interested."
I push off the railing and I did out the keys to my motorcycle as I bound down the steps. The detective's behind me. He has a slow steady stride and it irritates me that he follows across the yard and doesn't stop coming as I swing my leg over my bike.
"What if I told you I don't think it was an accident," he says.
Odds are it wasn't. Odds are every whispered taunt in my direction is true. That my father and the club drove Mom crazy, and I wasn't enough of a reason for her to choose life.
To drown him out, I start the engine. This guy must be as suicidal as people say Mom was because he eases in front of my bike assuming I won't run him down.
I twist the handle to rev the engine in warning. He raises his chin like he's finally pissed and his eyes narrow on me. "Razor."
I let the bike idle. If he's going to respect me by using my road name, I'll respect him for a few seconds. "Leave me the fuck alone."
Damn if the man doesn't possess balls the size of Montana. He steps closer to me and drops a bomb. "I have reason to believe your mom was murdered."
Register your Order
by April 1st and receive an exclusive Echo and Noah short story and a chance to be in the next Thunder Road novel!
Register at
https://offerpop.com/campaign/796530
.
~~~
Sequel to: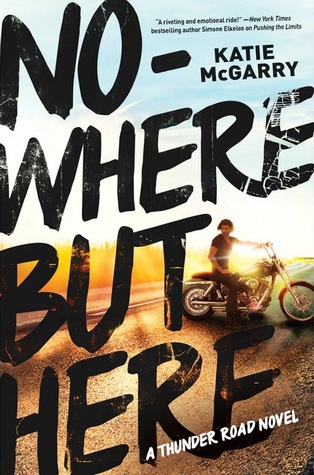 (book cover is link to Goodreads)
Katie McGarry was a teenager during the age of grunge and boy bands and remembers those years as the best and worst of her life. She is a lover of music, happy endings, reality television, and is a secret University of Kentucky basketball fan.
Katie is the author of full length YA novels, Pushing The Limits, Dare You To, Crash Into You, Take Me On, Breaking The Rule, and Nowhere But Here and the e-novellas, Crossing the Line and Read at Night. Her debut YA novel, Pushing the Limits was a 2012 Goodreads Choice Finalist for YA Fiction, a RT Magazine's 2012 Reviewer's Choice Awards Nominee for Young Adult Contemporary Novel, a double Rita Finalist, and a 2013 YALSA Top Ten Teen Pick. Dare You To was also a Goodreads Choice Finalist for YA Fiction and won RT Magazine's Reviewer's Choice Best Book Award for Young Adult Contemporary fiction in 2013.
Stay connected with Katie McGarry
***The Giveaway***
a Rafflecopter giveaway
Release Blitz Organized by