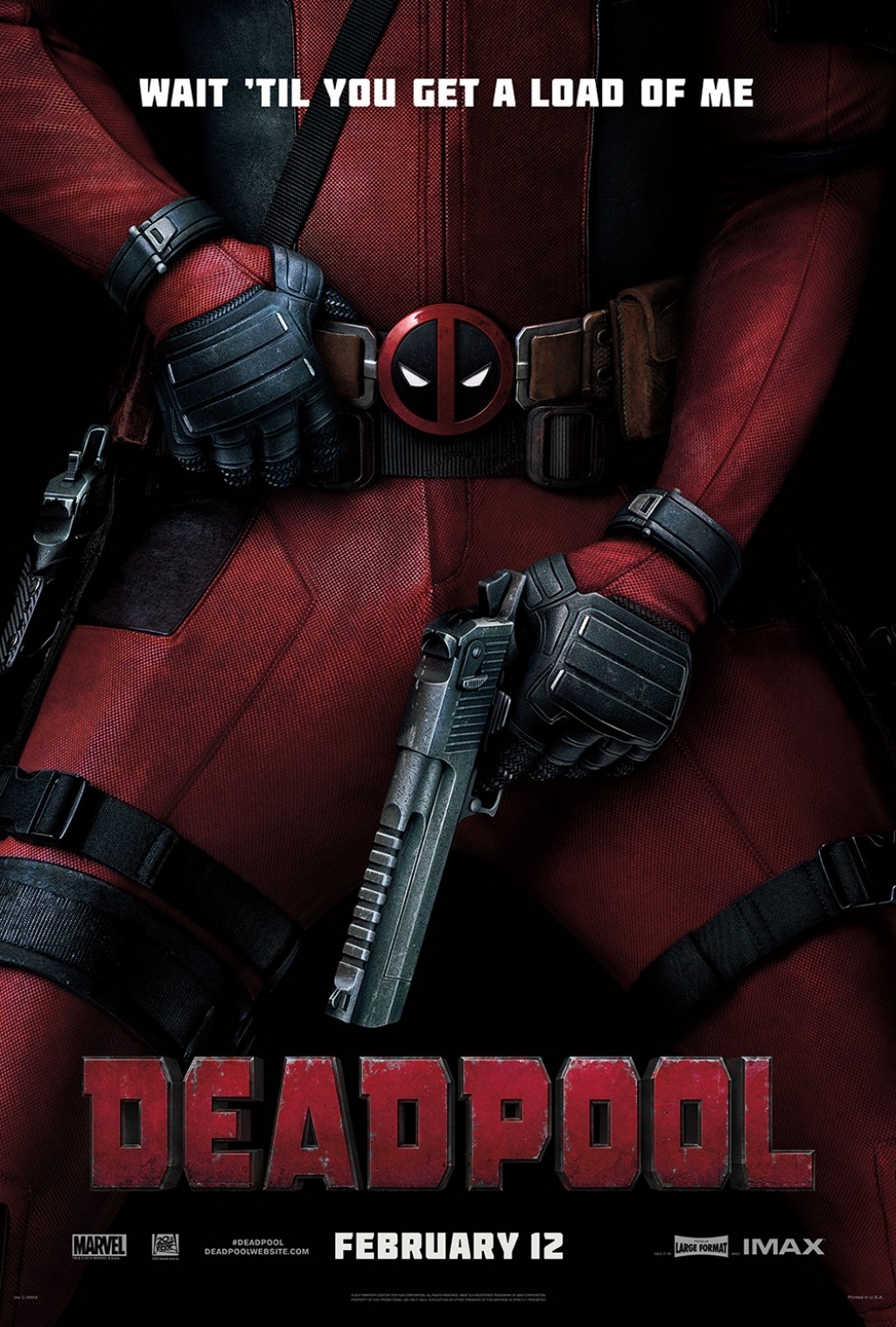 (strong violence and language throughout, sexual content and graphic nudity)
20
th
Century Fox
Marvel Entertainment
Based on the Comic Book Series by:
Marvel
Rhett Reese, Paul Wernick
Ryan Reynolds, Simon Kinberg, Lauren Shuler Donner
John J. Kelly, Stan Lee, Jonathon Komack Martin, Aditya Sood, Thane Watkins,
This is the origin story of former Special Forces operative turned mercenary Wade Wilson, who after being subjected to a rogue experiment that leaves him with accelerated healing powers, adopts the alter ego Deadpool. Armed with his new abilities and a dark, twisted sense of humor, Deadpool hunts down the man who nearly destroyed his life.
Ryan Reynolds, Morena Baccarin, Ed Skrein, T. J. Miller, Gina Carano, Brianna Hildebrand, Stefan Kapičić
It is not a movie for the family to all go out and see, hence the R rating… but worth watching on Valentine's Day weekend for couples or alone. Much like the trailers, available on YouTube,
Deadpool
is action packed, energetic, and vulgarly humorous. Deadpool the character, in short, is a grown man sized child with the skills of an old, stereotypical martial arts master. He breaks the fourth wall, has a big mouth, and mocks people as his own form of torture. The witty remarks and references were often offensive at the cost of someone else for example other characters, stereotypes, race, or the opposite gender. These remarks are not to be taken seriously and for the most part a funny enough to get the audience laughing. What nagged at me more than that, was the CGI used on Deadpool's mask but I can only image it as necessary to show off his over exaggerated reactions. I'm not familiar with all of Deadpool's background but the movie was perfectly paced based upon Deadpool's own impatience, the short amount of time the movie has available, and the movie's budget. We are given all of the necessary characters and focus on Deadpool throughout the movie. Commenting on that, Ryan Reynolds looked like he was having the time of his life playing the juvenile-like hero. Morena Baccarin and many of the other actors (minor or not) performed believably enough. Although there is a sequel coming along in the future, if they weren't Deadpool, their performances made it seem like this
Deadpool
movie was going to be a one shot gig. Overall, it's entertaining but doesn't leave enough of an impression on me to take home a message.
My rating: