We are very excited to part of this exciting Blog Tour for Personal Apocalypse, the first book in a spin-off series set in the same world of The World Without End Series, by Nazarea Andrews! Today, on our stop, we will share a thrilling excerpt from the book!
Genre:
Dystopian
Series:
Hopeless World, #1
(spin-off series from The World Without End Series)
Publish Date:
Synopsis:
Josiah grew up in a dying world. The Holdout survived, but when you are the son of Sylvia Cragen, you give up delusions early. He knew that they would die bloody--it wasn't a matter of if. Only when.
Parker shouldn't be alive. He should have died long before scouts from the Last Holdout rescued him. And he knows beter than to believe that sailing away from the safety of the Holdout is a good idea.
Now without the Holdout to protect them, all of his nightmares are coming true. Josiah is just crazy enough to believe that a fresh start is a good thing. But Parker has lived as prey, hunted by zombies and survivors before--and he knows that no one really survives. In the wild, zombie claimed world outside the walls of safety, there is only the dead walking.
*Excerpt*
By the time we're there, I'm shaking, all of the adrenaline crashing in a wave that leaves me almost stumbling as he pushes me against the bed.
"Sit," he orders, and I do.
We're alone now, and his touch and his words have gentled. Become that sweet consideration that I've learned to expect from him.
It's only when were around other people do we fall into the roles the Holdout gave us. Me the quiet boy who was rescued from the Infected. Him the brash, commanding warrior.
I think that we hold to those personas makes it slightly easier for people to accept us.
I was his shadow, for so long. There was always talk, and whispered jokes, when Siah couldn't hear them, that I was in love with the man who saved my life.
The only reason they ever mattered was because of how they effected Josiah.
But when it was just us. The walls, the preconceived notions, the ideas of who we
should
be, all of it fell away.
"You're an idiot. I'm gonna kick your ass if you tore those fucking stitches."
"Aww, babe," I say, lightly, "You know I love when you get all bossy and shit."
He gives me a flat, disapproving stare and I know he's in no mood for teasing.
"How bad was it?" I ask, softly.
If there is anything that Siah hates in this world, it's seeing me hurt.
"I killed two of them and took the girl hostage. How bad do you think it was?"
He nods at the shirt I'm wear. "Take it off."
I grimace but do as he says, and he frowns. The bandage I'm wrapped in is a bright red and he glares at me.
"Sorry, did you want me to stay and get myself eaten? Running through the fucking jungle isn't the best way to keep my stitches from ripping, but you have to admit we were out of options."
His lips compress into a thin line, and I know he's considering the options we do have.
He's silent as he unwraps my bandages, cleans the wounds, and then rewraps them.
"Can you do me a favor and maybe try not to make that worse? I know we're running for our lives, but if you fuck with that too much, you might not have a life to run for and that will seriously piss me off, Park."
I stand and hook an arm around his neck, pulling him the couple inches that separates us, and press a quick kiss to his lips.
His hands are tight and desperate on me, and my lips are hard and demanding under his.
We are fighting each other and finding that perfect place that always centers us.
The knowledge that whatever hell we're fighting, we're still fighting. We're together.
I came to the conclusion a long time ago that I can survive anything, that we can
do
anything if we're together.
~~~
Don't miss The World Without End series...the series that started it all!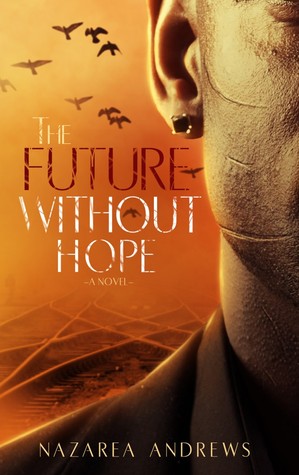 **About the Author**
Nazarea Andrews (N to almost everyone) is an avid reader and tends to write the stories she wants to read. Which means she writes everything from zombies and dystopia to contemporary love stories. When not writing, she can most often be found driving her kids to practice and burning dinner while she reads, or binge watching TV shows on Netflix.
N loves chocolate, wine, and coffee almost as much as she loves books, but not quite as much as she loves her kids. She lives in south Georgia with her husband, daughters, spoiled cat and overgrown dog. She is the author of the World Without End Series, Neverland Found, Edge of the Falls, and the University of Branton Series.
Stay connected with Nazarea Andrews