Welcome to the Official Blog Tour for Son of Set, the second book in the Descendants of Isis series, by Kelsey Ketch!
Genre:
Young Adult Fantasy Romance
Series:
Descendants of Isis Series
Publish Date:
Note:
Summary from Goodreads:
". . . the Sons would never just let him go—alive."


Seth O'Keefe has broken the laws of his god. He never thought he would sacrifice his own future to protect a Daughter of Isis. But when the Sons of Set discovered Natti is the Secret Keeper, he had no choice. Now, Seth and Natti are on the run from his father, who wants nothing more than to see Seth dead. With no allies, Seth turns to the Daughters of Isis for help, hoping they would protect Natti. But when they meet the Daughters, he discovers a secret that puts both their lives in more danger. Low on options, Seth sees only one possibility for survival. He must help Natti solve an ancient puzzle and find the secret name of Ra.

Natara "Natti" Stone is having a hard time swallowing the truth. She can't believe what she has learned in the past twenty-four hours: Seth is a Son of Set blessed with charm; she is a Daughter of Isis blessed with a sliver of Ma 'at; the locket her grandmother gave her holds an ancient Egyptian secret linking to Osiris and Isis. That along with being tortured and brutalized by the Sons of Set, she can hardly hold herself together. Thank God for Seth's touch! That warm, tingling sensation that drowns it all out. Yet her heart struggles to stay focused. She must quickly embrace her destiny before the secret name of Ra falls into the wrong hands.
Book One of the Descendants of Isis series!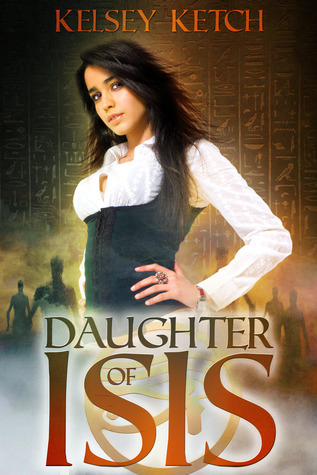 Son of Set Playlist
As the author, I understand that I put both Seth and Natti through the wringer at times. In
Son of Set
alone, Seth has given up everything he's ever known, made enemies of his friends, finds out a secret which he feels could completely destroy Natti, and discovers a prophecy he rather had stayed buried. Meanwhile, Natti suffers the after effects of Sean's spells and the venom he injected her with, is torn from her father and home life, discovers feeling toward Seth she's not sure she can let herself feel toward him, and winds up finding she had abilities she never even knew about. With all that, the
Son of Set
playlist reflects their heightened emotions throughout the novel:
I Knew You Were Trouble by Taylor Swift
Counting Stars
by
OneRepublic
The Reason by Hoobastank


Creep by Radiohead


Demons by Imagine Dragons


Bleeding Love by Leona Lewis

Everything To Lose by Dido

Chasing The Sun by The Wanted

**About the Author**
During her high school years, Kelsey Ketch could always be found tucked away in a little corner of the hall or classroom, writing her fantasy worlds and creating illustrations and maps. Today is no different, except now she's writing in the break room at her office building or at the tables of the Barnes and Noble Café in Cary, North Carolina. She is also an avid reader, a part-time book blogger at
Ketch's Book Nook
, and lives with her two orange tabbies and awesome and humorous flat-mate.
Daughter of Isis
is her debut novel.
Stay connected with Kelsey Ketch
***The Giveaway***
Blog Tour Organized by