Ever since I was introduced to the Beautiful Creatures Series written by co-authors Kami Garcia and Margaret Stohl, I have been following these two authors. I absolutely fell in love with their characters in this series. Since then, these two amazing writers have released their solo books as well. So, you can imagine my excitement when I found out that Kami Garcia was scheduled for an event at the Barnes & Noble at The Grove in Los Angeles. I was absolutely stoked about it, and I knew I cannot miss it! But, of course, this event was scheduled after the weekend I move my daughter in to her dorm up at UC Davis. So, yah, I was in for a very busy five days...hahaha!! But...oh so worth it! Not only that...this Barnes & Noble store is one of my favorite ones to go to, especially because of the amazing events that takes place there. Yes, I do make the drive to Los Angeles for these events!


Well, on September 30, a few friends and and I attended the fun event celebrating the release of Kami Garcia's book, Unmarked, the second book in The Legions Series. We even had another amazing author, Melissa dela Cruz, to moderate this discussion with Kami! What fun this night was! I'm always learning something new about these authors...it just makes me admire what they even more! It also makes me enjoy reading their books even more....and appreciate everything they put into writing these amazing stories that fans loves to read about!
Kami Garcia and Melissa dela Cruz
Kami Garcia
Of course, Kami's partner in crime, Margaret Stohl, was also there to support Kami, as well as several other authors that I have met before and then some. What an amazing night filled with various authors! Several authors joined in for a fun lightning round of questions and answers! And...that was hilarious! However, I had to contain myself since I was holding the camera...hahaha!! Oh the pain of not being able to really let my laugh out...hahaha! The amazing authors that participated in this fun lightning round were: Katie Alender, Lissa Price, Chrstopher Rice, Gretchen McNeil, Robyn Schneider, Eric Shaw Quinn, and Margaret Stohl...as host for this lightning round.
Just watch the video below for all the fun and laughs that Kami, Melissa, Margie, and all the authors having a great time at it, and you'll see what I was talking about...haha! All their antics and fun banter made this event so lively and enjoyable for everyone! I know I had a good time.
Many thanks to the great staff at Barnes & Noble at the Grove in Los Angeles, California for holding such awesome events at their store!
~~~~~
Now let's talk about Unmarked, the second book in The Legion Series, we are celebrating!
Genre:
Young Adult Paranormal/Supernatural Romance
Series:
Publish Date:
Publisher:
Little, Brown Books for Young Readers
Synopsis:
The heart-pounding sequel to the instant New York Times bestseller, Unbreakable, by New York Times bestselling Beautiful Creatures co-author Kami Garcia.
He is here... and he could be anyone.
Kennedy Waters lives in a world where vengeance spirits kill, ghosts keep secrets, and a demon walks among us–a demon she accidentally set free.
Now Kennedy and the other Legion members–Alara, Priest, Lukas, and Jared–have to hunt him down. As they learn more about the history of the Legion and the Illuminati, Kennedy realizes that the greatest mystery of all does not belong to any secret order, but to her own family. With the clock ticking and the life of someone she loves hanging in the balance, Kennedy has to ask the question she fears most: what is it about her past that has left her Unmarked?
Sequel to: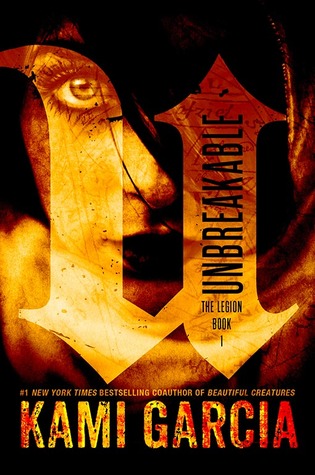 **About the Author**
Kami Garcia at SDCC 2013
Kami Garcia is the #1 New York Times, USA Today, Publishers Weekly, LA Times, Wall Street Journal,

Indiebound

and international best-selling coauthor of the Beautiful Creatures Series -- and the author of Unbreakable, the first book in The Legion Series, which releases on October 1, 2013. Beautiful Creatures has been published in 50 countries and translated in 39 languages, and it was named Amazon's #1 Teen Book of 2009, and #5 on the Editor's Top 100. The Beautiful Creatures movie based on the novel, released in theaters in February 2013, from Warner Bros., directed by Richard LaGravenese and starring Alden Ehrenreich, Alice Englert, Emmy Rossum, Thomas Mann, Viola Davis, Jeremy Irons, and Emma Thompson.
Kami Garcia has an MA in education, and taught in the Washington DC area until she moved to Los Angeles, where she was a teacher & Reading Specialist for 17 years. In addition to teaching Kami was a professional artist and led fantasy book groups for children and teens. Kami is fascinated with the paranormal, and she's very superstitious. When she isn't writing, Kami can usually be found watching disaster movies, listening to Soundgarden, or drinking Diet Coke. She recently moved and now lives in Maryland with her husband, son, daughter and their dogs Spike and Oz (named after characters from Buffy the Vampire Slayer).
Stay connected with Kami Garcia