Welcome to the Official Blog Tour for Charming by Krystal Wade!
Follow the Blog Tour, here!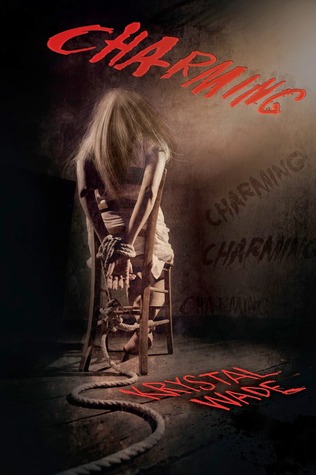 Genre:
Young Adult Romantic Suspense
Publish Date:
Publisher:
Synopsis:
They say what doesn't kill you makes you stronger, and that's great...as long as you don't die.
Sixteen-year-old Haley Tremaine had it all: top-notch school, fantastic family, and a bright future, but all of that changed when an accident tore her family apart. Now, an alcoholic father, a bitter younger sister, and a cold headstone bearing her mother's name are all she has left.
Chris Charming has it all: a powerful CEO for a father, a prestigious school, and a fortune at his fingertips, but none of that matters when he lands a reputation as a troublemaker. Struggling to follow in his father's footsteps, he reaches out to the one person he believes truly sees him, the one person he wants: Haley.
Little do they know someone's determined to bring the two together, even if it means murder.
**About the Author**
Krystal Wade is happily married to the love of her life (don't gag) and raising three beautiful children in the gorgeous state of Virginia. They live just outside Washington, D.C., and every day she wakes up to find herself stuck in traffic trying to get there.
The horrid commute gives Krystal plenty of time to zone out and think about her characters in full, brilliant details (she's a safe driver, don't worry). Stories give her a way to forget about the sometimes smelly strangers sitting next to her on the fifty mile trek into town (she picks up hitchhikers every day. True story. Check out www.slug-lines.com if you don't believe us).
Krystal has been a part of organized hitchhiking for nearly fifteen years, but that's just one small aspect of her oh-so-large life. When she's not working, commuting, or chasing after her three children (four if you count the man), you can usually find Krystal outside talking to her chickens like they're the cutest things in the world (they are), or training her amazing dogs how to herd said chickens (which they love), or curled up on the sofa with a good book (why can't that be 100% of the time?).
Stay connected with Krystal Wade
*My Thoughts*
Note: This review contains NO spoilers
What an interesting Cinderalla-esque story filled with suspense and mystery involving a crime. Krystal Wade has created a world that gave that Cinderalla-theme story a dark side. Filled with twists that further deepened and darkened the mystery, the story kept me at the "edge of my seat" wanting me to finish the book! Charming not only intertwined real-life issues in these characters' lives, it focused on the main character's, Haley, way of coping with the tragedy in her life, and the changes that came after.
I really enjoyed Krystal Wade's brilliance in character development, especially with the emotional state of her characters. Because of Krystal's development of her characters personalities and backgrounds, it was enough to give depth to their state of mind and emotional state considering the ordeal they went through. To dive into that darkness, then twist it, the characters' minds are an incredible blank canvas that Krystal deftly accomplished the twisted mind set she set out in this thriller of a story. It definitely kept me guessing. Although it has its element of romance, it wasn't so overbearing to the point to being too swoony and sappy. I enjoyed that there was a balance of suspense, thrill, romance, and mystery that made this read irresistible and gripping. However, I would have probably wanted more graphic abuse and violence; after all, it is issues that is pretty much throughout the book. I also liked that Krystal did not disrepect and/or glorified these issues that so many people have suffered and/or are still suffering under. These are real issues that happens, and people deal with every day.
Charming is a dark and twisted retelling of a Cinderella-esque themed story that kept me guessing. The elements of suspense, mystery, and romance were well balanced, not overpowering the other, keeping the intense pace flowing. And, of course, despite the ordeal these characters experienced, there was still the "happily ever after" that always ends a fairy tale...even though this one was dark and twisted.
If you enjoy dark and twisted retellings, then Charming might interest you...it is definitely not for the faint of heart since it touches on situations that readers may not be comfortable reading.
My rating:
***The Giveaway***