Welcome to the Official Blog Tour for Afterparty by Ann Redisch Stampler!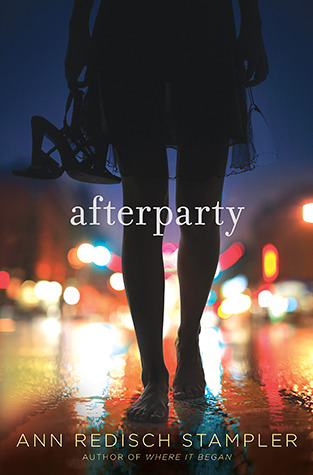 Genre:
Young Adult Contemporary
Coming-of-Age/Realistic Fiction
Publish Date:
January 7, 2014
Synopsis:
Emma is tired of being good. Always the dutiful daughter to an overprotective father, she is the antithesis of her mother--whose name her dad won't even say out loud. That's why meeting Siobhan is the best thing that ever happened to her… and the most dangerous. Because Siobhan is fun and alluring and experienced and lives on the edge. In other words, she's everything Emma is not.
And it may be more than Emma can handle.
Because as intoxicating as her secret life may be, when Emma begins to make her own decisions, Siobhan starts to unravel. It's more than just Dylan, the boy who comes between them. Their high-stakes pacts are spinning out of control. Elaborate lies become second nature. Loyalties and boundaries are blurred. And it all comes to a head at the infamous Afterparty, where debauchery rages and an intense, inescapable confrontation ends in a plummet from the rooftop...
This explosive, sexy, and harrowing follow-up to Ann Redisch Stampler's spectacular teen debut,
Where It Began
, reveals how those who know us best can hurt us most.
*Excerpt*
**About the Author**
Ann Redisch Stampler is the author of young adult novels
Where It Began
and
Afterparty
, as well as several picture books, including
The Rooster Prince of Breslov
. Her books have been an Aesop Accolade winner, Sydney Taylor notable books and an honor book, a National Jewish Book Awards finalist and winner, and Bank Street Best Books of the Year. Ann has two adult children and lives in Los Angeles, California with her husband.
Stay connected with Ann Redisch Stampler
~~~~~
*My Thoughts*
Note: This review contains NO spoilers
It's just scary to think that these teenage antics, to the extreme, are what's happening to teens today! Whoa! Ann Redisch Stampler has written an intriguing story of a over-sheltered young girl as she navigates through her new high school with all the peer pressures, the bullying, and her need to find herself. This was definitely a read that any parent would dread if it was happening with their own teen. Yikes! Because I know I was filled with dread and apprehension with each turn of the page.
Although it started off slow (for me), the story did pick up its pace after Emma moved to California and had "befriended" Siobhan. As I continued reading, the writing seemed more and more like a diary entry of Emma's life or Emma telling her story to a psychologist/therapist. It totally felt like I was in her head...knowing what she's thinking, what she's feeling, and knowing what she REALLY desires. As she gets more and more involved with her "friendship" with Siobhan, Emma quickly goes into the more darker side of her that she struggles with. Yes, like any other teenager, Emma is dealing with A LOT of peer pressure...to the extreme. It's hard for Emma to not want to explore that darker, undisciplined side of herself since she has been so sheltered by her father for most of her young life. Hey...that's called rebellion...hahaha!!!
Being a parent, I was absolutely aghast with all the "things" that Emma and Siobhan had agreed to in their "pact." But, all the while, I couldn't put the book down. In all honesty, almost throughout the book, I was nodding my head in agreement of what teens today are doing...well, maybe not to that extreme, or are they!?! I don't know, but the main thought going through my mind is the hope my daughter is confident enough to know what's right and what's wrong for herself. I also felt a lot of compassion for these girls as their lives spiral out of control...and there's always an underlying reason why, that we soon learn why.
I loved how Ann wrote this story with real-life issues that many teens and parents are faced with everyday....peer pressure, sex, drugs, and bullying. All these issues can be found with the characters in Afterparty. Ann has deftly created a teen world of how all these issues can be destructive for any teen, in many different ways. In the end, their young lives are struggling to come out to find themselves and who they want to be. Sometimes, it can get dangerous...and it did!
Afterparty is a dark and hard look into the mind of Emma and her "friends," and how she deals with it and her overbearing father. A slow read at the start, but a suspense-filled thriller of a teenager's actions as she tries to find who she REALLY wants to be...good or bad, or maybe somewhere in between. All in all, Afterparty was Emma's journey and introduction to an out controlled teen lifestyle that got dangerous. This was definitely a must-read as it takes a dark and hard look at the real issues teenagers do suffer and struggle with every day in high school.
I could only give it a four star rating, because of the slow start. I really had to "push" myself to continue reading. But, I am so glad that I did. This isn't an easy read...not in a long shot. The story's pace gradually gets you deeper and deeper into Emma's head and picks up when it took a sharp turn to the dark and psychological thriller side of suspense....well, worth not giving up reading Afterparty. This is my first book that I have read by Ann Redisch Stampler; and she did a phenomenal job of getting me into Emma's head.
My rating:
~~~~~
***The Giveaway***
Giveaway Open to the U.S. Only
a Rafflecopter giveaway