Welcome to the Review Blitz featuring Melissa Pearl's The Masks Series! True Colors (book 1) and Two-Faced (book 2) are the first two exciting releases in this Young Adult Paranormal Romance series!
Genre:
Young Adult Contemporary Romance
Series:
Publish Date:
Publisher:
Synopsis:
Caitlyn Davis always cruised through life, not being the type to ruffle feathers or involve herself in high school drama...until a chance encounter with a strange, homeless man changes everything.
Suddenly, Caitlyn has the ability to see behind people's masks. She discovers that her life isn't as simple as she imagined and her high school is filled with secrets...some very sinister ones.
Unable to ignore her new gift, Caitlyn embarks on a mission to learn why one of her friends now appears terrified, but masks her fear behind a bright, smiling veneer. Will Caitlyn's new ability lead her into hot water? Or is her new found vision a blessing that will expose her friends' true colors?
Her quest will lead Caitlyn to lose friends, stand up for those in need, and even find love.
At Palisades High School every face tells a story...
**My Thoughts**
Note: This review contains NO spoilers
Where do I start? The synopsis alone piqued my interest with the thought of "what would I do if I could peel back the masks everyone wears everyday?" Well, that's exactly what True Colors is all about. Set in sunny California, Caitlyn Davis is the main character that has been "given" such a gift. High school is already difficult as it is, then add this ability...it definitely got confusing. Told in Caitlyn's point of view, she takes readers through her journey of accepting this ability some stranger handed to her. When Caitlyn finally accepts and hones her ability, she goes on mission to help those who need it...even though it takes her down a dangerous path. And...because of this ability, Caitlyn was able to see the truth in all her friends and classmates which, in return, made her question her choice in friends.
Melissa Pearl created an emotional and insightful paranormal romance...with a touch of mystery and suspense...that can any average teenager faces in high school every day. She was able to create an amazing cast of characters in various stages and stereotypes of young adult life. Quite frankly, many stereotypes are true to form in reality. I was completely drawn in to the story Melissa Pearl created. I even could relate to a few characters.
True Colors made me laugh, cry, empathetic, fearful and relieved for and with the characters throughout the book. I am definitely looking forward to reading the next books in the series! Would love to read more on Caitlyn developing and training the use of her gift, and what her journey of helping those who need it.
My rating: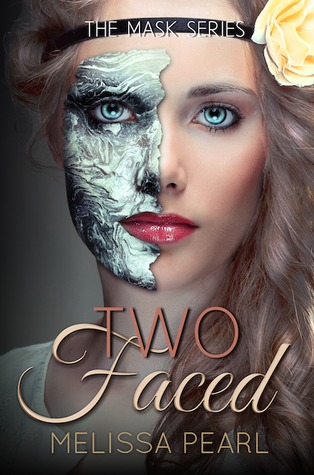 Genre:
Young Adult/New Adult Paranormal Romance
Series:
Publish Date:
Publisher:
Synopsis:
Caitlyn Davis has an unusual gift. She knows exactly how people feel. Everyone wears a mask, but she sees the hidden truth. This ability has changed her life, both for the better and worse. She can choose to ignore what she sees...but what happens when it involves the guy she loves?
Eric Shore knew getting involved with a girl who could read people was risky, but he couldn't help himself. Caitlyn is gorgeous and he loves being with her. Their relationship is going great...until she tells him that his step-brother and star basketball player, Connor, is doing drugs. Having looked up to the guy for years, Eric just can't buy it. Things only get worse when Caitlyn questions the true nature of Eric's favorite teacher.
The first year at college is supposed to be amazing, but theirs is off to a rocky start. As masks are peeled away, secrets will be exposed, dangers will be revealed, and both must decide out of the people closest to them, who is telling the truth...and who is being two-faced.
*My Thoughts*
Note: This review contains NO spoilers
Wow! Two-Faced is another amazing and emotional story by Melissa Pearl! A sequel to True Colors, Melissa deftly intertwined the paranormal and suspenseful drama into Caitlyn's life. From high school to college, life and growth happens, but with Caity's ability to see people's true emotions, life isn't as simple. Melissa has skillfully expressed the struggles and stress that Caity goes through in dealing and using her gift...that she never wanted, but takes responsibility for it. I loved the smooth flow and transition the characters and the story take into college life after high school.
This time, Two-Faced is told in two points of view (POV)...Caity's POV and Eric's POV. This is where the romance comes in...Caity really did fall for the boy next door, and Eric fell for Caity, the girl next door! Now, how sweet is that! However, their journey towards their relationship wasn't as simple...yes, the road to their relationship was a suspense thriller...haha! But, I can't say anymore....you must read True Colors to get that dramatic history behind Caity and Eric's relationship. I loved how real life issues have been beautifully interwoven into the story/plot.
Since reading True Colors, then Two-Faced, Melissa did an amazing job with the character development, especially when her characters made that transition from high school to college....they're not teenagers anymore! Loved it! Reminded me of when I had to transition from high school to college...it was nerve-wracking and stressful...hahaha!! With the beautiful character development and growth, I felt I was there with Caity...going through all her struggles and doubts about college, her gift...even her boyfriend! What!?!
Then...when I got to the climax of the story...Whoa! My heart was racing and pounding! I seriously held my breath as I turned the pages...the suspense was killing me! Like with True Colors, Caity (again) puts her life on the line to help others, because of her gift. I so love this character. She's vulnerable, yet, she finds the strength to help others. I think I started breathing again when I got to the end of the book...guess I let out a breath of relief, once I found out the outcome of all suspense Caity and her friends put me through...hahaha! Amazing read!
I am absolutely amazed at Melissa's brilliant ability to create such emotional and insightful characters, and to create a world that has its flaws, but yet, the beauty still shines. Filled with suspense and drama, Melissa still added the sweet romance to keep me swooning. From True Colors to Two-Faced, this series has definitely got me wrapped up in Caity's life and the gift she has been given. I so look forward to the next book in this amazing series!
Melissa Pearl has, again, written an amazing story filled with emotions and drama in any average college student life...but with the added paranormal element and that suspense mystery feel to it that will keep things interesting! I know I want more!!!
My rating:
Melissa Pearl was born in Auckland, New Zealand, but has spent much of her life abroad, living in countries such as Jordan, Cyprus and Pakistan... not to mention a nine month road trip around North America with her husbnd. "Best. Year. Ever!!" She now lives in China with her husband and two sons. She is a trained elementary teacher, but writing is her passion. Since becoming a full time mother she has had the opportunity to pursue this dream and her debut novel hit the internet in November 2011. Since then she has continued to produce a steady stream of books.
Recently she signed with Evatopia Press and her first Evatopia book was released in February 2014 - True Colors, The Masks Series #1. She is very excited to be trying out new things this year while continuing to publish under her own name as well. She has six books releasing in 2014 and is excited about writing each and every one of them.
"I am passionate about writing. It stirs a fire in my soul that I never new I had. I want to be the best writer I can possibly be and transport my readers into another world where they can laugh, cry and fall in love."
Stay connected with Melissa Pearl
Review Blitz Organized by