Genre:
Series:
Descendant Prophecies Series, #2
Publish Date:
Synopsis:
A mysterious stranger enters Skylar's inner circle, throwing her life out of balance.
As secrets are revealed, she learns of the New Olympus, a dwelling for the descendants of the Gods.
The Grand family must work together with these descendants to discover the key to their rescue from the clutches of the evil vultures of Hades, whose numbers are growing.
As the threat increases, Skylar must learn to control her newfound powers before it's too late.
Sequel to: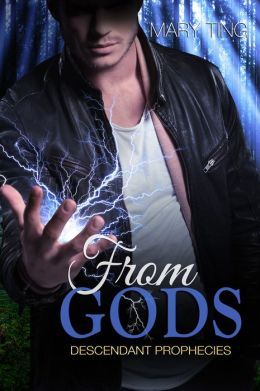 **About the Author**
International bestselling author
Mary Ting
resides in Southern California with her husband and two children. She enjoys oil painting and making jewelry. Writing her first novel, Crossroads Saga, happened by chance. It was a way to grieve the death of her beloved grandmother, and inspired by a dream she once had as a young girl.
When she started reading new adult novels, she fell in love with the genre. It was the reason she had to write one-Something Great. Hence, Mary's pen name, M. Clarke? She tours with the Magic Johnson Foundation to promote literacy and her children's chapter book-No Bullies Allowed.
Stay connected with Mary Ting
*My Thoughts*
Note: This review contains NO spoilers
And the adventure continues... As stated in the synopsis, more secrets are revealed!! The intensity and suspense keeps rising as Skylar and her friends continue on their quest to find answers and save loved ones.
Mary continues to "wow" me with her incredible character development and world-building. Even with the introduction of new characters throughout the story, each character maintains their own individuality and distinct personalities. As for the world-building, Mary has created a setting that is vivid and believable...even in a world of mythology and fantasy. I loved how the story flowed as secrets were revealed, which led them closer to the center of the mystery. And, boy, what revelations and twists were divulged which let me stunned. However, I did find that it wasn't as fast-paced as compared to From Gods. But, it definitely does not detract from the story as a whole.
I am totally loving the romance between Skylar and Mason. Despite all the obstacles that lay in front of them, their relationship just keeps getting stronger. To top it all off, Skylar finds out the truth about her accumulating powers.
I'm getting the feeling there's a lot more to the mystery than what was revealed. And, sure enough, there is! Oh, those twists and turns in this mystery action, adventure has definitely got me addicted! Time to read From Origins, so I can find out if Skylar, Mason, and all the other descendants succeed in this adventure.
My rating: