We are absolutely thrilled to reveal the cover of Surviving Ice, the fourth novel in the Burying Water series!
Genre:
New Adult
Romantic Suspense
Series:
Burying Water Series, #4
Publish Date:
October 13, 2015
Publisher:
Atria Books
(imprint of Simon & Schuster)
Synopsis:
Ivy Lee, a talented tattoo artist who spent the early part of her twenties on the move, is looking for a place to call home. She thinks she might have finally found it working in her uncle's tattoo shop in San Francisco. But all that changes when a robbery turns deadly, compelling her to pack up her things yet again.
When they need the best, they call him. That's why Sebastian Riker is back in California, cleaning up the mess made after a tattoo shop owner with a penchant for blackmail got himself shot. But it's impossible to get the answers he needs from a dead body, leaving him to look elsewhere. Namely, to the twenty-something-year-old niece who believes this was a random attack. Who needs to keep believing that until Sebastian finds what he's searching for.
Ivy has one foot out of San Francisco when a chance encounter with a stranger stalls her departure. She's always been drawn to intense men, so it's no wonder that she now finds a reason to stay after all, quickly intoxicated by his dark smile, his intimidating strength, and his quiet control.
That is, until Ivy discovers that their encounter was no accident--and that their attraction could be her undoing.
UK Pre-order Links
Get started on the Burying Water series!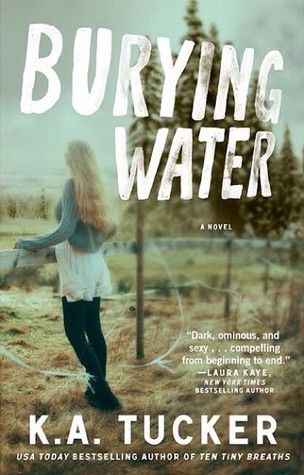 UK Purchase Links
**About the Author**
Born in small-town Ontario, Kathleen published her first book at the age of six with the help of her elementary school librarian and a box of crayons.
She is a voracious reader and the farthest thing from a genre-snob, loving everything from High Fantasy to Chick Lit.
Kathleen currently resides in a quaint small town outside of Toronto with her husband, two beautiful girls, and an exhausting brood of four-legged creatures.
Stay connected with K. A. Tucker
Cover Reveal Organized by