Genre:
Series:
Publish Date:
Publisher:
Synopsis:
After the love of her life walks out the door, Abby Simmons is depressed, run down, and overwhelmed. Working long days as an attorney in a busy firm is sucking the life out of her and Abby feels she is at the end of her rope. Then, a co-worker recommends a new type of spa called Paradise. He promises their therapies will shake off her lethargy and help her to regain her sparkle. Skeptical, but very curious, Abby decides to visit the establishment. At first, what she hears sounds too good to be true, but soon Abby uncovers a whole new world of pleasure that quickly becomes her undoing.
Step behind the door to embark on a journey where surrendering to desire is only the beginning. Welcome to Paradise.
The Behind the Door Serial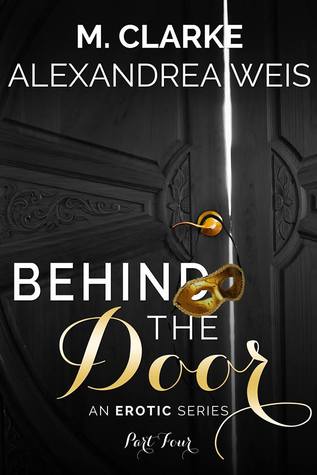 **About the Authors**
M. Clarke aka Mary Ting resides in Southern California with her husband and two children. She enjoys oil painting and making jewelry. Writing her first novel, Crossroads Saga, happened by chance. It was a way to grieve the death of her beloved grandmother, and inspired by a dream she once had as a young girl. When she started reading new adult novels, she fell in love with the genre. It was the reason she had to write one-Something Great. Why the pen name, M. Clarke? She tours with Magic Johnson Foundation to promote literacy and her children's chapter book- No Bullies Allowed.
Stay connected with M. Clarke/Mary Ting
Alexandrea Weis is an advanced practice registered nurse who was born and raised in New Orleans. Having been brought up in the motion picture industry, she learned to tell stories from a different perspective and began writing at the age of eight. Infusing the rich tapestry of her hometown into her award-winning novels, she believes that creating vivid characters makes a story moving and memorable. A permitted/certified wildlife rehabber with the Louisiana Wildlife and Fisheries, Weis rescues orphaned and injured wildlife. She lives with her husband and pets in New Orleans.

Stay connected with Alexandrea Weis
*My Thoughts*
Note: This review contains NO spoilers
I've read books by both authors. I have to say that they both are amazing. Each author has their own style of writing, both delivering wonderful love stories with well developed characters and settings. Now, they have come together to write this four-part Behind the Door serial! The blending of their two styles created a hot and sensual story!
After reading Part 1, it definitely left me breathless...let alone hot and bothered...haha! Part 1 is just the beginning, it introduced our main character, Abby, to a world of pleasure she has yet to explore. Talk about stress, Abby is all tied up in knots, especially after what happened...not to mention that she works long hours.
I was also curious about this Paradise as I read Part 1. I wanted to know what was behind the door just as much as Abby wanted to know. What a sensual start to this serial. We get the introductions of the characters and settings; then "BAM", we get to the sensual part that gets the heart racing...plus, aroused. Wow! By the turn of the last page, I was definitely frustrated that I have to wait for the next part to find out more of Abby's exploration of her desires.
I must have more!
My rating: