Welcome to the exciting Release Day Blitz for Teaching Roman, book 2 of the Good Girls Don't series, by Gennifer Albin!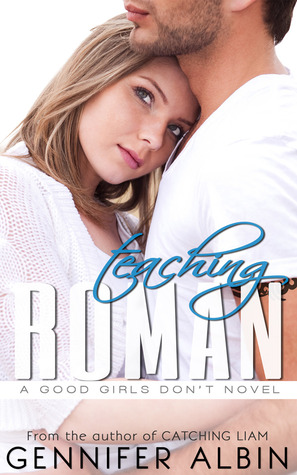 Genre:
New Adult Contemporary Romance
Series:
Publish Date:
Synopsis:
Jessica Stone has her life in perfect order until her perfectly boring boyfriend Brett puts things in perspective. So when she receives a call to action from her heartbroken best friend Cassie, she ditches her plans for Winter Break in gloomy Olympic Falls and sets off to Mexico for some fun in the sun.
Determined to use her oceanview to prep for her MCATS, she doesn't plan to run into anyone from Olympic State, least of all the cute communications prof she's been crushing on for a year. When he unexpectedly saves the day, the two are thrown together in a distinctly extracurricular activity.
Roman Markson doesn't expect to run into anyone he knows from Olympic Falls while visiting his family in Puerto Vallarta, especially not a former student. Although Jess Stone has a way of catching men's attention, a relationship with her is strictly off-limits. However, the rules feel less strict in Mexico, so they agree to a plan: one week in paradise and nothing more.
But avoiding each other back on campus is harder than they anticipated, especially when they can't stay away from one another. Neither is sure what they have to learn—and lose—before life teaches them a lesson they'll never forget.
**About the Author**
Gennifer Albin holds a Masters degree in English Literature from the University of Missouri. A recovering academic, she turned to writing her own books. In her free time she sits on the National Novel Writing Month Advisory Board, laughs (and cries) with her mom writers group, and watches too much Doctor Who (if that's possible). Gennifer lives in Poulsbo Washington with her family.
Gennifer's debut novel, Crewel, was written during NaNo '10 and I now sit on the official National Novel Writing Month Advisory Board. She is represented by Mollie Glick of Foundry Literary + Media.
Stay connected with Gennifer Albin
Release Day Blitz Organized by