Welcome to the Official Blog Tour for Five Ways To Fall, the fourth book of the Ten Tiny Breaths series, by K.A. Tucker!
Sometimes you can't change—and sometimes you just don't want to. Discover Ben's side of the story in this fourth novel by the beloved, top-selling indie author of Ten Tiny Breaths, One Tiny Lie, and Four Seconds to Lose.
Genre:
New Adult Contemporary Romance
Series:
Publish Date:
Publisher:
Synopsis:
Purple-haired, sharp-tongued Reese MacKay knows all about making the wrong choice; she's made plenty of them in her twenty-odd-years. So when her impulsive, short-lived marriage ends in heartbreak, she decides it's time for a change. She moves to Miami with the intention of hitting reset on her irresponsible life, and she does quite well…aside from an epically humiliating one-night stand in Cancun with a hot blond bouncer named Ben. Thank God she can get on a plane and leave that mistake behind her.
Football scholarship and frat parties with hot chicks? Part of charmer Ben Morris's plan. Blown knee that kills any hope of a professional football career? So not part of the plan. Luckily Ben has brains to go with his knockout looks and magnetism. After three long years of balancing law school with his job as a bouncer at Penny's Palace, he's ready to lead a more mature life—until his first day of work, when he finds himself in the office of that crazy, hot chick he met in Cancun. The one he hasn't stopped thinking about.
If Ben truly were a smart guy, he'd stay clear of Reese. She's the boss's stepdaughter and it's been made very clear that office romances are grounds for dismissal. Plus, rumor has it she's trouble. The only problem is, he likes trouble, especially when it's so good-looking…
*Excerpt*
"You've got this all figured out, don't you, Don Juan." I half-fall, half-lean against the wall to balance myself as I kick off my flip-flops. Once I got past the whole red shirt issue—I hold a special kind of grudge against that color—I realized that Nicki may have called forth the perfect exorcism candidate after all. As if his dazzling blue eyes and deep dimples weren't enough to win me over, the second Ben pulled his shirt off in the middle of the lounge and stood there like an arrogant bastard, that incredibly ripped body of his on proud display, I knew there would be no pretenses with this guy. No confusion. No false promises of a life together. Or even a phone call.
But what makes Ben the most compelling candidate is the fact that he has effectively distracted me from all thoughts Jared. I mean, he's about as opposite as you can get. Ben is rugged and blond, whereas Jared is "pretty" and dark. Jared's chest and arms are covered in tats, while Ben's body boasts a naked—and appealing—canvas. And where Jared is quiet and introverted, Ben is as outgoing and obnoxious as you can get.
An interesting bonus? He's had me laughing all night long. Granted, I was usually laughing
at
him, but still.
Thanks to Ben, I've had several hours' respite from excruciating thoughts of my ex-husband and his elaborate wedding to
her
in Savannah, Georgia, happening at this very moment. I only know about the wedding because I stalk Jared's Facebook profile daily. While he has never been good at posting status updates, Caroline could join an Olympic Facebook team the way she plasters pictures and wedding plans and "I love you's" on his wall like unsightly graffiti.
Unfortunately, even a guy like Ben couldn't cure me of all thoughts completely and the second they crept out from the dark recesses—the moment I felt the drunk-girl tears about to erupt—I told Ben that he was bringing me to his hotel room.
Wandering farther in, I throw an arm toward the bed not covered in his clothing and suitcase. "You sleep in this one?"
Heavy footsteps approach behind me. "Yep."
"Okay then." I lean forward to shove everything from the unused bed.
"What are you doing?" Ben asks with a chuckle.
"I'm assuming you've had your other
conquests
over there," I mutter, his suitcase making a loud thud as it hits the ground, the contents spilling out. "I want an untainted bed."
"Hey, you're the one who grabbed me by my belt and demanded that I bring you here. I was just as happy hanging out by the bar."
I snort. "Yeah. I don't think I've ever seen as bad a case of eyeball static cling as tonight." If his eyes weren't on my boobs or my legs, they were glued to my face. I'll admit, his undivided attention on me felt damn good. A real ego booster when I needed it most.
The Ten Tiny Breaths Series
A Ten Tiny Breaths Novella: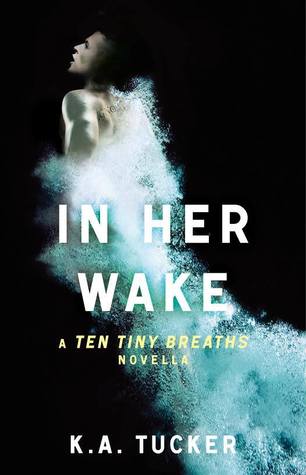 (to be released September 1, 2014)
Born in small-town Ontario, Kathleen published her first book at the age of six with the help of her elementary school librarian and a box of crayons.
She is a voracious reader and the farthest thing from a genre-snob, loving everything from High Fantasy to Chick Lit.
Kathleen currently resides in a quaint small town outside of Toronto with her husband, two beautiful girls, and an exhausting brood of four-legged creatures.
Stay connected with K.A. Tucker
***The Giveaway***