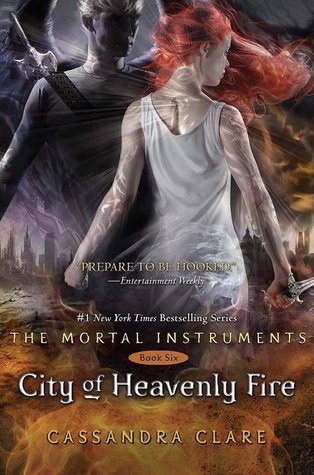 Genre:
Young Adult Paranormal/Fantasy Romance
Series:
The Mortal Instruments, #6
Publish Date:
Publisher:
Margaret K. McElderry Books
Synopsis:
In this dazzling and long-awaited conclusion to the acclaimed Mortal Instruments series, Clary and her friends fight the greatest evil they ave ever faced: Clary's own brother.
Sebastian Morgenstern is on the move, systematically turning Shadowhunter against Shadowhunter. Bearing the Infernal Cup, he transforms Shadowhunters into creatures out of nightmare, tearing apart families and lovers as the ranks of his Endarkened army swell.
The embattled Shadowhunters withdraw to Idris - but not even the famed demon towers of Alicante can keep Sebastian at bay. And with the Nephilim trapped in Idris, who will guard the world against demons?
When one of the greatest betrayals the Nephilim have ever known is revealed, Clary, Jace, Isabell, Simon, and Alec mus flee - even if their journey takes them deep into the demon realms, where no Shadowhunter has set foot before, and from which no human being has ever returned...
Love will be sacrificed and lives lost in the terrible battle for the fate of the word in the thrilling final installment of the classic urban fantasy series The Mortal Instruments!
The Mortal Instruments Series
**About the Author**
Cassandra Clare was born overseas and spent her early years traveling around the world wit her family and several trunks of fantasy books. Cassandra worked for several years as an entertainment journalist for the Hollywood Reporter before turning her attention to fiction. She is the author of City of Bones, the first book in The Mortal Instruments series and a New York Times bestseller. Cassandra lives with her husband and their two cats in Massachusetts.
Stay connected with Cassandra Clare
*My Thoughts*
Note: This review contains no spoilers
I am still reeling in all the feels after reading this final installment of The Mortal Instruments! Wow! City of Heavenly Fire is the exciting and stunning conclusion to this popular series by bestselling author Cassandra Clare!
Cassandra Clare has brought her characters round full circle, the past, the present and the future converges as Clary, her friends and other Shadowhunters fight against Sebastian and his army in order to save, not just their world, the mundane world as well. The sacrifices they make to save the ones they love is what drives them to do battle with an evil force that goes beyond their dimension, but also to the demon realm.
Thinking back to when I started reading the series, I was amazed at Cassandra's descriptive writing! With every turn of the page, I could envision the world(s) she created within this series! And now, to read this epic conclusion of The Mortal Instruments brought me to tears as I went along with these amazing characters on their journey of darkness to find the light. I also found that many of these characters had a sense of themselves coming-of-age which, in turn, made them grow up way before their ages. And, that's just the way it is for the life of a Shadowhunter. I absolutely loved Cassandra's characters! Be it Shadowhunter, downworlder or mundane, Cassandra's characters had distinct and individual personalities that revealed strengths and vulnerabilities that they did overcome when "push came to shove."
City of Heavenly Fire was a stunning story of our beloved characters growing up, coming to terms with their pasts, starting a new future, and renewed hope. With so many characters involved in the entire series, I was absolutely blown away at how much was put into this final installment! And, I can see how it would be difficult to leave out any of them when all these characters are all so intertwined with each others lives. I gasped, held my breath, laughed, and cried throughout reading this epic conclusion to a series that I have grown to love since the beginning with City of Bones!
City of Heavenly Fire is filled with action, adventure, danger, humor and romance...that made me sigh with relief and triumph. Plus, this final installment had its surprise moments that definitely intrigued me. Definitely a book that is hard to put down once I started reading it!
Like I said, no spoilers! It wouldn't be the same as reading for yourself and living it in your imagination! I can honestly say that The Mortal Instruments is a favorite that I can probably read over and over again...and not get tired of reading it! Hahaha!
My Rating:
Watch the official book trailer for City of Heavenly Fire!