Welcome to the Official Blog Tour for Fatal Beauty by Nazarea Andrews! On my tour stop, I had the pleasure of reviewing this suspense thriller! Don't forget to check out the giveaway at the end of this post!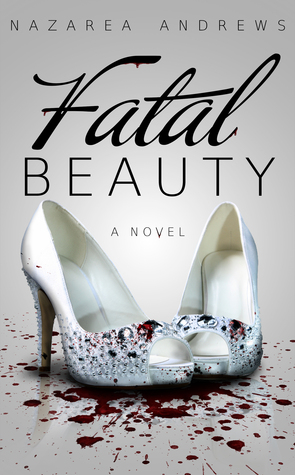 Genre:
Publish Date:
Publisher:
Synopsis:
Charlotte was a good girl.
Sweet and innocent, a debutante with her Daddy's credit card and a
fiancée
who doted on her.
She was destined for a perfect picture life in Charleston.
Until everything goes wrong.
EJ grew up with everything she could ever want, and bored as hell.
Nothing surprises her and nothing ever changes, and she wants out
—
whatever it takes.
Getting involved with Anthony Jacobs is probably the worst idea she's ever had
—
and that makes it irresistible.
New Orleans. Memphis. Vegas.
Beautiful girls who know just how to get exactly what they want.
It's all fun and games, sexy nights and wild parties.
But you can only manipulate your way out of so much, and the body count is rising. When
their past catches up, no even a pretty smile will get them out of trouble this time.
**About the Author**
Nazarea Andrews (N to almost everyone) is an avid reader and tends to write the stories she wants to read. Which means she writes everything from zombies and dystopia to contemporary love stories. When not writing, she can most often be found driving her kids to practice and burning dinner while she reads, or binge watching TV shows on Netflix.
N loves chocolate, wine, and coffee almost as much as she loves books, but not quite as much as she loves her kids. She lives in south Georgia with her husband, daughters, spoiled cat and overgrown dog. She is the author of the World Without End Series, Neverland Found, Edge of the Falls, and the University of Branton Series.
Stay connected with Nazarea Andrews
~~~~~
*My Thoughts*
Note: This review contains NO spoilers
I've read a few books by Nazarea Andrews and absolute enjoyed her books! So...I was definitely excited about reading this book, especially with its dark and suspenseful synopsis. In the synopsis alone, I read with bated breath in anticipation to read and review this new story.
Where to begin....hmmm! I can't say that I loved it; but I can't say that I hated it. I would have to say that I am in the middle. The story/plot was certainly intriguing with its suspenseful twists and turns like its tension-filled beginning. The story already dives readers into the and dark and treacherous paths of these two debutantes. On top of all that, the story was filled with many erotic scenes that would leave readers "hot and bothered"!
However, I found that character development was somewhat lacking....they fell flat and one dimensional. Although the world building was adequate, it was enough to keep it edgy and gripping. In regards to the writing, it felt choppy and confusing; often times, I found myself confused on who was speaking, especially between the two main characters, Charlie and EJ. Fatal Beauty felt more like an erotic suspense story, especially with all the sex happening with these two friends. The story, nevertheless, has potential.
I honestly had a difficult time reading this and keeping my interest. But, I am glad that I did continue reading. Fatal Beauty has its moments of suspense, and most definitely sensually charged moments. Lik
e I said earlier, I didn't love it nor did I hate it. I would say that it is completely up to each reader to decide whether they enjoyed this read or not.
My rating:
~~~~~
***The Giveaway***
a Rafflecopter giveaway