Genre:
Publish Date:
Synopsis:
A pre-apocalyptic tale,
Everlast
follows Derek Everlast, a man whose destiny in life is guiding others to a place of rebirth for mankind called Haven. Following an instinct called the Nudge, bestowed on him by a higher power, Derek is guided to the next chosen human destined to survive, a little girl named Melissa. In a harrowing adventure, he must deliver her safely to Haven before the End of Days.
Everlast tells a story of choice, love, friendship, and, most of all, survival.
**About the Author**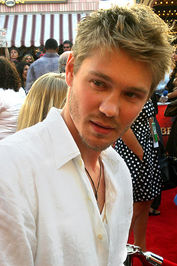 Chad Michael Murray (born August 24, 1981) is an American actor, spokesperson and former fashion model. Murray is well known for portraying Lucas Scott in The CW young adult drama series One Tree Hill, in addition to the films A Cinderella Story, Freaky Friday and House of Wax.
Popular among teenagers and young adults, he has posed on the cover of numerous mainstream magazines, including Rolling Stone, People, Vanity Fair and Entertainment Weekly.
Stay connected with Chad Michael Murray
*My Thoughts*
Note: This review contains NO spoilers
Everlast
shares my complete view point of the world at its worst or deteriorating state. There's a rotting world filled with horrible people and there's something that picks and chooses who is worth saving and who dies at the "End of Days." While this is true, the story didn't leave a lasting impression in or on me. It was far too "point blank" and held very little mystery or allure that kept me wondering about what happens next. Earth is becoming a hell hole, we have our main character (Derek Everlast), his allies/enemies, Haven is literally a paradise, and there are one hundred and forty-four thousand people that are worthy of being saved, all of this revealed in this first book. If the story is continuously told in this fashion,
Everlast
could easily be done in 3, maximum 4, books. The artwork is done well to convey what the story required but not quite interesting, it's cliché as it mainly has wicked monsters, physical attractive characters, and plainly set moods to each panel. It shows exactly what's there and leaves little for the imagination.
My rating: