Welcome to the Official Blog Tour for Naked by Stacey Trombley! Follow this exciting tour, HERE!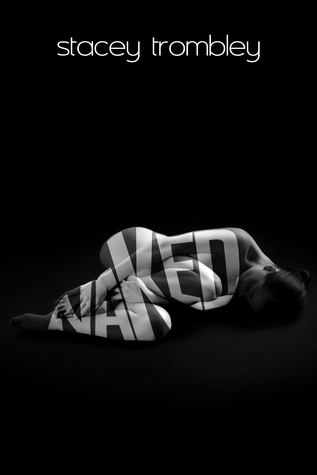 Genre:
Contemporary Drama Fiction
Publish Date:
Publisher:
Synopsis:
The best place to hide is i a lie...
I could never fit in to the life my parents demanded. By the time I was thirteen, it was too much. I ran away to New York City...and found a nightmare that lasted three years. A nightmare that began and ended with a pimp named Luis. Now I am Dirty Anna. Broken, like everything inside me has gone bad.
Except that for the first time, I have a chance to start over. Not just with my parents but at school. Still, the rumors follow me everywhere. Down the hall. In classes. And the only hope I can see is in the wide, brightly lit smile of Jackson, the boy next door. So I lie to him. I lie to protect him from my past. I lie so that I don't have to be The Girl Who Went Bad.
The only problem is that someone in my school knows about New York.
Someone knows who I really am.
And it's just a matter of time before the real Anna is exposed...
*Excerpt*
It hasn't really hit me what's happening until the van pulls up to my old house.
It's big, white, with a full, manicured garden. The Japanese maple tree sitting there, right beside the stone steps that lead up to the wraparound porch, staring at me.
Everything is the same. Except me.
I stand there, looking at the house I fled three years ago. I can't move. I can't make myself go in that house.
Sarah comes around the truck and stands beside me. "Ready?" she asks.
I shake my head. I will never be ready for this. Never.
She doesn't say anything, and she doesn't move. We stand there for at least five minutes. Five really, really, really long minutes. I'm still not ready to move, no matter how long those minutes seem. I'll stand here for eternity if I have to, if it can keep me from facing those memories. From facing my father. My mother.
But Sarah seems ready, so she begins to walk across the massive yard—through the grass. My mother won't like it—she hates anyone touching her perfectly sculpted lawn—but I suppose that's okay with me.
Sarah doesn't ask me to join her, doesn't plead with me to go inside. She leaves me behind, and that's what makes me go. Did she know that even the smallest of nudges would have kept me rooted even deeper in my spot?
I walk very, very slowly toward the house. I feel defiant for walking through the grass. One small thing at a time. My mother doesn't own me anymore.
Sarah reaches the top of the steps as I cross the garden. She knocks on the heavy door. I stop at the bottom of the steps, unwilling to go any farther.
Slowly, the door opens. I close my eyes and wait, but I hear nothing.
After a moment of silence, I can't take it. I open my eyes to see Sarah and the face I've been dreading—and hoping for. My mother's. Apparently she's gathered enough courage to see me face-to-face.
Her hair is done in a tight bun, and her makeup successfully covers whatever flaws she has developed over the last three years. It's obvious she spent a long time preparing herself to see her long-lost daughter up close, without a police station hallway between us. Because clearly looking put-together will make this easier.
I want to roll my eyes, shake my head, but in truth, I'm kind of glad to know she hasn't changed that much. I didn't ruin everything about her. Even if the thing that didn't change was something I never liked.
She doesn't move, just looks at me. But I cast my eyes to the ground, and she clears her throat.
"Why don't you both come in?" I look to Sarah, who nods and walks through the open door first.

We walk down a very familiar hallway and into our huge, bright white kitchen. I'm a stranger in this house.
I'm not the little girl who used to see how far she could slide on the hardwood dining room floor and hid in the linen closet when she was in trouble. I'm definitely not the little girl who sang Christmas songs with her mother while doing the dishes, even in the summer. That girl is gone.
I left her in Grand Central Terminal three years ago.
My father is waiting in the kitchen, sitting at the table. I take in a deep breath, sit across from him, and run my hands through my hair. After a pause, Sarah takes a seat beside me. She gives me a reassuring smile that I don't return.
My mother jumps right into the role of perfect host, walking straight to the refrigerator. Her greatest skill was always ignoring the truth, pretending nothing bothered her, that everything was perfect. I don't know if she agreed with how my father disciplined me, how harsh he was with even the smallest of transgressions. I think sometimes I blamed her more than I did him. But she was too good at ignoring the truth. I supposed I shouldn't be surprised that she's doing the same thing now.
"Would you like some tea?" she asks Sarah without a single glance at me. I want her to look at me. I don't even know why. I should want to run and hide. I should want to hate her, want her to hate me. But somehow, I don't. I want her to care.
Less than five minutes in this house and I already feel like a lost thirteen-year-old again. Maybe I'm not as different as I thought I was. I'm still a stranger in this house, but that's not such a strange concept to Anna Rodriguez. I never belonged here.
*Interview with Stacey Trombley*
Where did the inspiration for this book come from?
It's a bit of a story but it all started when I watched the movie Taken. Where an American teenager is kidnapped in Paris and forced into an international prostitution ring. True human trafficking. I remember wondering what was going through this girl's head. How did she go back to her normal, privileged life after such an insane experience? The movie brushed over this, making it seem like she just lands back in California just fine and dandy and still wanting to be a pop star.
I started with a bit of research and I found that not only is human trafficking a legit issue in the world today, it's huge in the United States, too. I couldn't get it out of my head.
I wanted to write this story but I realized I didn't want to tell the story of how a girl's life was ruined by prostitution. I wanted to explore what it was like for that same girl to move on. That's what I had found so interesting in the first place. Her life on the streets wasn't the end of her story, it was only the beginning.
What authors and/or books have inspired you?
Easily, my favorite YA contemporary book is The Hate List by Jennifer Brown. I read that book and thought to myself "This is the kind of book I want to write." That book is very different from mine but in some ways, it's very similar. The character is seen as a villain, she even considers herself one, to an extent. She has these leftover feelings for someone she knows is bad, not only for her but for others too. Those same feelings are at the heart of NAKED.
What book(s) are currently on your nightstand or ereader?
Oh my goodness, so many. Written In The Stars by Aisha Saeed. The Secrets We Keep by Trisha Leaver. Wonder by R.J. Palacio. Story Of A Girl by Sarah Zarr. Breaking the Ice by Gail Nall. Modern Monsters by Kelly York. And more.
I'm like a horder of ebooks.
Do you listen to music as you write? What do you listen to?
Every book I write has a playlist on Spotify. I use music to set the tone, inspire me, put me in the mood for the book or one scene in particular. I often turn on the music to write but I zone out so quickly I end up not even realizing what I'm listening to. It's more for pre-writing than writing.
I love artists like zzward and Lana Del Rey but they don't fit for every book. For Naked I used a TON of Taylor Swift. She's like the spirit animal of this book.
What one thing should readers know about your heroine?
What I hope readers will realize when they read Naked is that Anna is just a girl. People tend to look at her and see her past, what she's done and nothing more, but they don't realize that she's not a just a teenaged hooker. She's a girl with a rough past but she is still just a 16 year old girl.
What are you working on next?
Oooh! I'm super excited about my next book. It's another YA contemporary romance set in Haiti (if you read my bio you'll see why I chose this setting and why it's special to me) It's not going to be quite as dark as Naked but still has some interesting twists and emotional depth.
**About the Author**
Stacy Trombley lives in Ohio with her husband and the sweetest Rottweiler you'll ever meet. She thinks people are fascinating and any chance she has, she's off doing or learning something new. She went on her firsts mission trip to Haiti at age twelve and is still dying to go back. Her "places to travel" list is almost as long as her "books to read" list.
Naked is her debut novel, coming from Entangled Teen in July 2015!
Stay connected with Stacey Trombley
***The Giveaway***