We have got an exciting Book Blitz for Arwen Paris' debut YA sci-fi urban fantasy novel, Fate of the Stars, to share with you today! We even have a sneak peek into the book with an excerpt! There's even a blitz-wide giveaway, too! Check it out and pre-order your copy now!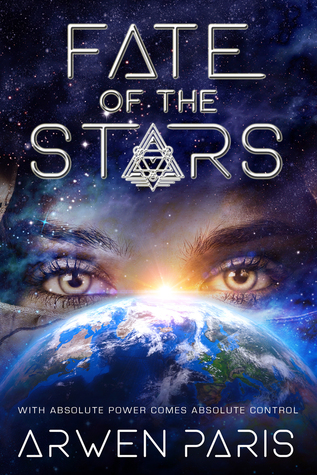 Genre:
Science Fiction/
Urban Fantasy
Publish Date:
Synopsis:
When the fate of the world rests upon you…
Allison Delaney wants to spend her senior year healing from the loss of her father, to leave the shadows of his death and her junior year break-down behind. A Labor Day beach party seems like a good place to start…but there's more danger lurking than anyone could imagine. Death is coming to Earth if the pods of infectious creatures aren't stopped. But only one human can help…
To live or die is no longer a choice.
Eenoki is a protector of life but must have a sentient host to fight the invasion. A teenage girl would not be the best choice, but out of desperation Eenoki invades Allison's mind and body, granting her unnatural abilities and strengths – and helping her escape certain death when the first wave of pods land.
A
s destruction rains down on Earth's population, Allison realizes to save everyone, she must make the ultimate choice: Reject her human side and bond with Eenoki to become the
Earth's Priestess – or be killed along with the rest of humanity.
*Note: all pre-order links are live, except iBooks*
*Excerpt*
Why would they come out here?
I stagger back, shaking as I remember my narrow escape from town, and the aliens' hissing reaction to sound. I hobble to the pilothouse. "Pete!" I shout, twisting the handle. It refuses to turn. "Shut off the engines." I beat on the door.
"What the hell this yellin' about?" he shouts, throwing the door open at me. The other passengers scream. Pete turns toward the shore. "Oh my God." He runs inside. Revving the motor, he swings us back out into the bay. A loud screech jabs my eardrums as metal grinds on metal, and the engines come to an abrupt stop.
"No. No!" Pete shouts, turning the key. There's no reaction at all.
Over the wind and waves, an odd clicking sound makes my flesh crawl. We all stand motionless trying to identify it. The clicks grow louder, overlapping until they become shrill. Something strikes the hull with a heavy thud, and everyone jumps. Then another pound on the boat, and another. I can't decide whether to search for the source of the noise or hide below. But I have to know, so I follow the sound to the rear of the ship. Bobbing on the waves is a human, his face streaked with a black oily residue that's oozing from his nose and mouth. It resembles the oily residue I saw on the back of Bob's neck. His eyes are opaque and dead. Nausea rises in my gut.
They didn't die. I'm not sure what they are now, but they're no longer human.
I've put everyone here in danger with my selfish request to go to shore, attracting their attention. I grow limp and drop my head back, staring up at the sky.
So close
, a thin voice says, seemingly right in my ear. It's the voice that warned me to run. Clenching my jaw, I lash out through my mind at the voice.
So close to what
,
dying?
Discordant memories churn in my head. I close my eyes to still the illusions. A glow illuminates the back of my eyelids and warmth spreads through me.
You must see, Allison
.
The only way left to explain in time
.
Fate of the Stars Playlist:
**About the Author**
Arwen Paris is the author of young adult fiction. Her debut YA Sci-fi Urban Fantasy novel Fate of the Stars releases September 1, 2017
. The action-packed pages of her novels are filled with characters that are forced to face fears they never expected.
Fate of the Stars, her debut young adult sci-fi urban fantasy, was the Second Place winner of the 2016 Pages From The Heart Contest.
When Arwen is not writing, you can see posts of her (too many) vacations that keep her sane. Arwen lives in Washington, has a big crazy family & after the day job, she writes Fiction For the Fearless - #F3Fanatic
Stacy connected with Arwen Paris
***The Giveaway***
Giveaway Open Internationally