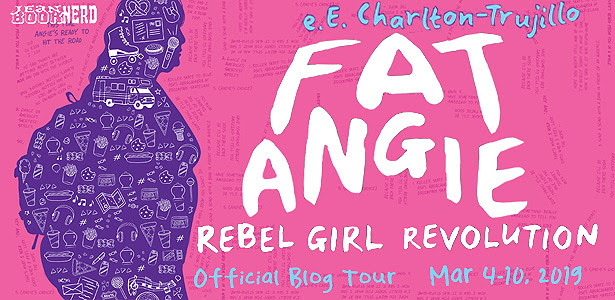 Welcome to the Official Blog Tour for e.E. Charlton-Trujillo's Fat Angie: Rebel Girl Revolution!!! Today, on our tour stop, we have an exclusive excerpt AND a tour-wide giveaway to share! So... Check it out and grab your copy now!!! Follow the tour, HERE!!!
Genre:
Publish Date:
Publisher:
Synopsis:
More trouble at school and at home — and the discovery of a missive from her late soldier sister — send Angie and a long-ago friend on an RV road trip across Ohio.
Sophomore year has just begun, and Angie is miserable. Her girlfriend, KC, has moved away; her good friend, Jake, is keeping his distance; and the resident bully has ramped up an increasingly vicious and targeted campaign to humiliate her. An over-the-top statue dedication planned for her sister, who died in Iraq, is almost too much to bear, and it doesn't help that her mother has placed a symbolic empty urn on their mantel. At the ceremony, a soldier hands Angie a final letter from her sister, including a list of places she wanted the two of them to visit when she got home from the war. With her mother threatening to send Angie to a "treatment center" and the situation at school becoming violent, Angie enlists the help of her estranged childhood friend, Jamboree. Along with a few other outsiders, they pack into an RV and head across the state on the road trip Angie's sister did not live to take. It might be just what Angie needs to find a way to let her sister go, and find herself in the process.
*Excerpt*
This was the beginning, again. Angie bit the end of her thumbnail, standing with a JanSport kitten-rage backpack given to her by KC Romance evenly secured on her husky shoulders. She had walked 3,239 steps from her home in the cul-de-sac of Oaklawn Ends to William Anders High School, as counted by her father's once-relished red pedometer. One of the few relics left behind when he moved out two years earlier.
Her unexpected walk on the fi rst day of tenth grade, after a sad-beautiful-sad-better rerun of freshman year, had been marred by the canary-yellow, glitter-dipped ribbons that were tied to the four tree trunks in the front of the high school. A sum total of 573 ribbons adorned the mostly quiet community of Dryfalls, Ohio.
Angie did not like the color yellow.
Angie's sister had not liked glitter or yellow.
Angie cringed at the sight of the ribbons in front of her school.
Feeling less the girl with gusto who had earned a coveted spot on the infamous Hornets' Nest varsity basketball squad the year before and more the loser who'd walked away from it, Angie stood, nervously sweating at her hairline, fearing that there would, in fact, be more lows than highs. With her requited love, KC Romance, on the lam since late July, Angie found herself swallowed by the doldrums, longing for the intense girl with a hunger greater than the number of waffles served at Waffle House (800 million and counting).
Lost in a nostalgia often reserved for montages in teen movies, Angie looped KC's parting words before her reluctant relocation to Texas to "reconnect" with her not-solong-lost father.
"Baby, sometimes, love just ain't enough,"
KC had said.
With that 1990s throwback song lyric by the legendary Patty Smyth, featuring Don Henley of the Eagles, Angie's hopes of finally starting sophomore year on the right foot went left. Any hopes of a long-distance relationship were dashed, because KC did not believe in long-distance relationships — a unilateral decision that confused Angie. Nevertheless, she had watched, weepy-eyed, as the only person she thought she could ever love vanished through the long, shoulder-to-shoulder security-checkpoint line. KC had waved tearfully with her one-way ticket on Southwest Airlines, flying to Dallas Love Field.
Four weeks, five days, eight hours, and forty-two minutes since leaving said forever-fi rst-and-likely-only love at the airport, according to Angie's Casio calculator watch. Angie, who in KC's absence felt more "fat" Angie than ever before. According to the expensive scale her couldn't understand mother, Connie, required her to weigh in on since a recent doctor's visit, Angie was, as a matter of fact, heavier. By several pounds, though she could not admit the exact number even to herself.
Angie dipped her head toward the student parking lot with teens leaning on car hoods or in truck beds. Girls flirting — working angles with a slight shift of a hip, a slip of a grin, their confidence vested in their thin waistlines. Nothing to encumber them. Nothing to keep them from being . . . normal.
Self-consciously, Angie pulled at her Jackalope T-shirt, finally deciding to cover her stomach with her arms. Still waiting for Jake Fetch to pull into the parking lot. Jake, who had promised to pick her up but pulled a no-show. Jake, who had promised to walk in with her because she could not fathom doing it alone. Jake, who had become a series of broken promises since returning from a summer-camp job in rural Wisconsin. All the while denying anything was wrong, but something was clearly not right. Because Jake was a good boy from a good home with both parents, who were happily married and owned a dog that liked his name. The dog's name was Ryan. Even if Jake and Angie seemed like the most unlikely of friends because of his acceptance into popular social circles, he had shown up for her when she needed him the most. Until his recent foray into breaking promises, anyway
FAT ANGIE: REBEL GIRL REVOLUTION. Copyright © 2019 by e. E. Charlton-Trujillo. Reproduced by permission of the publisher, Candlewick Press, Somerville, MA.
Praise for FAT ANGIE: REBEL GIRL REVOLUTION
Fortunately and refreshingly, the text gives Angie no weight-loss arc...A welcomingly awkward, offbeat journey for a "gay-girl gay" girl with many heartaches. ―Kirkus Reviews
In this companion to the Stonewall Award–winning Fat Angie, Angie's girlfriend has moved away, Angie is constantly bullied as she starts as a sophomore after repeating her freshman year, her mother still can't stand her, and her former best friend, Jamboree, is back in town...it's still good to see Angie, a very human combination of neuroses, fears, truths, and desires, break through some of her defenses and take risks, from singing to loving. ―Publishers Weekly
~~~~~
Read Fat Angie, a
Stonewall Book Award-Mike Morgan and Larry Romans Children's & Young Adult Literature Award for 2014,
now!!!
(cover links to Goodreads)
~~~~~
Photo Content from e.E. Charlton-Trujillo
Deemed a "force of nature" by Kirkus reviews, Mexican American author, filmmaker, playwright and poet e.E. Charlton-Trujillo grew up in small-town Mathis, Texas.
As an author, she is the recipient of the Delacorte Dell Yearling Award for her first novel, Prizefighter En Mi Casa. What followed was: the Parents' Choice Silver Honor, a Flamingnet Top Choice Award,a National Council for the Social Studies Notable Book and made the NYC PublicLibrary Teenage List. Check out the Reviews on Amazon.com
Her second novel Feels Like Home released to critical praise and award nominations.
It was her third novel, Fat Angie that garnered the American Library Association's Stonewall Award, was a Lambda Literary Finalist and a Choose to Read Ohio book. Fat Angie was also the foundation for a unique book tour to empower at-risk youth via writing and discussion and the catalyst for the feature documentary At-Risk Summer. From that experience, she co-founded a non-profit to bridge the gap between at-risk youth and artists called Never Counted Out.
Currently, she is completing the feature documentary, A Cultural of Silence for GLSEN Cincinnati, writing two novels and Fat Angie: Rebel Girl Revolution in early 2019.
Stay connected with
e.E. Charlton-Trujillo
~~~~~
***The Giveaway***
Giveaway Open Internationally | Must be 13+ to Enter
Note: Not Responsible for Lost & Damaged Prizes in Your Mail Box
a Rafflecopter giveaway
Blog Tour Organized by