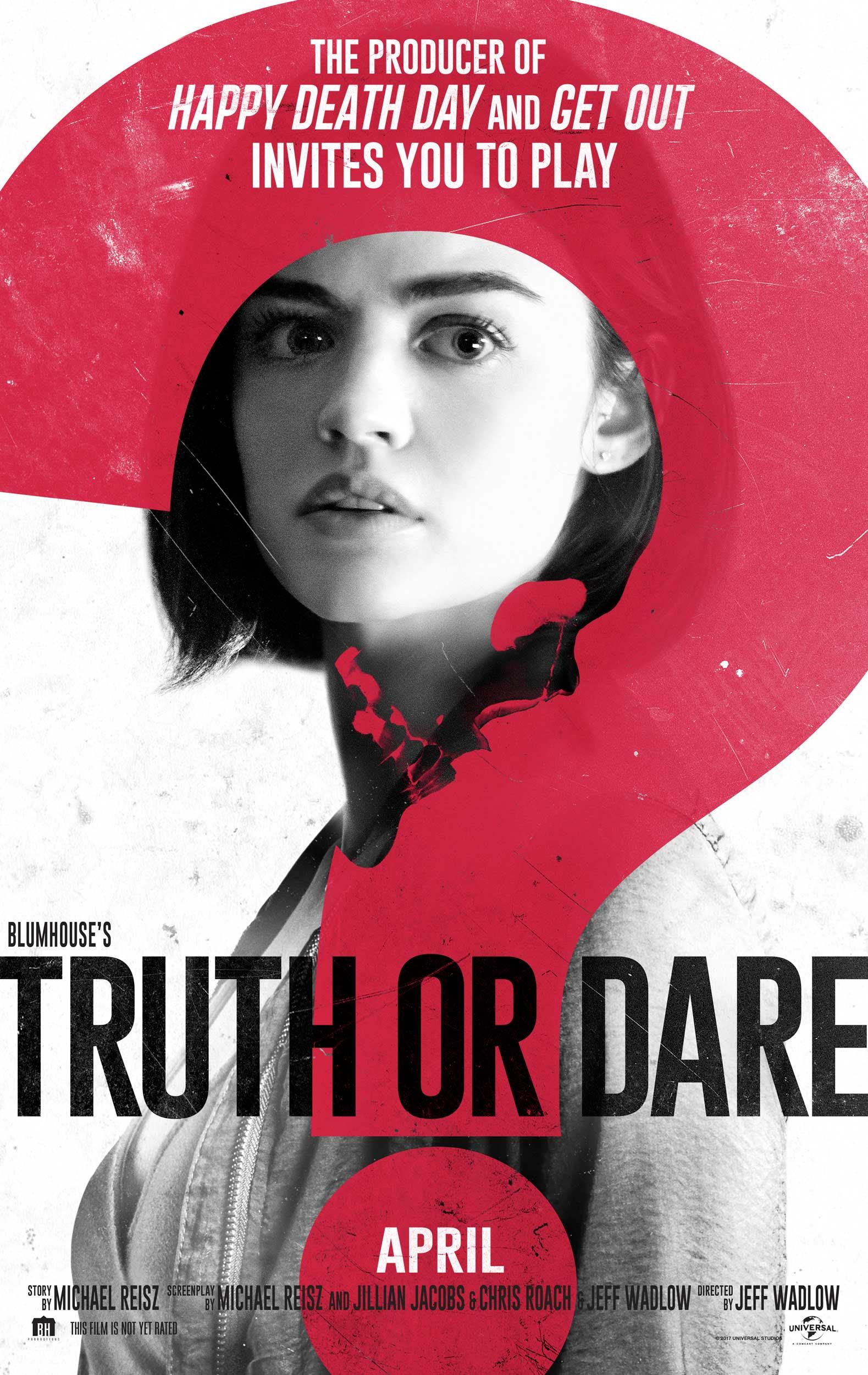 Genre:
Rating:
Release Date:
DVD/Blu-Ray Release Date:
Run Time:
Directed by:
Screenplay by:
Michael Reisz, Jillian Jacobs, Chris Roach, Jeff Wadlow
Distributed by:
Social Media:
Plot Synopsis:
Lucy Hale (Pretty Little Liars) and Tyler Posey (Teen Wolf) lead the cast of Blumhouse's Truth or Dare, a supernatural thriller from Blumhouse Productions (Happy Death Day, Get Out). A harmless game of "Truth or Dare" among friends turns deadly when someone—or something—begins to punish those who tell a lie—or refuse the dare…
Cast:
Lucy Hale, Tyler Posey, Violett Beane, Hayden Szeto, Sophia Ali, Nolan Gerard Funk, Landon Liboiron, Sam Lerner, Tom Choi
**My Thoughts**
Note: This review contains SPOILERS
Everything is just a game until someone dies. Truth or Dare is another horror movie that draws in the usual young adult audience. The execution of the overall story was nothing to scoff at as Olivia and her friends spend their spring break in Mexico only to be fooled into a deadly game of, you guessed it, truth or dare. At first, the idea just seems silly, simple-minded, or straight forward, but the rules still apply. The third turn player needs to pick dare. Refuse to play and you die. Tell a lie and you die. Truth or Dare caters very much to today's audience with a diverse set of characters, each going through a different difficulty in their lives such as Tyson trying to get into medical school, Markie dealing with her father's suicide, and Hayden dealing with his conservative father, played by Nolan Gerard Funk, Violett Beane, and Brad Chang respectively.
While I enjoyed the contemporary setting of Truth or Dare, it just felt more like a truth or dare version of Final Destination. A bunch of students getting killed by an unknown entity, said students making careless mistakes that get them killed, and everyone inevitably dying. And when I say everyone, I mean everyone. The ending to Truth or Dare leaves the viewer on a cliffhanger and a handful of doubt. It has a nice sentiment as Olivia chooses to save the life of her best friend Markie, but it condemns her YouTube audience to the game and if the video goes viral enough the entire YouTube audience.
My rating: