Welcome to the Official Blog Tour for Sarah J. Pepper's Forever Cursed, the second installment in the Never Ever series! Today, on our stop, we have my thoughts on this second installment in the Never Ever series! We even have a short excerpt! So... Check it out and grab your copy today!
Dive into a dark and twisty retelling of the Peter Pan fairytale!!!
Genre:
Series:
Publish Date:
Publisher:
Photographer:
Makeup:
Platinum Imagination Hair and Makeup
Synopsis:
Captain James -
Peter may as well be imprisoned on Neverland with us for he consumes Miss Bell's thoughts, stealing her away from me. His retaliation is a constant threat of which we cannot escape. Even so, that pathetic excuse of a man is the least of my worries. Corrupt and vile creatures rule this tiny spit of land, brought here by fairies, by Miss Bell.
Whether she admits it or not, she needs my protection. Yet, I catch her glancing at my severed arm with pity in her eyes. She thinks of me as weak, injured, and any number of inadequacies. Feck. I will not stand for it! I will protect her, even if it costs me my life.
Miss Bell -
Captain James makes no attempt to shield the darkness harbored in his eyes, like he wants me—needs me—to see what most people do. Ruthlessness. Turmoil. Devastation.
"Remember that the same hand I use to caress your delicate skin has been stained with the blood of my enemies," he says, cupping my cheek. "Do not assume my affection for you is something others have experienced. Understood, Miss Bell?"
I understand. Hell, I am counting on it. Peter would rather see me dead than in the arms of another, and I have no intention of dying—especially not when Captain James makes me feel so alive.
*FREE on Kindle Unlimited*
*Excerpt*
"Oh, Miss Bell. You've showed me your darkness in a starless night, I've felt your love in the most hopeless situations. Your silent cry still echoes in my mind, resonating the guilt you carry in your delicate heart. Without a doubt, I have seen the beauty you leave in your wake."
(cover links to Goodreads)
*FREE on Kindle Unlimited*
**About the Author**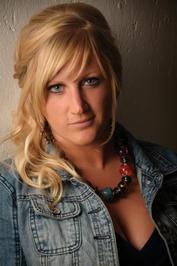 Award Winning Author, Sarah J. Pepper, specializes in fantasy and paranormal romance. She unveils the beauty of love in her new adult/young adult novels. Her works envelope dark, paranormal romance - think "happy ever after" but with a twisted, dark chocolate center. Real-life romance isn't only filled with hugs, kisses, bunnies, and rainbows. True-love can be more thoroughly described in times of darkness and tribulation. It's in those harsh moments where you see what a person is truly capable of - both the good and bad. Sometimes prince-c
harming isn't always on time, and the glass slipper is a little snug. However, it doesn't mean Charming is not Mr. Right, and who says every shoe is the perfect fit?
Stay connected with
Sarah J. Pepper
*My Thoughts*
Note: This review contains NO spoilers
Okay... Whoa! Can this series get even more dark and twisty?!? Forever Cursed continues the story of our favorite characters in this Peter pan retelling. There's depth in Sarah's storytelling of these two characters in this second installment of the series. We dive so much more into their lives, past and present. We find the complexities of their personalities. We are introduced to other new characters as well that are intertwined in their lives... in one way or another. Yup! This second book in the Never Ever series has taken the story of these characters to another level.
Sarah's skillful writing creates an incredibly fascinating, yet dark, setting that just makes the "hairs on my arm" stand on end...lol! It's not just dark and twisty, the characters are sassy and sexy, yet strong, independent, and passionate. And, seriously, was that sexual tension that was just exuding right out of the "pages" of this book!?! Seriously!?! Right!?! Haha... How can you NOT get captivated by these characters?!? Then, there are the other characters!!??!! There are so much more possibilities to their stories as well!
Wow! I continue to get absorbed and thrilled about this series! I don't know, but Forever Cursed is a fast-paced, action/adventure, dark romance that just is brewing with so much intrigue and...ahem... sexual tension. Do I need to say more?!? Ha!
I'm ready for more, Sarah!!! 😊
My rating: