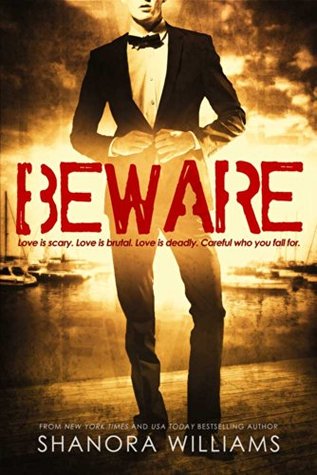 Genre:
Series:
Publish Date:
Synopsis:
Ace is bad.
Very bad.
After losing my brother, I know I should stay away. So why can't I?
He's irresistible. He's confident. He's amazing… but he's dangerous.
He was there the night my brother was murdered. He watched it all go down.
I should stay away. The things I saw weren't acceptable.
I should want Ace as far away from me as possible—I should consider him a monster and a threat—but when my life is at stake I know I no longer have a choice of the matter. He's the only one that can protect me.
He's done what he can to keep me out of danger, but it's not enough. I need answers. I need the truth. He refuses to give it to me, and because of that I don't trust him. He refuses to tell me what really happened and to just forget about it but I refuse.
I won't back down until I get answers.
But there's one thing wrong with getting too many answers. It leads to lies. It leads to trouble. It leads to danger. But worst of all, it leads to me falling deeply and madly in love with him.
I've gotta be out of my mind.
London Stallone hasn't always had the perfect life, but she did have the perfect older brother. He did everything for her. He took care of her when no one else would. He's always been the shoulder she could lean on, but when he ends up murdered, things turn for the worst.
London soon demands answers, and the first person she runs to is her brother's co-worker and good friend, Donovan "Ace" Crow. Ace isn't the ordinary guy. He doesn't come equipped with flowers and chocolate. He doesn't hand out smiles and hugs to every female he meets. He's strict and only about business, and London believes he's a part of the reason her brother was murdered.
Soon, after finding out life-threatening news, it leads to something Ace never thought he'd have to do for anyone.
Protect her.
Although he doesn't want her to get hurt, it doesn't stop him from being selfish or bitter. He's promised to protect her, but has he done enough ? Has he sacrificed everything in order to keep London out of harms way?
Sometimes love can get in the way of your priorities. And sometimes love can easily become your enemy—your worst nightmare. It can destroy you.
This is a story full of dishonesty. Disloyalty. Broken hearts. Pain. Suffering. Lies. Destruction. This isn't a fairytale love story. This is real. And it just might break you.
You've been warned…
Don't miss the sequel The Comeback!
(cover links to Goodreads)
**About the Author**
Shanora Williams is a twenty-something that creates authentic romantic stories that, may or may not, make you question what a "Happily Ever After" truly is. After hitting the New York Times and USA Today bestsellers list at the mere age of nineteen, Shanora ventured further into the creative writing world, working even harder to create unique and memorable romances for all to enjoy.
She currently resides in Waxhaw, North Carolina and is the mother of one amazing boy, in love with her devoted man, and a sister to eleven.
When she isn't writing, she's spending time with her family, binge reading, or running marathons on Netflix while scarfing down anything sweet and salty. She also writes under the pen name S. Q. Williams.
Stay connected with Shanora Williams
Note: This review contains NO spoilers
I read this back 2014...and, well, totally forgot to post this incredibly addictive and riveting read! So, this is what I had to say about Beware!
Well... I am still emotionally reeling after reading this book hours ago. I am still speechless since I finished reading Beware. It's definitely not a fairytale romance. Filled with suspense, mystery, intrigue, romance...and sex, Beware kept me at the "edge of my seat" wanting to know more about who is this Ace that London so desperately needs to get to know. After the death of her brother, London wants answers...and Ace has all the answers...and it may not be good.
Told in London and Ace's points of view allowed the story to see both sides of the situation that they are in. I loved that these well developed characters had distinct individual and strong personalities. All the other characters were just as important in making the story whole. The storyline from the beginning to the end had me glued to the book. Even when I was at work, I read during my lunch break...that's how much I just had to know what was going to happen next! Plus, some of those intimate moments with London and Ace had me panting! Sheesh! I even feared with London in those dark moments of the book. I thoroughly enjoyed how the story unraveled, page by page, as I got to know who Ace and London are...including all the other "supporting" characters. It revealed that there is more to them that is actually revealed. At the end, I was an emotional wreck from all the twists and turns of London's ordeal to finding the truth and falling in love...after so much heartache and tragedy.
All in all, Shanora Williams delivered an intensely emotional story of loss and love filled with suspense, mystery and tragedy that kept me at the "edge of my seat" wanting more!
My rating: