We are so excited to get to help share about this fantastic giveaway from Jill Shalvis! Don't miss this opportunity to enter to win a signed copy of her Heartbreaker Bay titles, Sweet Little Lies and The Trouble with Mistletoe, along with a Jill Shalvis tote, mug, holiday ornament and pen!
For a chance to win, enter via the rafflecopter at the end of this post!
And that's not all! Jill's upcoming standalone novella in her Heartbreaker Bay series, One Snowy Night, is releasing on

November 8th

and is just $0.99! Get your copy of One Snowy Night at http://jillshalvis.com/books/one-snowy-night/!
They're the perfect stories to get you in the holiday mood! So what are you waiting for? Deck Your Shelves!
*More about the Heartbreaker Bay titles*
Genre:
Series:
Publish Date:
Publisher:
Synopsis:
Choose the one guy you can't have...
As captain of a San Francisco Bay tour boat, Pru can handle rough seas

—

t
he hard part is life on dry land. Pru loves her new apartment and her neighbors; problem is, she's in danger of stumbling into love with Mr. Right for Anybody But Her.
Pub owner Finn O'Riley is six-foot-plus of hard-working hottie who always makes time for his friends. When Pru becomes one of the, she discovers how amazing it feels to be on the receiving end of that deep green gaze. But when a freak accident involving darts (don't ask) leads to shirtless first aid, things rush way past the friend zone. Fast.
And then tell him the truth.
Pru only wants Finn to be happy; its what she wishes for at the historic fountain that's supposed to grant her heart's desire. But wanting him for herself is a different story
—
because Pru's been keeping a secret that could change everything...
Buy it in Print:
Genre:
Series:
Publish Date:
Publisher:
Synopsis:
Willa Davis is wrangling puppies when Keane Winters stalks into her pet shop with frustration in his chocolate-brown eyes and a pink bedazzled cat carrier in his hand. He needs a kitty sitter, stat. But the last thing Willa needs is to rescue a guy who doesn't even remember her...
He'll get nothing but coal in his stocking.
Saddled with his great-aunt's Feline from Hell, Keane is desperate to leave her in someone else's capable hands. But in spite of the fact that he's sure he's never seen the drop-dead-gorgeous pet shop owner before, she seems to be mad at him...
Unless he tempers "naughty" with a special kind of nice...
Willa can't deny that Keane's changed since high school: he's less arrogant, for one thing
—
but can she trust him not to break her heart again? It's time to throw a coin in the fountain, make a Christmas wish
—

and let the mistletoe do its work...
Buy it in Print: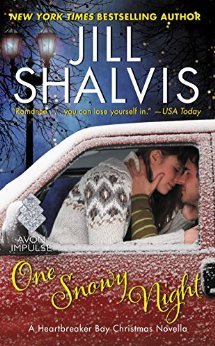 Genre:
Series:
Publish Date:
Publisher:
Synopsis:
New York Times bestselling author JIll Shalvis returns to Heartbreaker Bay with a fun and festive holiday novella!
It's Christmas Eve and Rory Andrews is desperate to get home to the family she hasn't seen in years. Problem is, her only ride to Lake Tahoe comes in the form of the annoyingly handsome Max Stranton, and his big, gooofy, lovable dog Carl.
Hours stuck in a truck with the dead sexy Max sounds like a fate worse than death (not), but Rory's out of options. She's had a crush on Max since high school and she knows he's attracted to her, too. But they have history...and Max is the only one who knows why it went south.
They've done a good job of ignoring their chemistry so far, but a long road trip in a massive blizzard might be just what they need to face their past...and one steamy, snowy night is all it takes to bring Max and Rory together at last.
Buy it in Print:
~~~~~
**About the Author**
New York Times and USA Today bestselling author Jill Shalvis lives in a small town in the Sierras fully of quirky characters. Any resemblance to the quirky characters in her books is, um, mostly coincidental.
Look for JIll's sexy contemporary and award-winning books wherever romances are sold.
Visit Jill's website for a complete book list and daily blog detailing her city-girl-living-in-the-mountains adventures.
Stay connected with Jill Shalvis
~~~~~
***The Giveaway***
Giveaway Open Internationally
a Rafflecopter giveaway
Giveaway Organized by