We are absolutely thrilled to participate in this exciting Blog Tour for the Descendant Prophecies series by Mary Ting! On our tour stop, we will be sharing our review on From Gods, the first book in the series!
Visit the breathtaking world of the Descendant Prophecies by Mary Ting!
Genre:
Young Adult
Fantasy/Mythology
Paranormal Romance
Series:
Descendant Prophecies Series, #1
Publish Date:
October 2, 2013
***2013 InD'Tale RONE Award Finalist for YA****
Synopsis:
Did you just see a flash of lightning across the sky on a clear sunny day?
Don't blame Mother Nature.
Skylar Rome can't wait to spend her last summer before college with her cousin, Kayla. Everything changes when they meet the Grand brothers. Skylar is sure she should stay away from Mason Grand, but their attraction is undeniable. Then Skylar's life erupts into turmoil. She steps into a world where descendants of ancient gods have super powers, evil beings chase her, and questions arise about her own identity. She is running out of time and running for her life, while trying to unravel the mystery of what they want from her.
Forced into a battle set into motion long before she was born, will Skylar find the answers she seeks, or will she die trying?
*My Thoughts*
Note: This review contains NO spoilers
I have always been fascinated with Greek mythology since a very young age. I also enjoy reading the different twists of mythology in various storytelling...including film and television. Yup! It's imagination and creativity at work! When I learned of Mary Ting's book, From Gods, I was intrigued with the synopsis. I am no expert in Greek mythology, but I have learned that the Gods did often "play" with humans; often times, creating offspring.
And...this is what Mary created with her storytelling! Her take on the lives of these descendants of the Gods. I loved her knack for world building and character development. It flowed from beginning to end. The mystery she created when odd occurrences happening (especially the life threatening ones) to Skylar, after she met this alluring young man. With each chapter, the mystery and suspense was raised a notch as secrets were revealed. And, of course, that undeniable developing romance between our two characters, Skylar ad Mason.
This modern day twist of what happens when these Greek Gods have children with humans is filled with mystery, suspense, action, adventure, and a little bit of Young Adult angst that made this read fun and entertaining. I fell in love with the characters as they grew from beginning to end...adapting and learning after each incident. Then...Mary just had to do it! She just had to leave me hanging with that cliffhanger of an ending when I got to the end of the book!!! REALLY!?! My heart just took a nose-dive into that swirling pool of "WHAT THE HELL!!??!!" Good thing that I have book two, From Deities, so I don't have to wait very long to find out what happened next! LOL!
This fast-pace, suspenseful, thrilling, adventurous, and, often times, humorous twist on Greek mythology definitely is a delicious read that I couldn't put down...and left me wanting more!
My rating:
Book Trailer

Genre:
Series:
Descendant Prophecies Series, #2
Publish Date:
Synopsis:
A mysterious stranger enters Skylar's inner circle, throwing her life out of balance.
As secrets are revealed, she learns of the New Olympus, a dwelling for the descendants of the Gods.
The Grand family must work together with these descendants to discover the key to their rescue from the clutches of the evil vultures of Hades, whose numbers are growing.
As the threat increases, Skylar must learn to control her newfound powers before it's too late.
Genre:
Young Adult
Fantasy/Mythology
Paranormal Romance
Series:
Descendant Prophecies Series, #3
Publish Date:
Synopsis:
Skylar, Mason,
and the other descendants embark a deadly quest to the underworld to confront the evil Hades, who has been plotting to kill off the descendants of all the gods.
On this journey, they soon discover that the ancient gods are not dead as once believed but are held captive in a secret location. In order to save the world from destruction at the hands of Hephaestus, the descendants must set out on a crusade to rescue the gods.
In the process, Skylar earns more about her bloodline and her powers, but there is also a heavy price to pay. The darkest forces known to man are about to return to reclaim their stolen kingdom.
Genre:
Young Adult
Fantasy/Mythology
Paranormal Romance
Series:
Descendant Prophecies Series, #4
Publish Date:
Synopsis:
Everyone is searching for Mason.
Zeus sent Hermes, and the Oracles have used their magic, with no success. A sparkle of hope arises when Eris, the goddess of Chaos, sends an invitation to her wedding engagement party. She's holding Mason hostage, and Skylar and her friends only need permission to enter Eris's world to rescue him.
At the party, Eris gives them on condition: In exchange for Mason, they must travel to the Land of Reverse and bring back the bottle of gold water King Midas used to wash himself free of his gift. Further chaos follows when Eris not only sets up a hunt in the Labyrinth of Crete, but makes a bargain with the Titans she rescued.
The Titans possess power more than anyone anticipated, and Cronus is hungry for revenge after his own children locked him up in Tartarus. No one is safe. Not even the humans.
Previous Cover: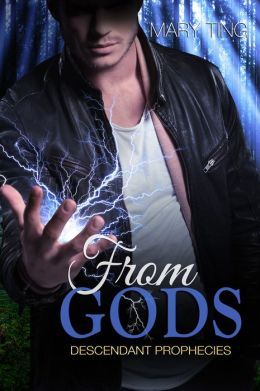 **About the Author**
International bestselling author
Mary Ting
resides in Southern California with her husband and two children. She enjoys oil painting and making jewelry. Writing her first novel, Crossroads Saga, happened by chance. It was a way to grieve the death of her beloved grandmother, and inspired by a dream she once had as a young girl.
When she started reading new adult novels, she fell in love with the genre. It was the reason she had to write one-Something Great. Hence, Mary's pen name, M. Clarke? She tours with the Magic Johnson Foundation to promote literacy and her children's chapter book-No Bullies Allowed.
Stay connected with Mary Ting