Welcome to the Official Blog Tour for Something Forever, the third novel in the Something Great Series, by M. Clarke (Mary Ting)!
Genre:
Adult Contemporary Romance
Series:
Something Great Series, #3
Publish Date:
Synopsis:
Max and Jenna are forced to test their relationship. Will they be able to embrace the challenges life throws their way?
Secrets can ruin the foundation of a relationship. Will Matthew choose to withhold vital information from Becky that could consume her with doubt about their future?
When it comes to love, Something Great can turn into Something Wonderful, but can it be Something Forever?
For a limited time only, get the ebook for only $2.99!
*Excerpt*
"I already asked you this question earlier, but do you like your suite?"
"It cost too much, Matt. But, yes. I would be crazy to say no. I need to find a way to thank you." My tone came out flirty at the end.
"I know how you can." His tone was sultry, luring me in. Oh shit! What was on his dirty mind? "I want you to touch yourself."
What? "Matthew," I laughed softly. "You're not here."
"Just pretend I am. Have you ever had phone sex before?"
I almost choked on my own saliva. I'd heard of and done many things before, but this was a first. When I didn't answer, Matthew continued. "I can't believe I'm going to be your first." He sounded so proud. "I'm going to make you feel so good."
His words alone were turning me on. Holy shit! "You mean I'm going to make myself feel good."
He chuckled lightly. "However you want to see it."
The preview porn on the television wasn't helping either. I thought about watching it, but Matthew or Max was going to pay the bill, and no way were they going to find out that one of us watched one. "This isn't going to work," I said. But my hand was already kneading my breast. I pretended it was Matthew's hand instead.
"I'm stroking my dick, Becca. I'm pretending your tongue is licking it." Whether Matthew was really doing what he said he was doing, I didn't care. It was working for me. "Put your hand on your clit, Becca, and touch it the way I do it. Pretend it's my finger. Imagine me sucking it hard there, baby. Can you feel me?"
Holy fuck! "Yes," I replied, feeling my chest rise and fall with pleasure that was building inside me.
"Now…stick your finger inside and pretend that's my dick. I'm going to pretend I'm inside you."
Hearing Matthew groaning into the phone brought me to another level of excitement. There was no way he could fake that sound. It was too genuine, and every moan made the urge for him that much more intense. "Can you feel me, Becca? Push in deeper."
"It's not the same," I whimpered. My body was in limbo. I couldn't satisfy myself, and the more I tried, the build up was too unbearable.
"Want me to finish it for you, Becca? You want me inside you?" His tone seethed into the phone in the most delicious way. I was already losing my mind, yearning from the need of him.
"Yes, but you're not here." I said it somewhat angrily, trying to tame the throbbing ache between my legs. I was mad at him for putting me over the edge to the point my pants were half way down, my breast exposed, and I was now watching the stupid porn. How I got to this point, I had no clue. It was as if his words were magic, controlling my actions.
"I promised before that I wouldn't start something I couldn't finish. Now…open the door."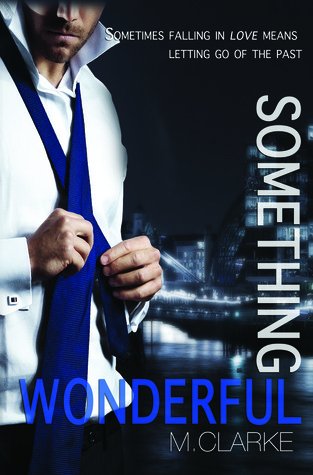 Purchase Something Great:
Purchase Something Wonderful:
Purchase signed copies of M.Clarke/Mary Ting's Books, here!
They can ship internationally, too! Just follow the directions on the form!
(You could even have these copies personalized!)
**About the Author**
Mary Ting/M. Clarke
resides in Southern California with her husband and two children. She enjoys oil painting and making jewelry. Writing her first novel, Crossroads Saga, happened by chance. It was a way to grieve the death of her beloved grandmother, and inspired by a dream she once had as a young girl. When she started reading new adult novels, she fell in love with the genre. It was the reason she had to write one-Something Great. Why the pen name, M Clarke? She tours with Magic Johnson Foundation to promote literacy and her children's chapter book-No Bullies Allowed.
***The Giveaway***
Blog Tour Organized by