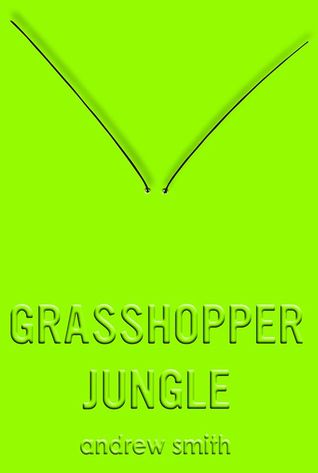 Genre:
Young Adult Sci-Fi/Horror
Teen Humor, Coming of Age
Publish Date:
Publisher:
Synopsis:
Sixteen-year-old Austin Szerba interweaves the story of his Polish legacy with the story of how he and his best friend, Robby, brought about the end of humanity and the rise of an army of unstoppable, six-foot tall praying mantises in small-town Iowa.
To make matters worse, Austin's hormones are totally oblivious; they don't care that the world is in utter chaos: Austin is in love with his girlfriend, Shann, but remains confused about his sexual orientation. He's stewing in a self-professed constant state of maximum horniness, directed at both Robby and Shann. Ultimately, it's up to Austin to save the world and propagate the species in this sci-fright journey of survival, sex, and the complex realities of the human condition.
**About the Author**
Andrew Smith is the award-winning author of several Young Adult novels, including the critically acclaimed
Winger
(Starred reviews in
Publishers Weekly
,
Kirkus, Booklist
, and
Shelf Awareness
—an Amazon "Best of the Year," and an ALA Top 10 for 2014) and
The Marbury Lens
(A YALSA BFYA, and Starred reviews and Best of the Year in both
Publishers Weekly
and
Booklist
). He is a native-born Californian who spent most of his formative years traveling the world. His university studies focused on Political Science, Journalism, and Literature. He has published numerous short stories and articles.
Grasshopper Jungle
, a starred novel by
Kirkus
,
Publishers
Weekly
,
School Library Journal
, and
Shelf Awareness
, is his seventh novel. He lives in Southern California.
Stay connected with Andrew Smith
*My Thoughts*
Note: This review contains NO spoilers
To be honest, I had never heard of Grasshopper Jungle until a few weeks before I met the author, Andrew Smith. The book is written with very true words, no bullshit, from the mind of sixteen-year-old Polish boy named Austin Szerba and it made me think, "Huh, is that what really goes on in a boy's mind?" A guy's mind is not as interesting as I thought, but that's just Austin. Austin Szerba is the very representation of a confused teenager and he flows with it, although he needs to be more self-conscious, but at least he knows for sure he's a historian. He writes in multiple journals the abbreviated happenings of his town (Ealing, Iowa), a personal history, his girlfriend, the history of his very existence, his mission along with his best friend to try and stop "Unstoppable Soldiers," talk about an oxymoron there, and his balls. So, Grasshopper Jungle not only made me think history is abridged but "History repeats itself," which you'd figure out when you read towards the end of the book.
The characters of small town Ealing, Iowa portray people who need to see the world more; it was quite convincing and therefore well written. Like I said, "no bullshit"; what you read is what you get from Austin Szerba. There was no sugar coating throughout the mood of the novel; but it was overall, one sided. It's amazing how small the world really is, as "All roads cross here." Throughout the novel, Austin Szerba gives us bits and pieces of his Polish history dating all the way back to his great grandfather, other than character development, it was totally clever how characters had relationships to each other, whether it be distant cousins or the hooker down the hall on the third floor. Everything came full circle.
The story line was repetitive, like Austin didn't really care to write any details to the events going on, but I guess that's normal for a teenager; they need a lot of stimulus. Except for Austin's penis. He often goes on about his sexuality and how horny he is or other random shit, especially urinals. As a "coming of age" theme, Austin needs to grow up… a lot. The end of the world by six-foot-tall unstoppable mantis soldiers is right outside your silo door and you're thinking about what to name your balls. His best friend Robby could have made a good voice for the novel but he probably wouldn't have been as weird or confused as Austin; so there wouldn't have been as much angst on his part.
Grasshopper Jungle
made me confused. It was repetitive journal entries that needed more interesting details thrown down but it was a lot of bold writing. "No bullshit," I like to say. Because at this time, these two people are probably having sex and some kid dropped some weird shit onto some pavement while another guy was playing video games naked.
And that was our day.
You know what I mean.
My rating: