Welcome to the Official Blog Tour for Before You, the first novel in the Before & After series, by Amber Hart!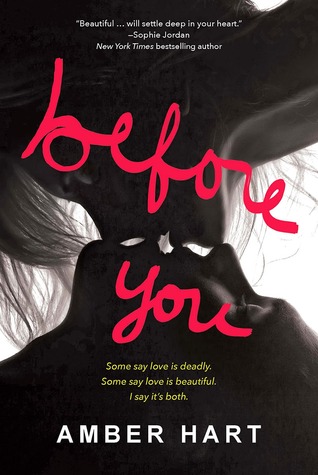 Genre:
New Adult Contemporary Romance
Series:
Publish Date:
Publisher:
Synopsis:
Some say love is deadly. Some say love is beautiful. I say it is both.
Faith Watters spent her junior year traveling the world, studying in exquisite places, before returning to Oviedo High School. From the outside her life is picture-perfect. Captain of the dance team. Popular. Happy. Too bad it's all a lie.
It will haunt me. It will claim me. It will shatter me. And I don't care.
Eighteen-year-old Diego Alvarez hates his new life in the States, but staying in Cuba is not an option. Covered in tattoos and scars, Diego doesn't stand a chance of fitting in. Nor does he want to. His only concern is staying hidden from his past—a past, which if it were to surface, would cost him everything. Including his life.
At Oviedo High School, it seems that Faith Watters and Diego Alvarez do not belong together. But fate is as tricky as it is lovely. Freedom with no restraint is what they long for. What they get is something different entirely.
Love—it will ruin you and save you, both.
**About the Author**
Amber Hart grew up in Orlando, Florida and Atlanta, Georgia. She now resides on the Florida coastline with family and animals including, but not limited to, bulldogs, a cat, and dragons. When unable to find a book, she can be found writing, daydreaming, or with her toes in the sand. She's the author of Before You, After Us, Echoes, and Echoes' sequel (untitled as of yet).
Represented by Beth Miller of Writers House.
Stay connected with Amber Hart
*My Thoughts*
Note: This review contains no spoilers
Well, I guess I can't seem to get away from those "Romeo & Juliet" type of stories...haha; however, I enjoyed reading Before You. The two main characters, Faith and Diego, are from two different worlds, especially in high school. The story definitely touched on several, very real issues that today's youth deal with every day in school.
Told in both Faith and Diego's points of view (POV), we get a personal view of their lives and the secrets they keep. Nothing is what it seems on the surface, as we come to find out as they deal with their personal "demons." I really loved their chemistry. As their attraction unraveled, it becomes apparent that the obstacles they face can't keep them apart. The story's journey was also strengthened by the supporting characters which also added to the teenage angst that high school kids experience. Moreover, Before You has some added twists and action to its story...it's not just a love story...haha!
Although I found the story interesting as it also touches on very real topics of today's youths, I did find it predictable and stereotypical. The story starts off slow, but then, it gets interesting as the plot twist(s) and the romance unravels. Moreover, Before You was a beautiful love story with an interesting plot twist, considering it was also predictable and filled with
clichés
. I wasn't totally in love with the story. It was just okay.
Again, these are just my thoughts on this book; however, readers that enjoy stories like these may love it.
My rating:
***The Giveaway***
Blog Tour Organized by