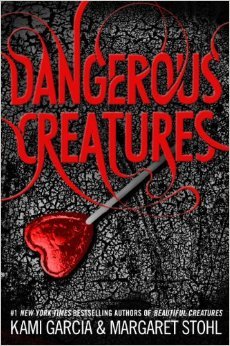 Genre:
Young Adult Paranormal Romance
Series:
Dangerous Creatures Series
Publish Date:
Publisher:
Little, Brown Books for Young Readers
Summary from Goodreads:
A new series returns to the world of Beautiful Creatures. Some loves are cursed...others are dangerous.
Ridley Duchannes will be the first to tell you that she's a bad girl. She's dark. She's a Siren. You can never trust her, or even yourself when she's around. Lucky for her, Wesley "Link" Lincoln can never seem to remember that; quarter Incubus or not, his heart is Mortal when it comes to Ridley. When Link heads to New York City to start a music career, Ridley goes along for the ride-and she has her own reasons. As if leaving small-town Gatlin for the big city, trying to form a band, and surviving life with a partially reformed Siren isn't hard enough already, Link soon learns he has a price on his head that no Caster or Mortal can ever pay.
Kami Garcia and Margaret Stohl, the #1 New York Times bestselling coauthors of Beautiful Creatures, are back and casting another magical spell. Their signature mixture of mystery, suspense, and romance, along with a dash of fun and danger, will pull fans in and leave them begging for more.
**About the Authors**
Kami Garcia is the #1
New York Times
,
USA Today
,
Publishers Weekly
,
LA Times
,
Wall Street Journal
,
Indiebound
and international best-selling coauthor of the Beautiful Creatures Series -- and the author of Unbreakable, the first book in The Legion Series, which releases on October 1, 2013. Beautiful Creatures has been published in 50 countries and translated in 39 languages, and it was named Amazon's #1 Teen Book of 2009, and #5 on the Editor's Top 100. The Beautiful Creatures movie based on the novel, released in theaters in February 2013, from Warner Bros., directed by Richard LaGravenese and starring Alden Ehrenreich, Alice Englert, Emmy Rossum, Thomas Mann, Viola Davis, Jeremy Irons, and Emma Thompson.
Kami Garcia has an MA in education, and taught in the Washington DC area until she moved to Los Angeles, where she was a teacher & Reading Specialist for 17 years. In addition to teaching Kami was a professional artist and led fantasy book groups for children and teens. Kami is fascinated with the paranormal, and she's very superstitious. When she isn't writing, Kami can usually be found watching disaster movies, listening to Soundgarden, or drinking Diet Coke. She recently moved and now lives in Maryland with her husband, son, daughter and their dogs Spike and Oz (named after characters from Buffy the Vampire Slayer).
Stay connected with Kami Garcia
Website | Blog
Margaret Stohl is a lifelong science-fiction fan, former video-game designer, and co-author of the #1
New York Times
best-selling Beautiful Creatures series. Beautiful Creatures is now a major motion picture. She lives in Los Angeles, California, with her family. Read more about Margie at www.margaret-stohl.com.
Stay Connected with Margaret Stohl
Website
*My Thoughts*
Note: This review contains no spoilers
Here we go...back in the world of Casters! This time, Dangerous Creatures is the start of Ridley and Link's story. I totally enjoyed these two characters in The Caster Chronicles, where I was first introduced to these them in a little place called Gatlin. Now, high school is over, and everyone is off to follow their dreams. But, as for Ridley and Link, that meant going to New York! As they start their adventures in New York, trouble also follows...or is already waiting for them.
Just like I remembered from The Caster Chronicles, Ridley is still that sass-talking Siren that Link is absolutely "head over heels" for. Like in any "relationship," it has it's ups and downs...even more to the extreme when it came to Link and Ridley. I don't think my head stopped "spinning" from the back and forth, on and off relationship between Link and Ridley. Aye! But, it was pure comedy that the same chemistry that I read in The Caster Chronicles, carried over into this new series.
Although the characters from Gatlin opened the story, a whole new set of characters, set in New York, were introduced. There was enough description to give me an adequate background to these new characters that Ridley and Link befriended. However, as the story/mystery unraveled and many of the puzzle pieces were revealed, it just created more questions. Then there's the jumping back and forth with the POV! It was somewhat disorienting, I needed to re-read a few pages over to get my bearing.
Dangerous Creatures definitely took me on a "tour" of another part of the Caster world outside of Gatlin...a part that is, obviously, dark and dangerous. Before I knew it, Ridley and Link is quickly caught up in the middle of trouble...like I was really surprised. As I reached the end of the book, the story throws a cliffhanger! Really Kami!?! Really Margie!?! Now, I definitely have to wait for the next book, since there's so much more going on that has yet still have to be revealed. I think I finished reading this book with more questions of who, what, how....and what's next!?! LOL!
Margie and Kami has definitely cast another spellbinding start of a spin-off series with our favorite Caster characters! With their classic signature of mystery, suspense, romance, danger and fun, Margie and Kami has opened another door into the dark Caster world beneath New York! I definitely enjoyed it!
My rating: