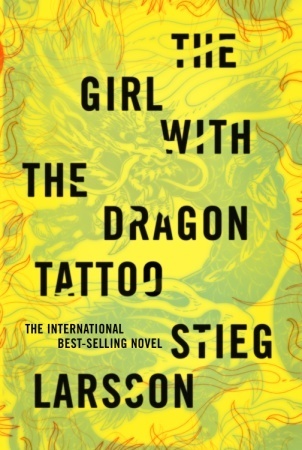 Genre:
Series:
Publish Date:
(first published August 2005)
Publisher:
Translated by:
Synopsis:
Murder mystery, family saga, love story, and financial intrigue combine into one satisfying complex and entertainingly atmospheric novel, the first in Stieg Larsson's thrilling Millennium series featuring Lisbeth Salander.
Harriet Vanger, a scion of one of Swedens wealthiest families disappeared over forty years ago. All these years later, her aged uncle continue to seek the truth. He hires Mikael Blomkvist, a crusading journalist recently trapped by a libel conviction, to investigate. He is aided by the pierced and tattooed punk prodigy Lisbeth Salander. Together they tap into a vein of unfathomable iniquity and astonishing corruption.
Don't miss the other in the Millennium Trilogy!
(covers link to Goodreads)
Stieg Larsson
(born as
Karl Stig-Erland Larsson
) was a Swedish journalist and writer who passed away in 2004.
As a journalist and editor of the magazine
Expo
, Larsson was active in documenting and exposing Swedish extreme right and racist organisations. When he died at the age of 50, Larsson left three unpublished thrillers and unfinished manuscripts for more. The first three books (
The Girl With the Dragon Tattoo
,
The Girl Who Played With Fire
and
The Girl Who Kicked the Hornets' Nest
) have since been printed as the
Millenium
series. These books are all bestsellers in Sweden and in several other countries, including the United States and Canada.
*My Thoughts*
Note: This review contains NO reviews
Well, here's another book that I am catching up on reviews! Anyways, I do remember reading the entire trilogy...I think! It's all coming back to me in pieces. Well, I guess I am going to have to read these books again! LOL! Right!?! When I catch up on all those other books I have on my TBR list.
Anyways, I was first introduced to this author and his books from my coworker.
whom of which wrote about varying genres. When he introduced me to this first book in the Millennium Trilogy by Stieg Larsson, I was intrigued. Considering that the book was translated to English, the read wasn't too difficult at all. However, the read was engrossing. I was completely involved in the whole mystery of this story! Wow! As events continued to unfold, more answers to this mystery was revealed! This is a story that made me turn back pages to recap what had occurred. Wow!!! Of course, the book being of a foreign origin with foreign names and references, made the read somewhat difficult. Otherwise, the pace of the book was somewhat slow and steady; then, was the mystery continued to unravel, the pace did intensify as more clues to the mystery were revealed.
Hmmm... Yah, I will be rereading this series... again! Regardless of the confusing foreign "stuff" and the slow and steady pace in the beginning, The Girl With the Dragon Tattoo was a captivating mystery that was hard to put down. Then... there are the films! I watched both foreign and U.S. made films! Both are very well done and pretty much stayed true to the book! Check out the trailers for both films below!
My rating: