We are pleased to share with you this Trailer Reveal for Abbie Roads' Saving Mercy, the first book in a brand new Paranormal Romantic Suspense series, the Fatal Truth series! Check it out and pre-order your copy now!
Genre:
Adult
Paranormal Romance
Romantic Suspense/Thriller
Series:
Fatal Truth, #1
Publish Date:
April 4, 2017
Publisher:
Sourcebooks Casablanca
Synopsis:
He's found her at last
Cain Killion knows himself to be a damaged man, his only saving grace the extrasensory connection to blood that he uses to catch murderers. His latest case takes a macabre turn when he discovers a familiar and haunting symbol linking the crime to his own horrific past-and only one woman could know what it means.
Only to lose her to a nightmare
Mercy Ledger is brave, resilient, beautiful-and in terrible danger. The moment he sees Mercy, Cain knows he's the one who can save her. He also knows he's beyond redemption.
But the lines between good and evil blur and the only thing clear to Cain and Mercy is that they belong together. Love is the antidote for blood-but is their bond strong enough to overcome the evil that stalks them?
Watch the book trailer now!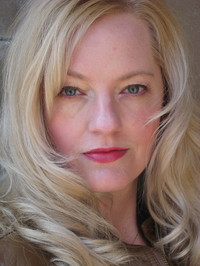 Abbie Roads is a mental health counselor known for her blunt, honest style of therapy. By night she writes dark, emotional novels always giving her characters the happy ending she wishes for all her clients. Saving Mercy is the first book in her new Fatal Truth Series of dark, gritty, romantic suspense with a psychological twist.

Seven Things about Abbie Roads:
1. She loves Snicker Parfaits. Gotta start with what's most important, right?
2. She writes dark emotional books featuring damaged characters, but always gives her hero and heroine a happy ending… after torturing them for three hundred pages.
3. By day she's a mental health counselor known for her blunt, honest style of therapy. At night she burns up the keyboard. Well… Burn might be too strong a word. She at least sits with her hands poised over the keyboard, waiting for inspiration to strike. And when it does—the keyboard might get a little warm.
4. She can't stand it when people drive slowly in the passing lane. Just saying. That's major annoying. Right?
5. She loves taking pictures of things she thinks are pretty.
Stay connected with Abbie Roads
Trailer Reveal Organized by