We are pleased to take part of this exciting Blog Tour for Bethany Lopez's Lei'd With Cupcakes, the third book in the Cupcake series!

This series has to be read in order

. This tour will consist of excerpts and reviews! Our stop today, we will be sharing an exciting excerpt! For a limited time only, the release price is $2.99! Check it out and grab your copy today!
Genre:
Series:
Publish Date:
Warning:
Contains foul language, sex, some violence, and shenanigans.
If non of that bothers you, grab a cupcake and read on!
Synopsis:
Everybody dreams of a Hawaiian Vacation…
They sell you on the drinks with little umbrella's, dolphin watching, and long walks on the beach. Which probably happens, if you're that lucky schmuck living out your dream with your destination wedding, but if you're a fish out of water PI like me, there's no time for relaxing because trouble is never far behind.
Instead of cocktails, I ended up dealing with the seedy underbelly of The Big Island.
And, I didn't see one damn dolphin while undercover on a boat which was spilling over with drug dealers, Kingpins, and Pedophiles.
Elin and Elena think Cade's family are the coolest people outside of Snapchat, but it's hard to meet the parents when your boyfriend is in his late thirties and has never had a serious relationship.
I'd never misse
d my girls so much in my life, but Amy May, Bea, and Carmen are all dealing with issues of their own, and can't come to my rescue.
The only thing that may help me with this "vacation" is if I could get Lei'd with Cupcakes.
*Excerpt*
"
This is your room?
"
I asked, even though it was pretty obvious.
"
I
'
m in here with you?
"
I asked, my eyes darting back out into the hall.
I dropped my bag by the bed and walked up to Cade, lowering my voice to say,
"
I can
'
t sleep with you in your parents
'
house.
"
"
What the hell are you talking about?
"
Cade asked as he took out his rubber band and pulled his hair back to secure it again.
"
We can
'
t have sex in your parents
'
house.
"
Cade turned his face toward me, eyebrows raised.
"
Lila, I
'
m thirty-eight years old, I
'
m pretty sure they know I fuck.
"
My eyes widened and my face went red.
"
Don
'
t talk like that, My God
…
Just because they assume, doesn
'
t mean it should happen in their house. It
'
s rude.
"
Cade chuckled and replied,
"
All right, Darlin
'
, I
'
ll keep my hands to myself, in the house, and we
'
ll see if you can do the same.
"
Check out the previous titles in the Cupcake series!
(covers link to Goodreads)
Don't forget the companion cookbook!
(cover links to Goodreads)
~~~~~
**About the Author**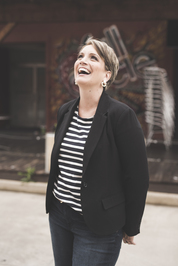 Award-Winning Author Bethany Lopez began self-publishing in June 2011. She's a lover of all things romance: books, movies, music, and life, and she incorporates that into the books she writes
. When she isn't reading or writing, she loves spending time with her husband and children, traveling whenever possible. Some of her favorite things are: Kristen Ashley Books, coffee in the morning, and In N Out burgers.
Stay connected with Bethany Lopez