We are thrilled to share with you this Release Day Blitz for Sarah J. Pepper's Soulless, the first book in the Once Wicked series!
Genre:
Series:
Publish Date:
Publisher:
Synopsis:
Our love is imperfect in the most perfect way. It is love done our way. Raw. Unconventional. Sexy as hell. Most importantly, it is honest to the core, or so I think. One little, white lie shouldn't do so much damage. Yet, it changes me forever.
The worst part is that Declan whispered that sweet nothing out of protection. My safety is on the forefront of his mind, especially since there are others who'd hurt me simply to get at him. I never think that he would be the one to cut me so deeply. And it all starts with that first prick

—

the night he saved my life.
*Excerpt*
His perilous stare deepened as his grip fastened around my waist. The maniacal thoughts passing over his eyes confirmed that I wasn't the only one who wanted all the space between us eliminated.
could hardly breathe when his gaze fell to my lips. It left me speechless. It was the very way a passing glance could leave you without words. But Declan didn't just take a glimpse. No, he unapologetically looked me over. He
me, but didn't say them in so many words. Yet, I heard them all the same. I heard them with each moan that echoed i the air. I felt them as he held me gently in his arms. Even if I didn't feel the desire radiating off of him in a fury of passion, he bore that intensity in his gaze. The world around us melted away until there was only me and
About the the Once Wicked Series:
@unconventionaldamsels who rock piercings, refuse to conform to society's rules, and aren't obsessed with labels, check out Once Wicked series. Happily Ever After doesn't define the misunderstood evil villains we love to hate. Their story is so much deeper than their fairy princess counterparts, yet were never told. That's a damn shame. They aren't always as wicked as they are made out to be. Well, not all of them. So until the clock strikes midnight and the (other) glass shoe dros, enjoy these not-so-Prince-Charming book boyfriends in this modern series, #OnceWicked.
~~~
Join the Once Wicked Book Party on Facebook now!
~~~~~
**About the Author**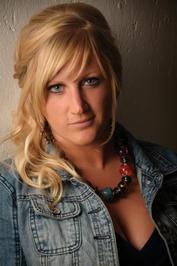 I specialize in dark, paranormal romance - think "happy ever after" but with a twisted, dark chocolate center. Real-life romance isn't only filled with hugs, kisses, unicorns, and rainbows. True-love can be more thoroughly described in times of darkness and tribulation. It' in those harsh moments where you see what a person is truly capable of - both the good and bad. Sometimes prince-charming isn't always on time and the glass slipper is a little snug. However, it doesn't mean Charming is not Mr. Right, and who says every shoe is the perfect fit?
Sarah J. Pepper lives in South Dakota with her real-life prince charming. At a young age, she fell for paranormal books and now incorporates that genre with romance that thrives in the hears of us all. When she's not storytelling, she's most likely biking, hoarding chocolate, or taking a bubble bath.
Stay connected with Sarah J. Pepper