I know it has been a while since I've actually posted much...on the personal side of it all, but...like everyone else, responsibilities have to be taken care of before this...haha! It's not easy...plus, it is time consuming...to run a blog. I know and fellow bloggers have expressed the same as well. It's a lot of work and time to keep up and maintain a blog. We can't please everyone...but, to those who do follow and read our blogs, we VERY much appreciate your dedication to our blogs.
Thanks to talking to a few blogger friends...thoughts were racing through my mind on what else I can do to make my posts a bit more personal...other than my fan experiences at events (especially when I don't make it to many events). Like with the others, the thought of sharing what I am looking forward to made sense. Since there is so much out there coming out in movies, shows, and books, why not share what I am looking forward to the most.
Hence, the first monthly post of my wants and desires in movies, shows, and books! Let us begin...
What I am looking forward to in September...
*Movies*
Dolphin Tale 2 (2014)
http://dolphintale2.com/
https://www.facebook.com/dolphintalemovie
Genre:
Family Drama
Cast:
Harry Connick, Jr., Morgan Freeman, Ashley Judd, Kris Kristofferson, Nathan Gamble, Cozi Zuehlsdorff, Austin Stowell, Bethany Hamilton
Synopsis:
Inspired by the true story of a dolphin named Winter who was rescued off the Florida coast. The film will follow a boy who befriends an injured dolphin who lost her tail in a crab trap.
Warner Bros. Pictures and Alcon Entertainment's Dolphin Tale 2 continues the story of the brave dolphin Winter, whose miraculous rescue and recovery--thanks to a groundbreaking prosthetic tail--made her a symbol of hope and perseverance to people around the world and inspired the 2011 family hit movie Dolphin Tale.
It has been several years since young Sawyer Nelson (Gamble) and the dedicated team at the Clearwater Marine Hospital, headed by Dr. Clay Haskett (Connick Jr.), rescued Winter. With the help of Dr. Cameron McCarthy (Freeman), who developed a unique prosthetic tail for the injured dolphin, they were able to save her life.
Yet their fight is not over. Winter's surrogate mother, the very elderly dolphin Panama, has passed away, leaving Winter without the only poolmate she has ever known. However, the loss of Panama may have even greater repercussions for Winter, who, according to USDA regulations, cannot be housed alone, as dolphins' social behavior requires them to be paired with other dolphins. Time is running out to find a companion for her before the team at Clearwater loses their beloved Winter to another aquarium.
Reprising their roles, Kristofferson plays Clay's father, Reed; Zuehlsdorff is Clay's teenage daughter, Hazel; Judd returns as Sawyer's mom, Lorraine; and Stowell plays Sawyer's cousin, Kyle. Champion surfer Bethany Hamilton, who herself has been an example of courage, appears as herself in the film.
Dolphin Tale 2 was filmed at the Clearwater Marine Aquarium, the non-profit rescue and rehabilitation facility that Winter calls home.
In theaters September 12, 2014
~~~
The Maze Runner (2014)
http://themazerunnermovie.com/
https://www.facebook.com/MazeRunnerMovie
Genre:
Science Fiction/Action Thriller
Cast:
Dylan O'Brien, Kaya Scodelario, Will Poulter, Thomas Brodie-Sangster, Aml Ameen, Ki Hong Lee
Plot Synopsis:
When Thomas (Dylan O'Brien) wakes up trapped in a massive maze with a group of other boys, he has no memory of the outside world other than strange dreams about a mysterious organization known as W.C.K.D. Only by piecing together fragments of his past with clues he discovers in the maze can Thomas hope to uncover his true purpose and a way to escape. Based on the best-selling novel by James Dashner.
In theaters September 19, 2014
~~~
The Equalizer (2014)
https://www.facebook.com/TheEqualizerMovie
Genre:
Crime/Action Thriller
Cast:
Denzel Washington, Marton Csokas,

Chloë Grace Moretz

, David Harbour
Synopsis:
In The Equalizer, Denzel Washington plays McCall, a man who believes he has put his mysterious past behind him and dedicated himself to beginning a new, quiet life. But when McCall meets Teri (Chloë Grace Moretz), a young girl under the control of ultra-violent Russian gangsters, he can't stand idly by -- he has to help her. Armed with hidden skills that allow him to serve vengeance against anyone who would brutalize the helpless, McCall comes out of his self-imposed retirement and finds his desire for justice reawakened. If someone has a problem, if the odds are stacked against them, if they have nowhere else to turn, McCall will help. He is The Equalizer.
In theaters September 26, 2014

~~~~~
*Television*
Z Nation (Syfy)
http://www.syfy.com/znation
Cast:
Harold Perrineau, Tom Everett Scott, DJ Qualls, Michael Welch, Kellita Smith, Anastasia Baranova, Russle Hodgkingson, Keith Allan
Plot Synopsis:
Z Nation starts three years after the zombie virus has gutted the country, a team of everyday heroes must transport the only known survivor of the plague from New York to California, where the last functioning viral lab waits for his blood. Although the antibodies he carries are the world's last, best hope for a vaccine, he hides a dark secret that threatens them all. With humankind's survival at stake, the ragtag band embarks on a journey of survival across three thousand miles of rusted-out post-apocalyptic America.
Series Premieres September 12, 2014 on Syfy
~~~
Red Band Society (FOX)
http://www.fox.com/red-band-society/
https://www.facebook.com/RedBandSociety
Cast:
Octavia Spencer, Dave Annable, Griffin Dunne, Ciara Bravo, Thomas Ian Nicholas, Charlie Rowe, Griffin Gluck, Wilson Cruz, Astro
Plot Synopsis:
What if a hospital was your high school, boarding school and summer camp rolled into one? What if it was the place where you fell in love for the first time and made friendships that lasted a lifetime? And What if it was all weirdly hilarious and the most fun you ever had in your entire life? This is the world of Red Band Society.
From Steven Spielberg's Amblin Television, starring Academy Award-winning actress Octavia Spencer and based on the award-winning Spanish series, Polseres Vermelles, Red Band Society is a provocative, unconventional and, at times, comic high school drama told through the eyes of a group of teenagers who meet as patients in the pediatric ward of Ocean Park Hospital in Los Angeles. The series is part comedy, part drama, with a tone that's unique unto itself.
Series Premieres September 17, 2014 on FOX
~~~
Gotham (FOX)
http://www.fox.com/gotham/
https://www.facebook.com/GOTHAMonFOX
Cast:
Ben McKenzie, Donal Logue, Robin Lord Taylor, Jada Pinkett Smith, Carmen Bicondova, Sean Pertwee, David Mazouz
Plot Synopsis:
Before there was Batman, there was Gotham.
Gotham is an origin story of the great DC Comics Super-Villains and vigilantes, revealing an entirely new chapter that has never been told. From executive producer/writer Bruno Heller, Gotham follows one cop's rise through a dangerously corrupt city teetering on the edge of evil, and chronicles the birth of one of the most popular super heroes of out time.
Gotham is based upon character published by DC Entertainment and is produced by Warner Bros. Television.
Series Premieres on September 22, 2014 on FOX
~~~
Scorpion (CBS)
http://www.cbs.com/shows/scorpion/
https://www.facebook.com/ScorpionCBS
Cast:
Elyes Gabel, Katharine McPhee, Eddie Kaye Thomas, Jadyn Wong, Ari Stidham, Robert Patrick
Plot Synopsis:
An eccentric genius and his team join forces with a government agent to fight the new threats facing America in the digital age.
Inspired by a true story, Scorpion is a quirky, humor-filled adrenaline rush that follows an eccentric genius and his network of nerdy prodigies. They operate as a think tank formed by Homeland Security, and their task: to deal with the complex threats of the modern age. Solving the most mind-boggling national issues comes naturally to them, but these socially awkward misfits can't seem to get out of their own way when it comes to life outside the laboratory.
Series Premieres September 22, 2014 on CBS
~~~~~
*Books*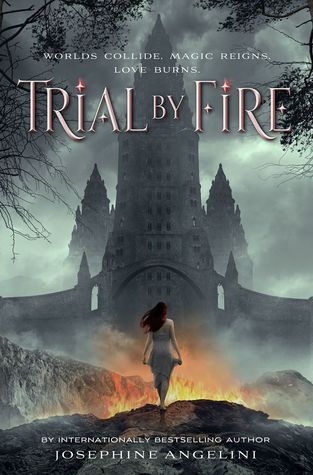 Genre:
Young Adult Paranormal Romance
Series:
The WorldWalker Trilogy, #1
Author:
Publish Date:
Summary from Goodreads:
This world is trying to kill Lily Proctor. Her life-threatening allergies keep her from enjoying many of the experiences that other teenagers take for granted...which is why she is determined to enjoy her first (and perhaps only) high-school party. But Lily's life never goes according to plan, and after a humiliating incident in front of half her graduating class Lily wishes she could just disappear.
Suddenly Lily is in a different Salem - one overrun with horrifying creatures and ruled by powerful women called Crucibles. Strongest and cruelest of all the Crucibles is Lillian...Lily's identical other self in this alternate universe. This new version of her world is terrifyingly sensual, and Lily is soon overwhelmed by new experiences.
Lily realizes that what makes her weak at home is exactly what makes her extraordinary in New Salem. It also puts her life in danger. Thrown into a world she doesn't understand, Lily is torn between responsibilities she can't hope to shoulder alone, and a love she never expected.
But how can Lily be the savior of this world when she is literally her own worst enemy?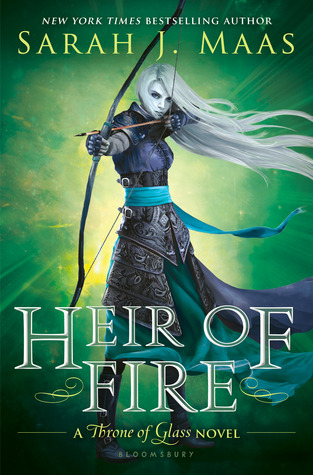 Genre:
Young Adult Paranormal/Fantasy Romance
Series:
Throne of Glass Series, #3
Author:
Publish Date:
Summary from Goodreads:
Lost and broken, Celaena Sardothien's only thought is to avenge the savage death of her dearest friend: as the King of Adarlan's Assassin, she is bound to serve this tyrant, but he will pay for what he did. Any hope Celaena has of destroying the king lies in answers to be found in Wendlyn. Sacrificing his future, Chaol, the Captain of the King's Guard, has sent Celaena there to protect her, but her darkest demons lay in that same place. If she can overcome them, she will be Adarlan's biggest threat - and his own toughest enemy.
While Celaena learns of her true destiny, and the eyes of Erilea are on Wendly, a brutal and beastly force is preparing to take to the skies. Will Celaena find the strength not only to win her own battles, but to fight a war that could pit her loyalties to her own people against those she has grown to love?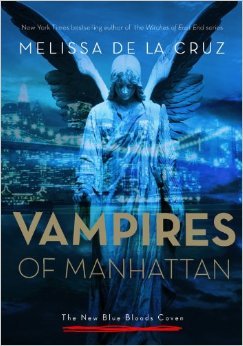 Genre:
Young Adult Paranormal/Fantasy
Series:
Vampires of Manhattan Series, #1
Author:
Publish Date:
Summary from Goodreads:
The Vampires of Manhattan is "hipster horror" --the memorable characters from her Blue Bloods series are older and cooler than before, trying to build "Millennial" lives in the bustle of Manhattan while battling forces of evil and, of course, each other.
Hero of this sexy, paranormal action tale is Oliver Hazard-Perry, former human conduit, and Manhattan's only human-turned-vampire, now the head of the Blue Bloods Coven. When his all-too-human lover is found murdered on the eve of the coven's annual Four Hundred Ball--a celebration meant to usher in a new era in vampire society, and to mark the re-unification of the Cover after decades of unrest and decay--Oliver is devastated.
Now not only is he trying to create a new world order for the immortal elite, he's the prime suspect and is stalked by the newly installed head of the vampire secret police. Because according to the new rules, vampires who take human life can now be executed. Burned.
How can an immortal sentenced to die fight back He has to find the killer--and the answers lie deep in vampire lore.
Genre:
Series:
Author:
Publish Date:
Summary from Goodreads:
The heart-pounding sequel to the instant New York Times bestseller, Unbreakable, by New York Times bestselling Beautiful Creatures co-author Kami Garcia.
He is here... and he could be anyone.
Kennedy Waters lives in a world where vengeance spirits kill, ghosts keep secrets, and a demon walks among us-a demon she accidentally set free.
Now Kennedy and the other Legion member - Alara, Priest, Lukas, and Jared - have to hunt him down. As they learn more about the history of the Legion and the Illuminati, Kennedy realizes that the greatest mystery of all does not belong to any secret order, but to her own family. With the clock ticking and the life of someone she loves hanging in the balance, Kennedy has to ask the question she fears most: what is it about her past that has left her Unmarked?
Well, that's just some of what I am looking forward to in September...including all the returning TV series that I already follow! This Fall is going to be filled with exciting movies, shows, and books releases!
What are you looking forward to this Fall...this September?
Sound off in the comments below!