Welcome to the Official Blog Tour for Dead Girl Walking, the first book in the Royal Reaper series, by Ruth Silver! This is a reviews only tour!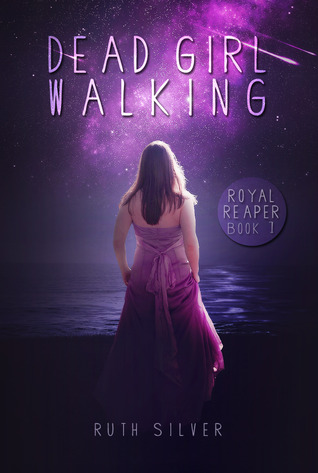 Genre:
Young Adult Paranormal/Supernatural Romance
Series:
Publish Date:
Publisher:
Synopsis:
Forget everything you know about grim reapers.
Princess Ophelia Dacre sneaks out of the castle to visit her boyfriend in secret. A perfect night cut short when she's brutally murdered.
Ophelia is given the rare chance to become a grim reaper. She must become Leila Bele, cut ties with her old life, and follow the rules of the reapers. Her greatest adventure begins with death.
**About the Author**
Ruth Silver attended Northern Illinois University and graduated with a Bachelor's in Communication in the spring of 2005. While in college, she spent much of her free time writing with friends she met online and penning her first novel, Deuces are Wild, which she self-published in 2004. Her favorite class was Creative Writing senior year where she often handed in assignments longer than the professor required because she loved to write and always wanted to finish her stories.
Her love of writing led her on an adventure in 2007 to Melbourne, Australia.
Silver enjoys reading, photography, traveling and most of all writing. She loves dystopian and fantasy young adult stories. Her debut novel published by Lazy Day Publishing,
Aberrant
is was released April 2013. Ruth has been actively writing since she was a teenager. She currently resides in Plainfield, Illinois.
Stay connected with Ruth Silver
*My Thoughts*
Note: This review contains no spoilers
What an engaging and imaginative story! Dead Girl Walking, sort of, reminded me of that television series Dead Like Me. Young Princess Ophelia dies, becomes a grim reaper, and has to help souls move on. Set in the time of the "dark ages," this cute story of a young princess has to learn how to take souls...or else feel the consequences for not following the rules of life, death...and after-death.
Ruth Silver created an interesting and unique world filled with grim reapers...and angels of death..."living" in the world with everyone else, but their job is to maintain the cycle of life and death by "collecting" the souls "marked for death" to help the souls move on. To where...well, that is still not revealed. She has created these young adults...some are not really "young adults" since it seems that grim reapers don't really "die." Well...yah, you're going to have to read it to find out what I mean...haha! I wouldn't want to ruin the "surprise" of it. Ruth has taken these supernatural/paranormal character and made them real in this imagined world of hers, instead of in a "spirit" state. They are literally "living" in the real world with the living...hahaha!! Now, that' a twist! But...it also had it's moments of heart-gripping drama and suspense that can make your heart race! Let's not forget the cliffhanger that Ruth Silver leaves at the end of this adventure that is only the beginning for Leila!
Dead Girl Walking is a fun, yet dark, paranormal romance that is filled with some teen drama and suspense that will keep you turning the pages. I sure did....keep turning the pages, that is. I definitely got caught up in Princess Ophelia/Leila's adventure...and I am definitely wanting to read more on Leila's adventures as a grim reaper!
My rating:
***The Giveaway***