Welcome to Day 1 of the Official Excerpt Tour for From Deities, the second book of the Descendant Prophecies Series, by Mary Ting!
Genre:
Young Adult Paranormal/Fantasy Romance
Series:
Descendant Prophecies Series, #2
Publish Date:
Synopsis:
A mysterious stranger enters Skylar's inner circle, throwing her life out of balance. As secrets are revealed, she learns of the New Olympus; a dwelling for the descendants of the Gods. The Grand family must strive to work together with these descendants to discover the key to their recue from the clutches of the growing evil vultures of Hades. As the threat increases, Skylar must learn to control her newfound powers before it's too late.
Pre-order now for $2.99
*Excerpt*
"Everett, stand behind us," I ordered. I didn't mean to sound forceful and demanding, but his life was at stake. The vultures could seriously hurt him with their bolts. As Nick and I fought back with our lights standing side by side, Everett managed to stay behind us.
I could tell from the way they maneuvered and worked as a team that this group of vultures was smarter. Not only that, their lights moved like whips. Whack! Whack! Damn it! One lashed across my shirt and burnt through it. Then I wondered if I could move my light like them. Before I could try, the five vultures joined their bolts into one, and it was coming straight for us.
"Shit!" Nick yelled, combining his light with mine. "Theirs is so much bigger and brighter. Can we take them?" Our light hit theirs, creating a massive spark of light, blinding our visions. The impact caused individual lights to shoot out.
Feeling like more distance was between Sky and me, I became desperate. I didn't care if I burnt down this forest. I was going to get to Sky … now. What I was about to do next would drain me, but it was the only thing I could think of.
Feeling blistering heat course through me, with one hand raised to the sky, I called upon the lightning. Thunder roared loudly and lightning lit up the dark sky. I directed it to the vultures, and to the light Nick and I were emanating.
"Ace in your face!" Nick shouted. Just as Nick said those words, the strength of our light expanded, and at the same time the lightning impacted on the vultures.
Sequel to: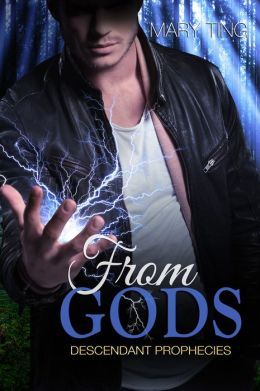 From Deities teasers!
~~~~~
**About the Author**
International bestselling author
Mary Ting
resides in Southern California with her husband and two children. She enjoys oil painting and making jewelry. Writing her first novel, Crossroads Saga, happened by chance. It was a way to grieve the death of her beloved grandmother, and inspired by a dream she once had as a young girl.
When she started reading new adult novels, she fell in love with the genre. It was the reason she had to write one-Something Great. Hence, Mary's pen name, M. Clarke? She tours with the Magic Johnson Foundation to promote literacy and her children's chapter book-No Bullies Allowed.
Stay connected with Mary Ting
***The Giveaway***
Excerpt Tour Organized by