Welcome to the Official Blog Tour for Bethany Lopez's A Splash of Vanilla, the third book in the contemporary romance series, Three Sisters Catering. On our tour stop today, we hae an exclusive excerpt to share! Check it out and grab your copy now!!!
Genre:
New Adult
Contemporary Romance
Series:
Three Sisters Catering, #3
Publish Date:
November 5, 2018
Synopsis:
For the past year, Dru has put everything she has into building a catering business with her sisters. She's so used to working until all hours of the night with them by her side, that when they both find love and move out, Dru decides to focus on something that has always weighed on her… finding the father who'd abandoned them.
For the past year, Mick has been living the good life. A content bachelor with his own business as a private investigator, he enjoys making his own decisions and answering to no one. When a couple of clients-turned-friends bring him in contact with Dru, his first thought is that he wouldn't mind getting her alone for a night, but when she hires him, that spark is extinguished. Mick doesn't mix business with pleasure.
When their lives become constantly entwined, Dru becomes more and more determined to get Mick to break his rules. Will they discover that even a seemingly perfect dish, can be made better with the right amount of spice, or are they too set in their ways?
*Excerpt*
"You look so fucking beautiful," he replied, intensely, then lowered his head and claimed my mouth.
I gasped, utterly taken aback, and Mick deepened the kiss. It was like rockets were shooting off in my body. I was hot, shaky, and eager as I wrapped myself around him like a pretzel and gave as good as I was getting.
I worried that he'd realize what he was doing, remember his rules, and stop the glory that was happening, but he didn't.
His lips were firm, but soft, and he kissed like he was made of testosterone and magic.
It was the best kiss I'd ever had, and it there had ever been any question as to whether or not Mick and I had chemistry, it was squashed. A quivering mess beneath our feet, much like my heart.
Mick's hands never moved, just held me close, the print of his palms searing into my skin like tattoos I hoped would remain forever. My hands, though? They were everywhere. In his hair, on his shoulders, roaming over his biceps, back, and finally… his butt.
That's right, I grabbed his butt and squeezed it.
Copyright© 2018 Bethany Lopez
Grab the previous titles in the Three Sisters Catering series now:
(cover links to Goodreads)
~~~~~
**About the Author**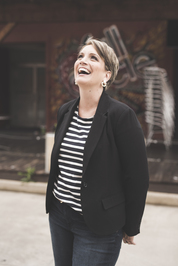 Award-Winning Author Bethany Lopez began self-publishing in June 2011. She's a lover of all things romance: books, movies, music, and life, and she incorporates that into the books she writes
. When she isn't reading or writing, she loves spending time with her husband and children, traveling whenever possible. Some of her favorite things are: Kristen Ashley Books, coffee in the morning, and In N Out burgers.
Stay connected with Bethany Lopez