We are thrilled to celebrate with you this Release Day Launch for Abbie Roads' Hunt the Dawn, the second book in the Fatal Dreams series! To celebrate this book birthday, we have an exciting excerpt, book trailers, and a cool giveaway to share with you! Check it out and get your copy today!
"Dark and delicious." — Kerrelyn Sparks, New York Times bestselling author on Race the Darkness.
Genre:
Paranormal/Fantasy Romance
Series:
Publish Date:
Publisher:
Synopsis:
Out of darkness and danger...
You can't hide your secrets from Lathan Montgomery—he can read your darkest memories. And while his special abilities are invaluable in the FBI's hunt for a serial killer, he has no way to avoid the pain that brings him. Until he is drawn to courageous, down-on-her-luck Evanee Brown and finds himself able to offer her something he's never offered another human being: himself.
Dawns a unique and powerful love
Nightmares are nothing new to Evanee Brown. But once she meets Lathan, they plummet into the realm of the macabre. Murder victims are reaching from beyond the grave to give Evanee evidence that could help Lathan bring a terrifying killer to justice. Together, they could forge an indomitable partnership to thwart violence, abuse, and death—if they survive the forces that seek to tear them apart.
*Excerpt*
While he hauled his motorcycle onto the road, he didn't look away from her. She stood bereft in the middle of the pavement, staring out over the pasture. Emotions infused the air around her. Shame. Hate. Embarrassment. Sadness. Fear. Desperation.
He recognized that tangled combination of scents. Knew them intimately. Knew the feeling of being hurt and vulnerable and powerless to stop the pain. Knew how memories, like the one he witnessed, had left wounds on her soul and Junior had just ripped off all the scabs.
She was raw, bleeding emotionally in front of him and yet holding it together by a spider's thread. He could see the effort in the way she stood straight and stiff.
Fury simmered low in his gut. After he got her squared away, maybe he'd pay a visit to Junior. Show the asshole what it felt like to be the victim.
He walked the bike to her. After he straddled the seat, he held out his hand to her. She grabbed him, her grip hungry.
She tossed her leg over the seat, using his hand to balance her weight.
He sat at the same time she did, her body settling against his back.
Holy Jesus. He couldn't activate the ability to think—his brain short-circuited from her nearness. Everything disappeared but the feeling of her open thighs wrapped around his ass with nothing but a tiny pair of black shorts and his jeans between them.
Her sweet musky scent, almost like honey, but better—way better—folded around him like a celestial pair of wings. The scent of her entered his nose, flowed into his lungs, then out to his extremities, spreading a cooling wave of solace that he wanted to savor, but couldn't. Not with her perched behind him, waiting for him to drive down the road.
He placed her hand against his stomach, pressed it tightly to him. His abdominal muscles twitched under her touch.
"Hold on." He let go of her hand and she slid her other arm around his waist. She pressed her front to his back, holding as tightly to his body as she'd held his hand. She was a clingy little thing. Not that he minded. Her touch felt like—what was the word he wanted to use—kismet. Exactly as he'd always imagined a lover's touch. Two pieces fitting perfectly together.
He kicked the machine in gear, trying to ease it forward instead of his normal burst of speed. She rested her head on his spine, nestling her cheek across the fabric of his shirt before settling.
His heart grew, straining against his chest wall, threatening to come up his throat in a shout of absolute ecstasy.
~~~
Sequel to:
Genre:
Paranormal/Fantasy Romance
Series:
Publish Date:
Publisher:
Synopsis:
First in a gripping paranormal romantic suspense duo by a Golden Heart finalist debut author whose clinical work gives her chilling insights...
Cursed with a terrible gift...
Criminal investigator Xander Stone doesn't have to question you—he can hear your thoughts. Scarred by lightning, burdened with a power that gives him no peace, Xander struggles to maintain his sanity against the voice that haunts him day and night—the voice of a woman begging him to save her.
A gift that threatens to engulf them...
Isleen Walker has long since given up hope of escape from the nightmare of captivity and torture that is draining her life, her mind, and her soul. Except...there is the man in her feverish dreams, the strangely beautiful man who beckons her to freedom and wholeness. And when he comes, if he comes, it will take all their combined fury and faith to overcome a madman bent on fulfilling a deadly prophecy.
~~~~~
**About the Author**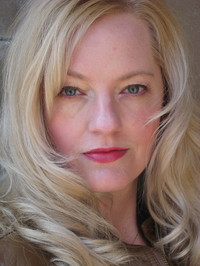 Seven Things about Abbie Roads:
1. She loves Snicker Parfaits. Gotta start with what's most important, right?
2. She writes dark emotional books featuring damaged characters, but always gives her hero and heroine a happy ending… after torturing them for three hundred pages.
3. By day she's a mental health counselor known for her blunt, honest style of therapy. At night she burns up the keyboard. Well… Burn might be too strong a word. She at least sits with her hands poised over the keyboard, waiting for inspiration to strike. And when it does—the keyboard might get a little warm.
4. She can't stand it when people drive slowly in the passing lane. Just saying. That's major annoying. Right?
5. She loves taking pictures of things she thinks are pretty.
6. She's represented by Michelle Grajkowski of 3 Seas Literary.
7. Her first book Race the Darkness was a Publishers Weekly Top 10 Pick for Fall.
Stay connected with Abbie Roads
***The Giveaway***
Release Day Launch Organized by