Welcome to the Official Blog Tour for Abbie Roads' Hunt the Dawn, the second book in the Fatal Dreams series! Well, to our stop on the tour...haha! Anyways, we have an exciting excerpt to share! Plus, watch the book trailer! Don't forget the cool tour-wide giveaway! Check it out and get your copy today!
"Dark and delicious." — Kerrelyn Sparks, New York Times bestselling author on Race the Darkness.
Genre:
Paranormal/Fantasy Romance
Series:
Publish Date:
Publisher:
Synopsis:
Out of darkness and danger...
You can't hide your secrets from Lathan Montgomery—he can read your darkest memories. And while his special abilities are invaluable in the FBI's hunt for a serial killer, he has no way to avoid the pain that brings him. Until he is drawn to courageous, down-on-her-luck Evanee Brown and finds himself able to offer her something he's never offered another human being: himself.
Dawns a unique and powerful love
Nightmares are nothing new to Evanee Brown. But once she meets Lathan, they plummet into the realm of the macabre. Murder victims are reaching from beyond the grave to give Evanee evidence that could help Lathan bring a terrifying killer to justice. Together, they could forge an indomitable partnership to thwart violence, abuse, and death—if they survive the forces that seek to tear them apart.
*Excerpt*
She followed Gill out to his car. Neither of them spoke as he pulled out of the driveway and drove them through the isolated countryside toward town. The silence wasn't awkward, but it wasn't exactly friendly either.
"How much to do you know about Lathan?" he asked when they reached the outskirts of Sundew.
"I mean like do you know his birthday, his favorite color, his favorite food, what kind of childhood he had…" He rattled off an extensive list, all of which she didn't know. But somehow, none of it mattered.
"Listen, I don't mean be a dick, but my top priority is protecting Lathan."
Yeah. She knew how to read between the lines. "Protecting him from me?"
Gill gave one solid nod of confirmation. "Why are you messing with him?" he asked as he waited to make the left hand turn into Sweet Buns.
She felt his gaze on her, studying her as if he expected the way she looked to give away some vital answer. "What do you mean?"
"He's a big, scary looking dude, but he has the heart of a puppy. I don't want you messing with him."
"I'm not messing with him."
He turned to her, gave her a full body scan—eyes lingering on her bare legs. "Sleeping with him qualifies as messing with him."
Suddenly, the giant T-shirt dress and the clothes underneath felt invisible. "I'm not
sleeping
with him. I slept with him—the snooze, snore, snore kind of sleep."
He cocked an eyebrow at her. It was the same as calling her a liar. Gill parked in front of the diner. She opened her door.
"I don't know what your motives are, but if they are less than lily-white-angel-babies I'm going to find out. And the full force of the FBI will come down on you."
She got out of the car, but left the door open, trying to formulate some response that didn't sound defensive, but couldn't find anything.
Gill leaned over the passenger seat to see her. "There's a lot you don't know about him. Ask him about himself. Ask him about his hearing. Ask about his childhood."
She slammed the door and walked toward Morty's.
Gill might be a big and mighty FBI guy, but he wasn't subtle. She recognized his last words for what they were. A setup. He thought there was something about Lathan's past that would scare her off. Nothing about him could scare her off. The only thing she really feared was her own past.
~~~
Sequel to:
(cover links to Goodreads)
~~~~~
**About the Author**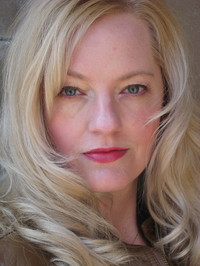 Seven Things about Abbie Roads:
1. She loves Snicker Parfaits. Gotta start with what's most important, right?
2. She writes dark emotional books featuring damaged characters, but always gives her hero and heroine a happy ending… after torturing them for three hundred pages.
3. By day she's a mental health counselor known for her blunt, honest style of therapy. At night she burns up the keyboard. Well… Burn might be too strong a word. She at least sits with her hands poised over the keyboard, waiting for inspiration to strike. And when it does—the keyboard might get a little warm.
4. She can't stand it when people drive slowly in the passing lane. Just saying. That's major annoying. Right?
5. She loves taking pictures of things she thinks are pretty.
6. She's represented by Michelle Grajkowski of 3 Seas Literary.
7. Her first book Race the Darkness was a Publishers Weekly Top 10 Pick for Fall.
Stay connected with Abbie Roads
***The Giveaway***
Blog Tour Organized by