Welcome to the Official Blog Tour for Thick Love, book two of the Thin Love series, by Eden Butler! This is not a standalone. It is recommended to read Thin Love (#1) and My Beloved (#1.5) prior to reading Thick Love.
Follow the exciting tour,
HERE
!
Genre:
Series:
Publish Date:
Synopsis:
He doesn't ask their names.
He doesn't deserve to know them.
Ransom Riley Hale's friends think his life is charmed: first string as a freshman on a championship-winning college football team. A father with two Super Bowl rings. A mother with platinum albums and multiple Grammies under her belt. But that brilliant shine on the surface hides the darkness beneath; it's all Ransom has ever known.
Despite the shadows he walked in, once there was a blinding light fracturing the darkness. It brought the promise of hope and happiness. He'd been careless, filled with pride and stupidity and lost that light. Ripped it from the world.
Now, the shadows are dimming again. Aly King surges into his life threatening to pull him from the darkness. She is everything Ransom can never be again. Her light feels too warm, promises him that there is more waiting for him beyond the shadows.
But the shadows are relentless, resurfacing when he thinks he is safe, and Ransom knows he must keep Aly from them too before he pulls her down into the darkness with him.
*Excerpt*
In my head I counted…one, two and three, two, two and three and let that be all that my mind could hold.
"And the saida, Aly, show him."
And she did, a full five step movement, me walking back, her following again, all the while her hips moved like an invitation, a sweet call that my body heard. But I couldn't be into this, not this woman, she wasn't my type. She was defensive, cold. She never, ever smiled, not at me, I hadn't seen that once. She had always been so rigid— from the way she walked and the distant attitude to the severe bun at the back of her head.
But this Aly moved against me like a wave on the sand, bending into my hips, a brush of our bodies touching, working together like they were made to be and I couldn't help but give in to the sensations that surrounded me. The music beating heavy, lulling like a drug, the tight press of her sinuous body, how easily she followed my movements, the smell of her hair, the warm moisture of her breath moving my collar. It was too much—so sudden, so unexpected and I blinked, realizing that the dancer from Summerland's wasn't the only who could get my body to pay attention. How was this happening…again? Grunting, I moved my hips away, then jerked my gaze to Aly's face when her soft gasp registered that she, too, had noticed my body's reaction.
Unbelievable, I thought. Nothing for over a year and inside of a week and a half my dick started misbehaving.
Closing my eyes, I exhaled, bent closer so only she could hear me when I spoke. "It's not on purpose, but please don't tell Leann. I'd never hear the end of it."
I felt her nod, that small gesture against my chest and then Aly looked up, only her eyes moving. They were hazel with the smallest hint of green around the edges.
"Apologize," she said, voice quiet but determined. My only response came from the lift of my eyebrows. "What?" she said, mouth still held in a line. "You were grosoulye...um, rude."
"And you are a liar."
When she slowed her movements, I pulled her in even closer. "If you stop, she'll make us start all over again. I know you don't want that and I sure as hell don't want my cousin to know this dance gets me hard."
Curiosity must have edged her because Aly tilted her head, eyes sharp as she watched me and then pressed in with another hip roll that would have been a too damn familiar if we'd been naked. She didn't smile, but I caught the small hint of a dimple on her left cheek when I kept pace with her.
"Fine. But remember your form and remember, you have to feel it." When I laughed, glanced down at my lap, Aly sighed like I was an idiot. "This dance is push and pull, Ransom. It's a joining." She slid her fingers over my heart, right across Emily's face, and I shuddered when her fingernails grazed my nipple.
I had limited interaction with Aly, but noticed that in the studio, in her element, there was no place for shyness or awkwardness. She instructed me, just as she did her students. I was supposed to listen, to learn and as Aly exhaled, as her voice came out demanding and sharp, I realized the woman was another person—fiercer, professional—when it came to dancing. "You have feel it here," she said before she moved her hand to my hip, pulling me into a thrust I didn't control, "and here. Like…like really good…"
"Sex?" I asked, grinning when Aly looked away from me.
"Modi," she cursed. "Well, I suppose it is." When she looked back up at me I swore I saw her light eyes deepen to a color that reminded me of whiskey. It was the first time I'd gotten close enough to really look in her eyes and see all the soft features her attitude and distance obscured.
"Sex that is wet and warm," she continued. I turned her, into another saida and we moved further away from Leann as we danced; thank God my cousin was concentrating on something on her phone and wasn't watching us all that closely. Aly's words pulled me back. "Sex that slips into her skin." Aly closed her eyes, moved her fingers to my neck like she was remembering something too personal, too damn erotic to share with a stranger. For some reason, I didn't pull away from her, too caught by the vivid image she was describing. "It gets so deep, feels so tight, that it hurts, just a little and you crave that pain." She blinked and slowed her movements, pushing back as she arched into me. "That's the best kind of sex, isn't it? The kind that you can't stop thinking about, you can't stop feeling for days afterward."
Don't miss the previous titles in the Thin Love series!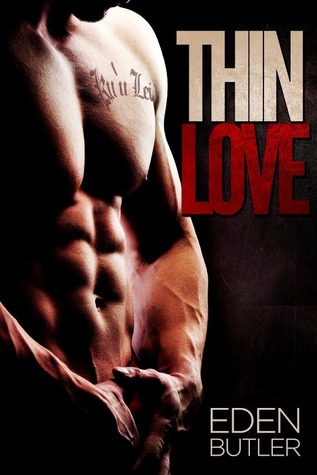 **About the Author**
Eden Butler
is an editor and writer of New Adult Romance and SciFi and Fantasy novels and the nine-times great-granddaughter of an honest-to-God English pirate. This could explain her affinity for rule breaking and rum. Her debut novel, a New Adult, Contemporary (no cliffie) Romance, Chasing Serenity launched in October 2013 and quickly became an Amazon bestseller.
When she's not writing or wondering about her possibly Jack Sparrowesque ancestor, Eden edits, reads and spends way too much time watching rugby, Doctor Who and New Orleans Saints football.


She is currently living under teenage rule alongside her husband in southeast Louisiana.
Stay connected with Eden Butler
***The Giveaway***
Eden is offering up the following prizes.
The giveaway ends Sept 8th at 11:59 PM CST.
(1) $20 gift card (Amazon or B&N) (Intl)
(1) Signed set of Thin Love series (US only)
(1) eBook set of Thin Love series (Intl)