Welcome to the Official Blog Tour for The Queen of Bright and Shiny Things by Ann Aguirre!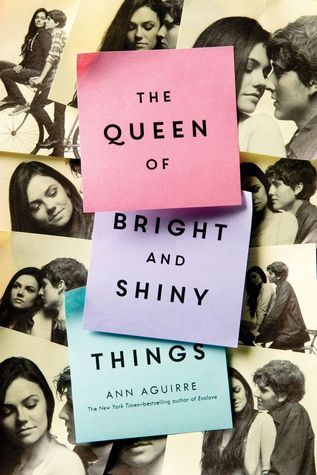 Genre:
Publish Date:
Publisher:
Synopsis:
Sage Czinski is trying really hard to be perfect. If she manages it, people won't peer beyond the surface, or ask hard questions about her past. She's learned to substitute causes for relationships, and it's working just fine...until Shane Cavendish strolls into her math class. He's a little antisocial, a lot beautiful, and everything she never knew she always wanted.
Shane Cavendish just wants to be left alone to play guitar and work on his music. He's got heartbreak and loneliness in his rearview mirror, and this new school represents his last chance. He doesn't expect to be happy; he only wants to graduate and move on. He never counted on a girl like Sage.
But love doesn't mend all broken things, and sometimes life has to fall apart before it can be put back together again...
*Excerpt*
The sophomores can't hear us down the table, as it's loud in here, but I pitch my voice low just in case. "Basically, Ryan was never my boyfriend. He just let people
think
we were together. Because I'm an idiot, I didn't guess why." Those last words come out bitter.
"So why
did
he do that?" I hear all kinds of nuances in his voice, questions, doubts.
Here's where it gets tricky. "It's complicated. He lied to me, though, and that's what I can't just get over. Maybe someday we'll be friends again, but for now..." I shrug.
"So he didn't break your heart." He sounds relieved.
"I was afraid he had. That maybe you were talking to me..." His eyes cut away from mine.
"Because I was trying to make Ryan jealous? Not my style."
I want to say,
OMG, Shane, you think I'm a dude magnet?
I've been Ryan's sidekick, his not-girlfriend so long, that I have no idea what
this
is or what I'm doing. But I love it.
"I'm not looking for drama," Shane tells me.
I understand the reason for the pronouncement immediately. Ryan's watching us from across the cafeteria, but he won't be shoving Shane into any doorjambs or cornering him in the boys toilet. In some ways, his silent, wounded eyes are worse. I can tell he feels horrible and that he misses me, but what am I supposed to do? After what I've learned, I don't
want
to be his girlfriend, which is what he was shooting for when he made his big confession. I feel like I hardly know the guy, and that hurts most of all.
"I just... I can't afford any trouble," he says softly, not looking at me. "Any more, and I'm off to juvie until I'm eighteen."
Possibly he thinks this will scare me off.But I have my dark side, too. The staff at the group home pulled me off an emotional ledge years ago, so I know what it's like to feel completely out of control, doing stuff you know deep down is a terrible idea and yet you
cannot stop
. I study the rigid line of his shoulders. Did you put that post-it on my locker?" I ask.
He's dead silent, but his eyes answer where his lips do not. I see the
yes
written in aquamarine.
In this moment, I want to kiss him so bad it hurts.

**About the Author**
Ann Aguirre is a New York Times & USA Today bestselling author and RITA winner with a degree in English Literature; before she began writing full time, she was a clown, a clerk, a voice actress, and a savior of stray kittens, not necessarily in that order. She grew up in a yellow house across from a cornfield, but now she lives in sunny Mexico with her husband, children, and various pets. Ann likes books, emo music, action movies, and she writes all kinds of genre fiction for adults and teens, published with Harlequin, Macmillan, and Penguin, among others.
Stay connected with Ann Aguirre
Sign up for Ann's Newsletter
~~~~~
*My Thoughts*
Note: This review contains NO spoilers
The Queen of Bright and Shiny Things, by Ann Aguirre, is a fun and quirky Young Adult novel that focused a lot on the ups and downs of teenagers, especially when starting over again. And, that's just the story for Sage, with a past she wants to leave behind, she starts a bright new life in a small quaint town...until she meets Shane. Of course, Sage learns that she's not the only one that has a past that wants to be kept hidden.
Ann Aguirre has created this cute and fun story of teenage life with some serious undertones. I loved her character development. The personalities of her characters had many layers and depth creating that realism of your average teenager in high school. Pretty witty of Ann to create that high school atmosphere with your typical cliques...which made me feel like I was in high school...again!?! <shudder> Whoa! Those high school memories...lol! And...the story development! Ann wrote an interesting story of teens dealing with the everyday issues of high school and relationships. Although Ann intertwined several serious issues, she integrated these issues into the storyline with realism and respect...without over dramatizing it. However, about the second half of the book, the story dragged a bit, but didn't take away from the story itself.
Told in Sage's point of view, I enjoyed how the book read like a journal or as if I was "seeing" and "hearing" through her eyes. From beginning to end, I enjoyed "watching" Sage grow and see her confidence/self esteem develop. As with all the characters, Sage and her fellow schoolmates each are multi-layered, complex personalities steering through growing up. I also liked going through Sage and Shane's developing romance. It wasn't sappy or mushy...a "slap in your face" love at first sight deal. I really enjoyed reading the slow and awkward romantic progress between these two characters.
Well, all in all, The Queen of Bright and Shiny Things is a fun and quirky tale of growing up...with a taste of a reality of some serious and sensitive issues that many teens deal with everyday. I would have to say that this would be a good read for both parents and teens. Ann Aguirre
created an incredibly realistic young adult story worth reading.
My Rating:
~~~~~
***The Giveaway***
a Rafflecopter giveaway
Blog Tour Organized by