Welcome to the Official Blog Tour for Samantha Hatsings
' debut historical romance, The Last Word!
Today, on our tour stop, we have an exclusive excerpt AND tour-wide giveaway to share! So... Check it out and grab your copy now! Don't forget to follow the tour, HERE!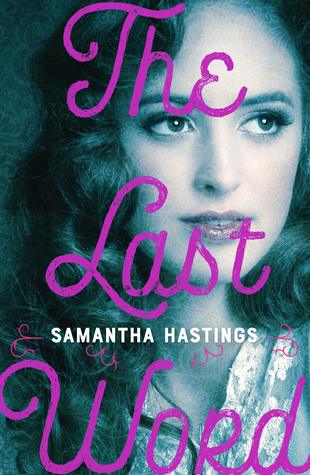 Historical Romance
Publish Date:
July 9, 2019
Publisher:
Swoon Reads
Synopsis:
Set against the smoky, gaslit allure of Victorian London, this sweetly romantic historical debut is full of humor and stars a whip-smart female heroine ahead of her time.
Where one story ends, another begins.
1861. Miss Lucinda Leavitt is shocked when she learns the author of her favorite serialized novel has died before completing the story. Determined to learn how it ends, Lucinda reluctantly enlists the help of her father's young business partner, Mr. David Randall, to track down the reclusive author's former whereabouts.
David is a successful young businessman, but is overwhelmed by his workload. He wants to prove himself to his late father, as well as to himself. He doesn't have the time, nor the interest, for this endeavor, but Lucinda is not the type to take no for an answer.
Their search for the elusive Mrs. Smith and the rightful ending to her novel leads Lucinda and David around the country, but the truths they discover about themselves—and each other—are anything but fictional.
Chosen by readers like you for Macmillan's young adult imprint Swoon Reads, The Last Word by debut author Samantha Hastings is a fun yet intellectual romp through Victorian London—the perfect book for book-lovers.
(be sure to enter "signed copy" in the Note section)
*Excerpt*
Lucinda lifted her head up and walked resolutely to David's office. She knocked lightly on the open door.
David sat at his desk with his cravat untied and the top of his linen shirt open. His vest and jacket were hung on the coatrack in the corner. She could see a bead of sweat on his exposed collarbone. The slight breeze from the windows behind him stirred his hair. He did not look up but continued to write a letter; he must not have heard her knock.
Lucinda took a few steps forward and cleared her throat.
David glanced up at her and shot to his feet in surprise. Or attempted to. He'd forgotten to push out his chair first, so instead the tops of his knees slammed into his desk and he nearly toppled back into his chair before he managed to stand up. He gave her a stiff bow and then clutched at the opening at the top of his shirt.
"Lucy—Miss Leavitt, how do you do?"
Lucinda grinned; she'd never seen the perfect Mr. David Randall so disheveled. She pointed to the chair and said primly, "May I sit down, please?"
"Yes, of course," he said. He hastily buttoned up his shirt, one button off of the correct one.
Lucinda sat. After a moment she said coyly, "Must you tower over me?"
He dropped into his chair instantly and then looked over his shoulder for his vest and coat. He stood again as if to go retrieve them.
"There's no need," Lucinda said. "It's hot enough already."
David smiled at her and inexplicably she felt hotter. He sat back down, rested his elbows on his desk, and interlaced his fingers. "What can I help you with today, Miss Leavitt?"
"Why do you assume I need your assistance?"
"I can think of no other reason for you to be here in my office."
Lucinda let out a tinkle of laughter. "I am not here for your assistance, but rather to offer you mine."
She pulled Mr. Quill's ledger out of her embroidery bag and handed it to David. "My father had me go over some of the ledgers at our home and I found one that I think you ought to look at."
He opened it and looked at the first couple pages. "What's wrong with it?"
"The numbers between pages eight and nine are not consecutive," Lucinda said. "Somehow between the two pages, twenty-three pounds disappeared into thin air."
David turned a few more pages and then looked back and forth from page eight to page nine. "You are right."
"My father would like us both to go to the Bath office and perform an audit on all the books," Lucinda continued quickly, careful not to look him in the eyes. It was easier to lie if you didn't maintain eye contact. Another
invaluable
lesson from finishing school. "You'll probably want to contact the Justice of the Peace about Mr. Quill while we are there."
"I do not see why you need to come," David said slowly.
"Don't you want my help?" Lucinda asked. "I'm much faster at numbers than you."
"That's true," David admitted. "But I can't help but think you only wish to perform the Bath audit so that you may visit Laura Street and inquire after your dead author. And I am very busy at the moment." He gestured to the stack of letters on his desk.
"I have underrated your intelligence, David," Lucinda said, forgetting to be formal in her excitement. She untied her bonnet and took it off. "But I do believe that the Bath audit is truly essential. And if we are, by happy coincidence, already in Bath, what could it hurt to make a short visit to Laura Street to make an inquiry? And, if we hurry, we can finish all of the correspondence on your desk and set out for Bath on the earliest train tomorrow. I should not think we need stay there for more than a night. Be sure to have your man pack the appropriate clothes."
"I cannot escort you to Bath—"
"Without a chaperone," Lucinda finished. "Mrs. Patton would love to visit Bath and drink the waters. The poor dear's health seems quite precarious; she falls asleep at the least provocation."
"Which stack of letters shall I start on?" Lucinda asked brightly.
**About the Author**
Samantha Hastings has degrees from Brigham Young University, the University of Reading (Berkshire, England), and the University of North Texas. She met her husband in a turkey sandwich line. They live in Salt Lake City, Utah, where she spends most of her time reading, eating popcorn, and chasing her kids. The Last Word is her debut novel.
Stay connected Samantha Hastings
***The Giveaway***
Giveaway Open to the U.S. & Canada Only
Note: Not Responsible for Lost & Damaged Prizes in Your Mail Box
a Rafflecopter giveaway
Blog Tour Organized by