We are a cool Nerd Blast for Colleen Houck's Reunited, the third and final installment in the Reawakened series! Watch the book trailer for Reunited and all the previous titles in this series! Plus, if you haven't read the book yet, we have a sneak peek into the book with an exciting excerpt! Not only that, there's a cool blast-wide giveaway! So... Check it out and grab your copy today!
Genre:
Young Adult
Fantasy Romance
Mythology
Series:
Reawakened, #3
Publish Date:
August 8, 2017
Publisher:
Delacorte Press
Synopsis:
After surviving her otherworldly adventure, Lily wakes up on her nana's farm having forgotten everything. Her sun prince, her travels to Egypt, and her journey to the Afterlife are all distant memories.
But Lily is not the girl she once was. Her body is now part human, part lion, and part fairy. And if that isn't bad enough, she must now harness this power of three and become Wasret: a goddess destined to defeat the evil god Seth once and for all.
With the help of her old friend Dr. Hassan, Lily departs on her final voyage through the cosmos and across the plains of Egypt. On the journey, she will transform into the being she is destined to become.
It is time for Lily to find her sunset.
*Excerpt*
There's no help for one such as me
.
My nature makes me what I am
.
And what I am, is hungry
. His eyes changed. The very countenance of his face blackened even darker than his shiny skin.
Come to me, young one
, he said silkily, his voice making all the noise of the ship and the churning water around me disappear.
You are the tincture that will soothe my parched throat
.
Come into my mouth and I will cover you like a storm covers the sea
.
You will drown in me but it will be a peaceful death, like lying on a carpet of moss as the pale moonbeams slowly drain the life from your body
.
I obeyed. I climbed up onto the mossy hill and lay down, cushioning my head on the spongy bed. It
was
peaceful. The voice was right. This was my path, my purpose. My body would feed the hunger of the cosmos. There was a horrible sting, a pressure on my leg. But soon I forgot about it and rested again. My mouth tasted funny, like I'd bitten into a rotten peach. The bitter, swollen taste turned into a burning that licked my veins with fire. I whimpered.
Then a great explosion rocked me violently from my bed. It was dark. Just a strip of light at the base of the door. My leg was pinned to the bed and it hurt, badly. Suddenly, the door flew open but it opened the wrong way. The thing poking my leg wrenched away and I realized exactly where I was. In the mouth of the snake.
Copyright © 2017 by Colleen
Watch the Reunited book trailer now!
~~~
Don't miss the previous titles in the Reawakened series!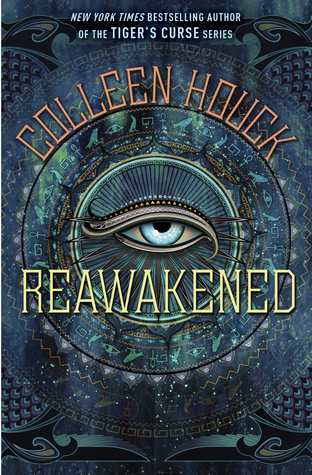 (covers link to Goodreads)
Check out what others are saying about the Reawakened series!
"[A] must-read for thrill-seekers and fans of alternate worlds." —
RT Book Reviews
"Rick Riordan fans who are looking for another series will delight in this fantasy." —
SLJ
"Littered with Egyptian mythology and snappy dialogue, this romantic adventure is a good choice for graduates of Rick Riordan or fans of Houck's
Tiger's Curse
series." —
Booklist
"Fans of paranormal romance will love the Egyptian spin on this story of devotion and sacrifice, and Lily's humor, combined with plentiful dangerous escapades, will keep readers engaged." —
VOYA
"The author weaves her story out of Egyptian lore, cinematic magic, selfless love, and . . . is clever enough to remain surprising even to the last sentence." —
Kirkus Reviews
"Houck's moving depiction of the love between Lily and Amon is memorable." —
Publishers Weekly
"Wonderfully written and…the heart-pounding adventures are topped only by the heart-melting romance." —
The Deseret News
"A sparkling new novel with a fully imagined world and mythos, and crackling romance! Egyptian mythology has never been this riveting!" —
Aprilynne Pike
, #1
New York Times
bestselling author of the
Wings
series, on
Reawakened
, book one in the series
~~~~~
**About the Author**
New York Times Bestselling Author Colleen Houck is a lifelong reader whose literary interests include action, adventure, science fiction, and romance. Formerly a student at the University of Arizona, she worked as a nationally certified American Sign Language interpreter for seventeen years before switching careers to become an author.
Colleen lives in Salem, Oregon, with her husband and a huge assortment of plush tigers.
Stay connected with Colleen Houck
~~~~~
***The Giveaway***
Giveaway Open Internationally | Must be 13+ to Enter
*Not responsible for Lost or Damaged prizes in your Mail Box*
a Rafflecopter giveaway
Nerd Blast Organized by