Have you read the Blood Trilogy by Danielle Rose yet!?! If you haven't, you gotta, especially if this is a genre that you enjoy reading. Well, I think readers would enjoy this read. Anyways, we have a cool Blog Tour for Danielle Rose's Blood Magic, the second book in the Blood Trilogy,to share! On our tour stop today, we will be sharing my thoughts on this second installment in the Blood Trilogy. Check it out and grab your copy today!
Published by
OfTomes Publishing
, the
Blood T
rilogy follows the harrowing journey of Ava h Taylor, a mortal witch in the midst of a centuries-old war against the immortal vampire species. Avah's intense journey is fueled by blood, jealousy, betrayal, murder and revenge.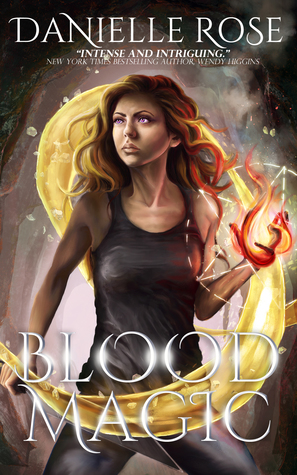 Genre:
Series:
Publish Date:
August 1, 2017
(first published March 29, 2016)
Publisher:
OfTomes Publishing
Cover Art:
Gwenn Danae
Cover Text:
Eight Little Pages
Synopsis:
Avah Taylor thought she had already faced the worst.
As her coven's chosen one, destined to receive a power that could kill her, Avah was forced to make the ultimate sacrifice when she gave up her mortal life to become a vampire, the witches' greatest enemy. But just when she begins to adjust to her new life, even as she falls in love with her sire, the high priestess of her new coven is seized by Rogue vampires.
Guided by Avah's visions of the past, present, and future, Avah and the other vampires set out to rescue their priestess, but their journey leads Avah to the discovery that the conspiracy behind her power runs deeper than she ever imagined. As her visions grow increasingly terrifying, Avah begins to wonder if she may not have a future at all.
*FREE on Kindle Unlimited*
Sequel to:
(cover links to Goodreads)
*FREE on Kindle Unlimited*
*Pre-Order Blood Promise today*
**About the Author**
Danielle Rose
is a romance writer and owner of
Narrative Ink Editing
. She holds a Master of Fine Arts in creative writing from the University of Southern Maine. Danielle currently resides in the Midwest, where she spends her days dreaming of warmer temperatures. When not writing, reading, or traveling, Danielle enjoys pretending she lives in California, spending an embarrassing amount of time at Hobby Lobby, binge watching Netflix, and cheering for her favorite football team (Go Packers!).
Stay connected with
Danielle Rose
*My Thoughts*
Note: This review contains NO spoilers
Seriously!?! My heart is still racing! Then the cliffhanger ending...really!?! Ugh! Can I have Book 3 now, please...hahaha!!! From Blood Rose (book 1) to Blood Magic (book 2), there has been a ton of growth with these characters. In this second installation in the Blood trilogy, secrets from the first book has been revealed, but other secrets come to light in this second book. These characters are thrust into an astounding amount of obstacles in which forces them to face several truths that questions themselves, especially Avah.
The start of the Blood Magic gives readers a short summary of the events from Blood Rose, essentially refreshing readers' memory of the events prior. Anyways, the flow of the story remains fast-paced and evolving. The characters are thrust into situations that seem impossible. The romance between Avah and Jasik to continues to grow; even their intimate moments got steamy. Whoa! And, more characters are introduced whom of which are connected to these secrets that have been revealed since the beginning. There are so many twists and turns to these characters that it kept me guessing to what is the truth...haha!
As this series continues to unveil the interesting twist of vampire and witches, I was completely fascinated with how Danielle Rose created and intertwined this world of vampires and witches... even hybrids. Whoa! Avah's struggle to balance both within herself is complex and emotional. I could pretty much "feel" her frustrations. I was completely immersed in this world, seen through Avah's vampire/witch eyes. I am no expert on either vampire or wiccan lore, but Danielle has continued to wow me on her imaginative and magical telling of this story.
No doubt! I NEED the next book...haha! That cliffhanger really got me! Danielle got me so emotional with Blood Magic that I was gasping for breath. Sheesh! This is an enjoyable read for fans of these genres. However, the cliffhanger...really!?! Danielle definitely has that knack to keep readers wanting more...even with those gut-wrenching cliffhangers. I seriously can't wait to find out what happens next for Avah and everyone else.
My Rating:
Blog Tour Organized by