Genre:
Contemporary College Romance
Publish Date:
Publisher:
Synopsis:
When Ivy League & Tutus Collide
A collaboration by Amy Daws & Sarah J. Pepper
Getting screwed over backstage by my married-ex tears my heart into a million tiny pieces.
[Sitting in the audience at the ballet with my former fling wasn't my idea of fun.]
I live in my pointe shoes, not even my ex can taint my love for ballet.
[I hate the ballet. This on again/off again crap was getting old.]
And then my whole world changes when I notice the smoldering gaze...
[Then I look to the stage, and I can't take my eyes off...]
Concentrating on anything except his sexy...everything, is impossible.
[Her presence commands my attention...I've never experienced this before.]
He makes me second-guess everything I've ever dreamed about.
[She makes me question everything I've ever known.]
Fighting him is a strategic sport
—
no clothes allowed.
[All I can think about are her sexy ballerina legs wrapped around me
—

tutu definitely on.]
Our scandalous rendezvous is plastered all over NYC's tabloids.
[Because of my status in Manhattan, now I've dragged her into the limelight.]
My ex will stop at nothing to tear us apart.
[Seriously powerful people forbid me to be with her.]
Rumors about his past keep building.
[I can't tell her this secret.]
When it came to Leo, I only knew the big things.
[When it came to Adeline, I knew nothing about the little things.]
But uncovering those things about him [her] may push us past our breaking point.
**About the Authors**
Amy Daws lives in South Dakota with her husband, Kevin, and their miracle daughter, Lorelei. The long-awaited birth of Lorelei is what inspired Amy's first book, Chasing Hope, and her passion for writing. On most nights, you can find Amy and her family dancing to Strawberry Shortcake's theme song or stuffing themselves inside children's-sized playhouses because there is nothing they wouldn't do for their little miracle.
Stay connected with Amy Daws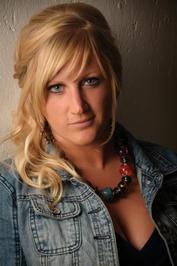 I specialize in dark, paranormal romance - think "happy ever after" but with a twisted, dark chocolate center. Real-life romance isn't only filled with hugs, kisses, unicorns, and rainbows. True-love can be more thoroughly described in times of darkness and tribulation. It' in those harsh moments where you see what a person is truly capable of - both the good and bad. Sometimes prince-charming isn't always on time and the glass slipper is a little snug. However, it doesn't mean Charming is not Mr. Right, and who says every shoe is the perfect fit?
Sarah J. Pepper lives in South Dakota with her real-life prince charming. At a young age, she fell for paranormal books and now incorporates that genre with romance that thrives in the hears of us all. When she's not storytelling, she's most likely biking, hoarding chocolate, or taking a bubble bath.
Stay connected with Sarah J. Pepper
*My Thoughts*
Note: This review contains NO spoilers
Wow! This was a fast-paced, whirlwind of a romance with secrets! Two young people from two different worlds collide and fall in love. The intensity factor definitely made its presence known in each chapter. Told in both character's point of view, readers will get both character's perceptions of what was happening between and around them. We can't forget the intense and intimate sex! Yes, I said it! There definitely was ample amount of steamy and romantic sex between these two that would get anyone "hot and bothered"...haha! With the incredible character development, I found the characters to have distinct and complex personalities. The story itself is fast-paced and complicated as it touches on the complexities of real life issues. The different aspects of each characters personalities delved into the intricate sensitivities on how each character dealt with these issues.
However, my only "thing" about this book is that the unrealistic development of the romance between Adeline and Leo...but then, again, it IS a romance! LOL! A sexy one at that! Also, well worth the read.
Pointe of Breaking is an intense and gritty romance that will tug at readers' hearts. Filled with heartache and heartbreak with a lot of steamy sex, this story is definitely a whirlwind romance that didn't shy away from facing hard issues.
My rating: