Welcome to the Official Blog Tour for Sheryl Scarborough's To Right The Wrongs, the second title in the Erin Blake series!!! The tour will consist of various posts on a participating blogs. On our tour stop today, we are thrilled to kick off this tour with an exciting excerpt! So... Check out all the tour festivities and grab your copy now!!! Follow all the tour fun, HERE!
Genre:
Young Adult
Mystery/Thriller
Series:
Erin Blake, #2
Publish Date:
February 27, 2018
Publisher:
Tor Teen
Synopsis:
Barely three weeks after catching the killer of Erin's mother and their biology teacher, Erin and her crew are back, up to their elbows in forensics projects. But this time it's with the full approval of their parents.
With Uncle Victor at the helm, Erin and her best friends, Spam and Lysa, are prepping a new classroom for CSI summer camp, where they will serve as camp counselors. Meanwhile, Erin's super-hot new boyfriend, Journey, is graduating, just in time for him to take a position as Victor's intern in the new CSI lab on campus. Journey and Victor are going to take another look at the evidence in the murder trial that sent Journey's father to prison. The girls are under strict orders not to meddle with the murder case, but that's easier said than done...
*Excerpt*
Today begins the
normal
last three weeks of my sophomore year of high school. I'm pacing between my bedroom and the tree-shaded balcony that overlooks the street, watching for Journey's battle-scarred van to rumble into view.
The warm, lazy air makes me glad we're finally in summer countdown. Soon, I'll be able to spend my mornings lounging in bed with the French doors wide open and a stack of books I've been dying to read.
He's not that late. Maybe only a minute or two. I'm just anxious.
A few weeks ago, I thought I knew everything there was to know about him and he didn't even know I existed. Now, I'm officially his girlfriend. He said it right out loud in the TV interview. After those words came out of his mouth I couldn't answer any more questions. But it was worth it.
I'm wearing a new green tank top, which brings out the color of my eyes, and a pair of white shorts. The outfit may not look like that much of an effort, but before I started hanging out with Journey my morning routine was to pick the least rumpled navy blue T-shirt out of the laundry hamper—my T-shirts were all navy blue because that paired best with jeans, and navy blue and denim blend really well into the background.
It wasn't that I didn't have a sense of style before Journey. It's that my
normal
back then meant not standing out. When a tragic event steals your childhood, and puts your name in the headlines for weeks and months, you become
that girl
forever. Now I'm hoping that I can quietly morph into just a girl.
The worn-out shocks on Journey's van squeal as he pulls into the driveway. His brakes harmonize in protest.
I grab my purse and backpack. The small, round wooden heels of my sandals tap out my excited departure on the stairs. I blast through the kitchen, past Uncle Victor, who is camped out at the table with a cup of coffee and some paperwork.
"Bye. See you later." I barrel toward the back door.
I glance back in time to see him grin and hoist his cup.
The van has added a new, asthmatic wheeze to its soundtrack and the passenger door complains loudly as Journey opens it for me from inside. His hand remains there to help pull me up into the belly of this ancient beast. I slide into the seat and lean across the wide-open space. He meets me halfway and plants a quick peck on my lips.
Copyright © 2018 by Sheryl Scarborough
~~~~~
Praise for To Right The Wrongs
"Scarborough has written an intense, engrossing debut. Readers will root for Erin to find answers, laugh at her friends' antics as they play detective, and struggle to identify the killer in a plot full of red herrings and multiple suspects. This solid mystery will easily grab the attention of fans of the genre." ―
Booklist
"To Catch a Killer is a tense, storming heartbeat of a thriller. Scarborough's tightly woven story merges forensic intrigue with friendship, romance, and family, nailing the dynamic stylings of Veronica Mars and the playful spirit of Bones. I could not put it down." ―
Cori McCarthy
, author of
Breaking Sky
"The fast-paced plot and Veronica Mars-esque protagonist make this book a good fit for avid mystery readers." ―
School Library Journal
"A relatable cast and well thought-out plot make this mystery a Sherlockian puzzle sure to impress the most hardened crime-procedural fanatic. Don your deer-stalker caps, gumshoes, you're in for a twisty ride." ―
Mary Elizabeth Summer
, author of
Trust Me, I'm Lying
"Scarborough brings Erin to life as a teenager with a damaged past...there are enough red herrings and forensic activity to keep everyone entertained all the way through the climatic end." ―
VOYA
"A compulsive read. Scarborough has created a thrilling book brimming with life, murder, and adventure." —
Carrie Jones, New York Times
bestselling author of
Flying
~~~~~
Don't miss the first title in the Erin Blake series!!!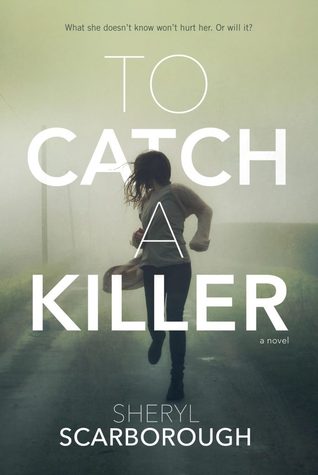 (cover links to Goodreads)
~~~~~
**About the Author**
Photo Content from Sheryl Scarborough
Sheryl Scarborough
is an award-winning writer for children's television. She holds an MFA in Writing for Children and Young Adults from Vermont College of Fine Arts, lives in Washington state, and has always had an obsession with forensics. When she was twelve, her home was the target of a Peeping Tom. Sheryl diligently photographed his footprints and collected the candy wrappers he left behind. Unfortunately, he was never caught. But the desire to use evidence to solve a great mystery was sparked inside Scarborough all the same. To Catch a Killer is her debut.
Stay connected with Sheryl Scarborough
~~~~~
***The Giveaway***
Giveaway Open Internationally | Must be 13+ to Enter
Note: Not Responsible for Lost & Damaged Prizes in Your Mail Box
a Rafflecopter giveaway
Blog Tour Organized by