Have you read the Blood trilogy by Danielle Rose yet!?! If you haven't, you gotta, especially if this is a genre that you enjoy reading. Well, I think readers would enjoy this read. Anyways, we have a cool Pre-Order Blitz for Danielle Rose's Blood Magic, the second book in the Blood Trilogy,to share with you today! Check it out and pre-order your copy today!
Published by
OfTomes Publishing
, the
Blood T
rilogy follows the harrowing journey of Ava h Taylor, a mortal witch in the midst of a centuries-old war against the immortal vampire species. Avah's intense journey is fueled by blood, jealousy, betrayal, murder and revenge.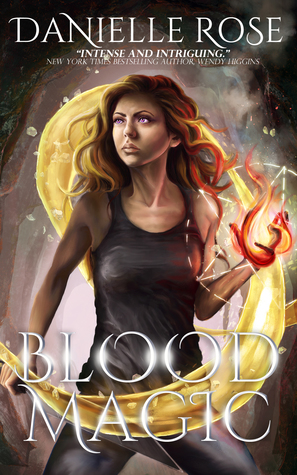 Genre:
Series:
Publish Date:
August 1, 2017
(first published March 29, 2016)
Publisher:
OfTomes Publishing
Cover Art:
Gwenn Danae
Cover Text:
Eight Little Pages
Synopsis:
Avah Taylor thought she had already faced the worst.
As her coven's chosen one, destined to receive a power that could kill her, Avah was forced to make the ultimate sacrifice when she gave up her mortal life to become a vampire, the witches' greatest enemy. But just when she begins to adjust to her new life, even as she falls in love with her sire, the high priestess of her new coven is seized by Rogue vampires.
Guided by Avah's visions of the past, present, and future, Avah and the other vampires set out to rescue their priestess, but their journey leads Avah to the discovery that the conspiracy behind her power runs deeper than she ever imagined. As her visions grow increasingly terrifying, Avah begins to wonder if she may not have a future at all.
*FREE on Kindle Unlimited*
Let's give some support for Blood Magic on Thunderclap!
Sequel to:
(cover links to Goodreads)
*FREE on Kindle Unlimited*
**About the Author**
Danielle Rose
is a romance writer and owner of
Narrative Ink Editing
. She holds a Master of Fine Arts in creative writing from the University of Southern Maine. Danielle currently resides in the Midwest, where she spends her days dreaming of warmer temperatures. When not writing, reading, or traveling, Danielle enjoys pretending she lives in California, spending an embarrassing amount of time at Hobby Lobby, binge watching Netflix, and cheering for her favorite football team (Go Packers!).
Stay connected with
Danielle Rose