We are over the moon with excitement to celebrate the release of Mary Ting's From Titans, the fourth book in The Descendant Prophecies Series! And... We are celebrating with a short excerpt and a cool giveaway!
The Titans possess power more than anyone anticipated, and Cronus is hungry for revenge after his own children locked him up in Tartarus.
No one is safe. Not even the humans. Visit the world of the Descendant Prophecies in From Titans by Mary Ting...
Genre:
Young Adult
Fantasy/Mythology
Paranormal Romance
Series:
Descendant Prophecies Series, #4
Publish Date:
Synopsis:
Everyone is searching for Mason.
Zeus sent Hermes, and the Oracles have used their magic, with no success. A sparkle of hope arises when Eris, the goddess of Chaos, sends an invitation to her wedding engagement party. She's holding Mason hostage, and Skylar and her friends only need permission to enter Eris's world to rescue him.
At the party, Eris gives them on condition: In exchange for Mason, they must travel to the Land of Reverse and bring back the bottle of gold water King Midas used to wash himself free of his gift. Further chaos follows when Eris not only sets up a hunt in the Labyrinth of Crete, but makes a bargain with the Titans she rescued.
The Titans possess power more than anyone anticipated, and Cronus is hungry for revenge after his own children locked him up in Tartarus. No one is safe. Not even the humans.
*Excerpt*
Nick sprang from behind and pounded on the invisible wall. "You crazy bitch! Let my brother go."
Hades held him back. "You'll have to excuse him. He's been going a bit crazy looking for his brother. I'm sure you understand."
Eris glared and hissed, showing her perfect white teeth. "Don't be a fool, Nick, or you'll never see your brother. But he's not really your brother. Isn't he just a half-brother? Anyway, I can't wait to call you brother-in-law. We'll become one happy family." She showed off her white teeth but didn't smile.
Nick covered his ears. "Over my dead body."
"Now, now. Behave, little one," she scolded, waving her finger. "Or I just might give you what you wish for. Death is permanent, you know…at least for your kind."
Nick growled, and light shot from his fingertips. Everett held him back. When Zeus gestured with his hand, Nick stilled.
Zeus focused on Eris again. "Where's Cronus? Tell him to show himself." His calm tone sounded confident, but I knew he feared his father.
"Liar!" Zeus sent the lightning from his staff. It flashed into the invisible wall and burst in brightness, blinding us, but it didn't penetrate the wall.
Eris laughed, like Zeus had told the funniest joke. "I'm the goddess of my domain. You can't hurt me here. I call the shots, Zeus. Funny how the roles are reversed. I kind of like that. But don't worry. You'll see him soon enough—or not. When I say so. So, would you like to come to my party, or are we going to argue all day?" Eris brushed the side of her hair, smirking. "It's funny how Zeus is begging to come to my party. It was the other way around before."
"I'm not begging," Zeus growled, his eyes crackling with electricity. His rage shook the ground. "You're forcing me to come. Get this over with before I do something I won't regret. And to clarify: It wasn't my wedding. I didn't send out the invitations, but if I had, I wouldn't have invited you anyway."
Eris threw a daggered glare at Zeus and waved her hand. As the invisible wall started to disintegrate, a new world materialized.
Get caught up with the Descendant Prophecies Series...
New Covers:
Previous Covers: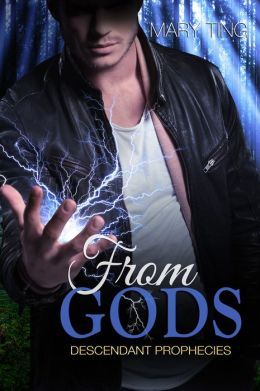 ~~~~~
**About the Author**
International bestselling author
Mary Ting
resides in Southern California with her husband and two children. She enjoys oil painting and making jewelry. Writing her first novel, Crossroads Saga, happened by chance. It was a way to grieve the death of her beloved grandmother, and inspired by a dream she once had as a young girl.
When she started reading new adult novels, she fell in love with the genre. It was the reason she had to write one-Something Great. Hence, Mary's pen name, M. Clarke? She tours with the Magic Johnson Foundation to promote literacy and her children's chapter book-No Bullies Allowed.
Stay connected with Mary Ting
***The Giveaway***
1 Grand Prize: $25 Giftcard to Amazon + Print Set of Entire Descendant Prophecies Series + Signed Bookplates
2 Runner-Ups: Digital Edition of Any Backlist Title from M. Clarke or Mary Ting
Release Day Blitz Organized by